In large parts of Europe, there will con­tin­ue to be suf­fi­cient pre­cip­i­ta­tion for plants in the future. At the same time, cli­mate pro­jec­tions show a high­er fre­quen­cy of droughts – in almost all Euro­pean regions. Sus­tain­able rain­wa­ter stor­age and even more effi­cient irri­ga­tion will there­fore become increas­ing­ly impor­tant for the com­pet­i­tive­ness of Euro­pean farm­ers.
---
Water demand of cul­ti­vat­ed plants
Maize
500 – 800Sun­flow­ers
600 – 1.000Toma­toes
400 – 800Grain
450 – 650Peas
350 – 500
mm over the entire growth peri­od
Source: FAO
---
Fore­cast increase in drought fre­quen­cy by 2100
Giv­en the cur­rent devel­op­ment of green­house gas emis­sions, an increase in the fre­quen­cy of droughts is expect­ed by the end of the cen­tu­ry.
Source: "Will drought events become more fre­quent and severe in Europe?", Inter­na­tion­al jour­nal of Cli­ma­tol­ogy, Vol­ume 38, Issue 4, 2018. Fore­cast for the RCP-8.5 emis­sions sce­nario, ref­er­ence val­ues 1981-2010.
---
Water extrac­tion for agri­cul­tur­al use in Europe
Devel­op­ment 1990 to 2015 in bil­lion litres/year
East­ern Europe
declined
from 13,808.2
to 3,449.4
South­ern Europe
declined
from 58,059.8
to51,154.0
West­ern Europe
declined
from 6,917.8
to3,373.5
North­ern Europe
declined
from 1,523.4
to479.3

The effi­cien­cy of irri­ga­tion in the EU has improved: in 2013, with a sim­i­lar gross val­ue added, water use was 9% low­er than in 2005. But fur­ther progress is need­ed: at cur­rent emis­sion trends, water demand will increase by more than 25% in most irri­gat­ed regions of Europe by the end of the cen­tu­ry.
Source: Euro­pean Envi­ron­ment Agency
---
Pro­ject­ed change in pre­cip­i­ta­tion lev­els by the end of the cen­tu­ry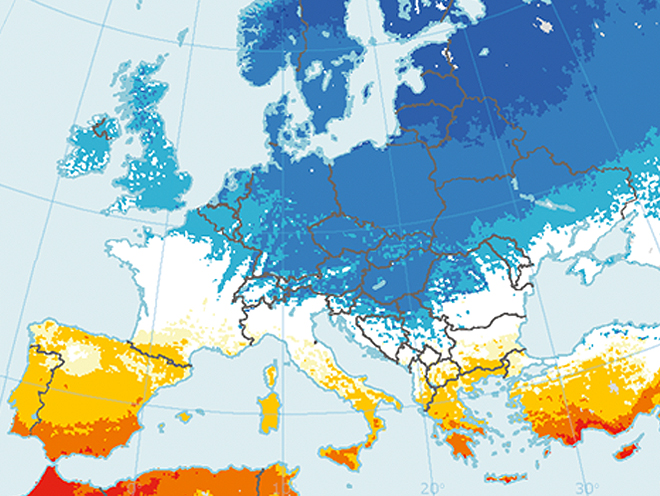 Only parts of south­ern Europe expe­ri­ence a decrease in annu­al pre­cip­i­ta­tion. The decrease in sum­mer rain­fall is more wide­spread, how­ev­er. France and Eng­land will have sim­i­lar­ly rainy win­ters, but sum­mers will be much dri­er. Despite an increased risk of drought, Cen­tral Europe will receive more pre­cip­i­ta­tion over­all.
Source: EURO-CORDEX 2017
---
New temperature records after heat wave 2019
(in °C, mea­sured 24.-25.07.2019)
46,0France
42,6Ger­many
41,8Bel­gium
40,7The Nether­lands
Europe has expe­ri­enced nine heat waves since 2000 (2003, 2006, 2007, 2010, 2014, 2015, 2017, 2018, 2019). In the high­est green­house gas emis­sion sce­nario, sim­i­lar or stronger heat waves are expect­ed every two years from 2050 onwards.