Fertiliser and other input costs have gone through the roof in recent years – so how can growers tackle this without affecting produc­tivity? Dan Belcher, who farms at March House Farm, Great Dalby has found a way to make signif­i­cant savings, by: Measuring and managing crop require­ments more effec­tively, making better use of animal outputs like farm­yard manure (FYM), and using grass leys to tackle high weed burdens.
"It is about taking a whole farm approach," he says. "We took on a lot of land two years ago which was full of black­grass and farmed out. Through planting grass leys and grazing live­stock on the worst land, we have cut the weed burden by 70-80%. Next spring, we will see how, after three years in a grass ley, it looks when planted with spring beans."
It is about taking a whole farm approach. We took on a lot of land two years ago which was full of black­grass and farmed out.

Dan Belcher
Mr Belcher has also exper­i­mented with grazing sheep on 40ha of winter wheat. "We put them on in late January," he explains. "The grazing got rid of any diseased leaves, stim­u­lated root estab­lish­ment and produced fresh disease-free tillers in the spring. It is a fine balance not to over-graze – there is an art to it. But it has cut our fungi­cide bills by three-quar­ters and reduced our herbi­cide programme by a quarter. "There has been no detri­ment to yield and we've seen far less disease," he adds.
The farm works on a four-crop rota­tion of winter wheat followed by winter barley, a diverse cover crop – grazed over winter – and finally, spring beans. As well as single winter wheat vari­eties, he grows a four-way wheat blend to improve plant health. "Using this blend allows us to cut fungi­cides by three-quar­ters compared with a single variety, with no detri­ment to yield," he says. "If it keeps deliv­ering the goods, we will be using it exclu­sively in the next two to three years."
Healthy soil and healthy seed require less fertiliser
Mr Belcher's approach to fungi­cides is to watch the crop and the season rather than applying at a partic­ular growth stage. "This year was so dry that there was no disease burden on any of the crops. We are mindful of what is going on around us." He uses all farm-saved seed, cleaning but not dressing it. "I don't feel dressing is required if the soil is in good enough condi­tion and you have a healthy seed; the plant gets away. "This approach more than halves our seed costs," he adds.
For estab­lish­ment, he adopts a low or min till approach using a John Deere 750A disc drill and a Horsch Sprinter tine drill. "This delivers fuel savings of about one-third compared with more inten­sive culti­va­tions."
More signif­i­cant savings come from using fertiliser in a more targeted way, explains Mr Belcher. "We use N min [soil nitrogen] testing to discover the residual nitrogen in the ground and develop a fertiliser plan based on this and plant trace element testing. We do a lot of tissue testing and sap analysis through the growing season and base fertiliser appli­ca­tions on what the plant requires to keep it healthy."
He applies 110kg N/ha to wheat and barley; previ­ously he applied 180-200kg/ha. "For our first dressing in March we put on solid urea with sulphur. The second dressing in mid-April is 40kg of a sulphur N liquid product, Nitroflo 24N + 7.5% SO3 from Omex, followed by two foliar appli­ca­tions of nitrogen – 10kg each, also adding trace elements, molasses and liquid carbon."
Part of the N budget comes from FYM, which is analysed to deter­mine nutri­tional content. Mr Belcher has invested in a Bunning spreader, with discs and weigh cells enabling spreading of FYM at a constant rate over 24m, using it as a top dressing in the spring. It equates to 10kg N/ha. "With our approach to crop nutri­tion we have cut our total fertiliser spend by 40%. Looking longer term, the FYM is improving soil organic matter and building fertility."
With our approach to crop nutri­tion we have cut our total fertiliser spend by 40%. Looking longer term, the FYM is improving soil organic matter and building fertility.

Dan Belcher
Saving with preci­sion
Preci­sion farming methods also form part of the arable system and help to iden­tify savings, says Mr Belcher. "We use trac­tors which have GPS and the John Deere 732 sprayer has section control. We don't do controlled traffic farming but try to run only on the tram­lines where we can. We use John Deere's Green­Star manage­ment system and John Deere Link. We can get infor­ma­tion on diesel consump­tion and yields and make about a 10% saving through using this tech­nology." Average yields for the farm are: Wheat 8.8t/ha, barley 7.9t/ha, and spring beans 4.4t/ha.
Looking at labour costs, Mr Belcher is happy with his team. "We have a great team on the farm who are reli­able and hard-working. Being a mixed farm, we don't need to worry about seasonal labour. We can deploy people in the arable or live­stock enter­prises depending on the time of year, making more effi­cient use of labour."
The court­yard with farm shop
Well sorted: the farm shop with bakery, butcher and café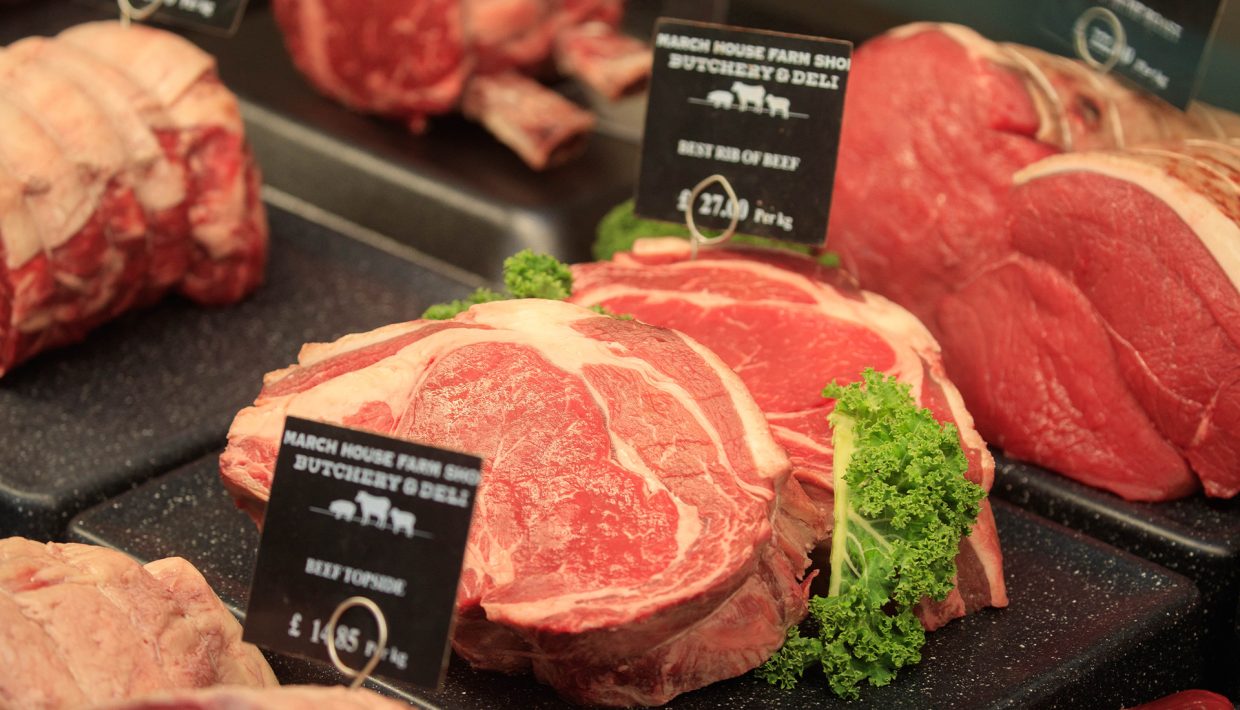 The butcher sells beef and lamb raised on the farm
However, finding good, reli­able labour can be an issue in the farm's diver­si­fi­ca­tion projects – about 30 staff are employed for the farm shop, butchery and bakery.
The butchery started in 2000, with the farm selling beef and lamb from home­bred live­stock at farmers' markets in London. In 2017, the family opened a farm shop, adding a café which later closed during Covid and wasn't reopened. However, the farm shop has expanded. Mr Belcher added a bakery, which makes pork pies, meat pies, and sausage rolls for sale in both the farm shop and local village shops.
Making sales with diver­sity
Although the diver­si­fi­ca­tion has retained 60% of the busi­ness it gained during Covid, recent increases in elec­tricity prices have hit the butchery partic­u­larly hard, says Mr Belcher. "Refrig­er­a­tion uses the most power and we are looking to invest in more solar power to keep the elec­tricity bills sensible. We already have a small solar project on the shed roofs – but we need to increase it by five times to miti­gate the bill." A biomass boiler heats the grain drying floors when needed and the farm­house and farm shop.
Before making any further changes, Mr Belcher wants to assess how the new cost-saving measures across the farm and diver­si­fi­ca­tion project are working. "We've made quite a lot of changes over the past three years," he says. "I want to see the true results of using the new system. Three years ago, we decided the conven­tional approach wasn't working, which led us to where we are now."
However, he does have his eye on some machinery changes. "A John Deere 6215 R tractor is due to be deliv­ered by Christmas. We change the tele­han­dler every two years as it does 3,000 hrs/year. And as we are doing more foliar fertiliser appli­ca­tions, when we come to swap the sprayer, we'll be looking for some­thing with a little more capacity."
While the higher fertiliser, fuel and elec­tricity bills have come as an unwel­come shock to Mr Belcher, the cost cutting measures he has already been estab­lishing will hope­fully miti­gate the worst of them. "We are playing the long game, putting in place a system that will still work well in 30 years, not just three."
Loca­tion: March House Farm, Great Dalby, Melton Mowbray, Leices­ter­shire
120ha land owned
Heavy clay soils
Average rain­fall: 720mm
840ha tenanted including 460ha arable and the remainder, grass­land

Dan Belcher farms with brother Tom
Staff include an arable foreman and a shep­herd
Live­stock: 2,800 breeding sheep – North Country Mules and Romneys
Viehbe­stand: 2800 Zuchtschafe – North Country Mules und Romneys
180 Aberdeen Angus and Short­horn suckler cows with followers
50 Breeding sows
Diver­si­fi­ca­tion – Farm shop, butchery and bakery

Maschinery fleet
Three main trac­tors – John Deere 6195 R, 6150 R and Fendt720.
Lease 300hp tractor during harvest
John Deere T 560 combine 22ft cut
Vader­stad Rexius twin culti­vator
John Deere 750A disc drill
Horsch Sprinter tine drill
Kuhn 40.1 fertiliser spreader
Bunning 150 muck spreader
John Deere 732 sprayer 24m
JCB 542 70 tele­han­dler