Ilir Gjo­laj is squint­ing as he sur­veys his fields in north-west­ern Alba­nia. A trac­tor is plough­ing through the stony ground, throw­ing up a trail of dust as high as a house behind it. In the dis­tance, Lake Skadar glit­ters in the sun in front of the bare moun­tains of Mon­tene­gro. "Unfor­tu­nate­ly we bare­ly had any rain this year," says the 40-year-old. With his part­ners from the com­pa­ny Agro-Map, he is grow­ing sage, laven­der, corn­flow­ers and var­i­ous oth­er med­i­c­i­nal and spice plants. Yields are nor­mal­ly 2-4t/ha. This year they aver­aged just 1.5t/ha.
Uncer­tain envi­ron­ment
But despite that, Mr Gjo­laj has done well. He bought his first hectare here in Kop­lik 13 years ago. For €200 (£178). Since then his fam­i­ly has come to own 30ha. "Every­body thought I was crazy then, because I was putting my mon­ey into a pile of stones, nobody want­ed to go into farm­ing." Mr Gjo­laj chuck­les: "Now many peo­ple want their land back."
More and more farm­ers are grow­ing med­i­c­i­nal and spice plants, instead of col­lect­ing the plants in the wild.
Laven­der is main­ly used in the cos­met­ics indus­try.
In addi­tion to the har­vest­ed crop yield, the lev­el of essen­tial ingre­di­ents is impor­tant.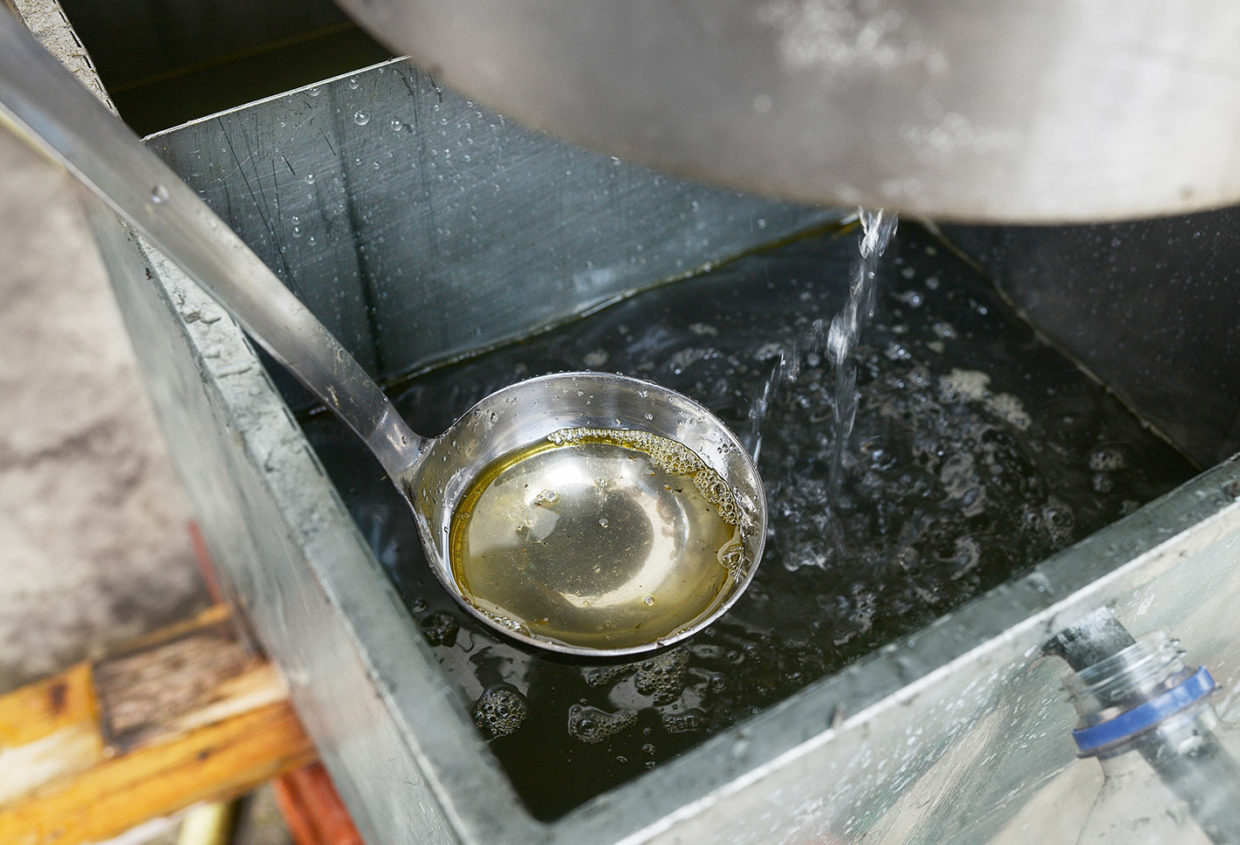 After dis­till­ing, there is only a lit­tle oil left, so the qual­i­ty is even more impor­tant.
Sage grows well between boul­ders and stones.
Mar­ket-ori­en­tat­ed agri­cul­ture has not exist­ed in Alba­nia for long. The fall of the Iron Cur­tain coin­cid­ed with the fall of the com­mu­nist regime here. How­ev­er, there was then a long peri­od of polit­i­cal insta­bil­i­ty. The Alban­ian par­lia­ment only man­aged to pass land reform in 2006. Each per­son received about 0.4ha, so a fam­i­ly of six would get 2.4ha. Hag­gling on a huge scale began. Land was exchanged, sold, and award­ed with hand­shakes as well as with under­hand tac­tics. There were, and even today are bare­ly any land titles.
Every­body thought I was crazy then, because I was putting my mon­ey into a pile of stones.

Ilir Gjo­laj
The hold­ings are small, with an aver­age size of just 1.2ha, and of the 300,000 hold­ings in the coun­try, only a fifth oper­ate com­mer­cial­ly. Because half of the pop­u­la­tion of Alba­nia lives abroad, many own­ers don't use their land, so a quar­ter of the arable acreage lies fal­low.
A lot of poten­tial
For Mr Gjo­laj, suc­cess didn't just fall in his lap. Ini­tial­ly, he tried to make it abroad, work­ing in Italy and start­ing a small retail busi­ness. Then he returned. "One sec­ond on the field con­nect­ed me straight away with the cen­turies-old roots of my fam­i­ly, who always worked the land here."
Med­i­c­i­nal and spice plants have a tra­di­tion in the Kop­lik region as they suit the chalky ground, since the abun­dance of stones store heat. The plants con­tain a lot of use­ful sub­stances, and Alba­nia is one of the largest pro­duc­ers of these plants in the world. Wild har­vest­ing pro­vides a great deal, and Alba­nia has many dif­fer­ent species that can only be found here or in very few oth­er coun­tries. Har­vest­ing sage, juniper berries, thyme or lemon balm offers peo­ple in the out­ly­ing regions a good sea­son­al income. But over the past 10 years, the plants have also increas­ing­ly been cul­ti­vat­ed.
Because of high demand, there has been a boom. In the region of Kop­lik, the area of sage and laven­der alone is now thought to have grown to 4,500ha. With labour costs of €7-10 (£6-9) a day, Alba­nia is very com­pet­i­tive, since cul­ti­vat­ing med­i­c­i­nal and spice plants requires a lot of man­u­al work. The saplings must be plant­ed by hand, and then weeds need to be removed reg­u­lar­ly, because the plants only grow slow­ly. They are also har­vest­ed by hand.
Long tra­di­tion
Even dur­ing the peri­od of com­mu­nism, med­i­c­i­nal and spice plants were cul­ti­vat­ed in the region and export­ed. "At that time this took place on a max­i­mum of 2,000ha," says Agro-Map pro­duc­er Xhe­ladin Zekaj. "Corn, tobac­co and wheat were grown on the rest of the acreage. The 58-year-old is stand­ing not far from the area under cultivation by Agro-Map in a barn that he uses togeth­er with oth­er farm­ers for stor­age and dry­ing.
In total they cul­ti­vate sage and laven­der on 150ha. Plants are laid on shelves to dry. Sacks are all around, filled to over­flow­ing with laven­der, shim­mer­ing with pur­ple. It smells like a beau­ty store. "When I start­ed farm­ing in 2006, there were very few of us," the trained agri­cul­tur­al econ­o­mist remem­bers. He was active for a long time in the district's pub­lic admin­is­tra­tion. Back then, a tonne of dried laven­der with stems would sell for US $3,500 (£2,685), and sage for $1,800 (£1,381). "Today we don't even get half that."
When I start­ed farm­ing in 2006, there were very few of us.

Xhe­ladin Zekaj
The large sup­ply forced prices down. To add to that, fur­ther pro­cess­ing isn't always up to stan­dard and import­ed plant mat­ter is being used. Farm­ers used to pick their cut­tings from the best wild plants in the moun­tains. But increas­ing­ly they have been using vari­eties import­ed from France or Bul­gar­ia. "They may grow faster, but they con­tain few­er ingre­di­ents and are more sus­cep­ti­ble to drought than the local vari­eties," says farmer Agim Rama, who grows spice and med­i­c­i­nal plants in the region. How­ev­er, he is com­mit­ted above all to obtain­ing and devel­op­ing local vari­eties. In recent years he has bred his own vari­ety of sage from these local vari­eties.
Adding val­ue
How­ev­er, that is not going to solve one major prob­lem for grow­ers of spice and med­i­c­i­nal plants: Just a few exporters and proces­sors con­trol the mar­ket. That is why Mr Gjo­laj took the bull by the horns 10 years ago and invest­ed in his own dis­till­ing machine, which was ini­tial­ly a sec­ond-hand Sovi­et mod­el. Now, with his two part­ners from Agro-Map, he has acquired a new one.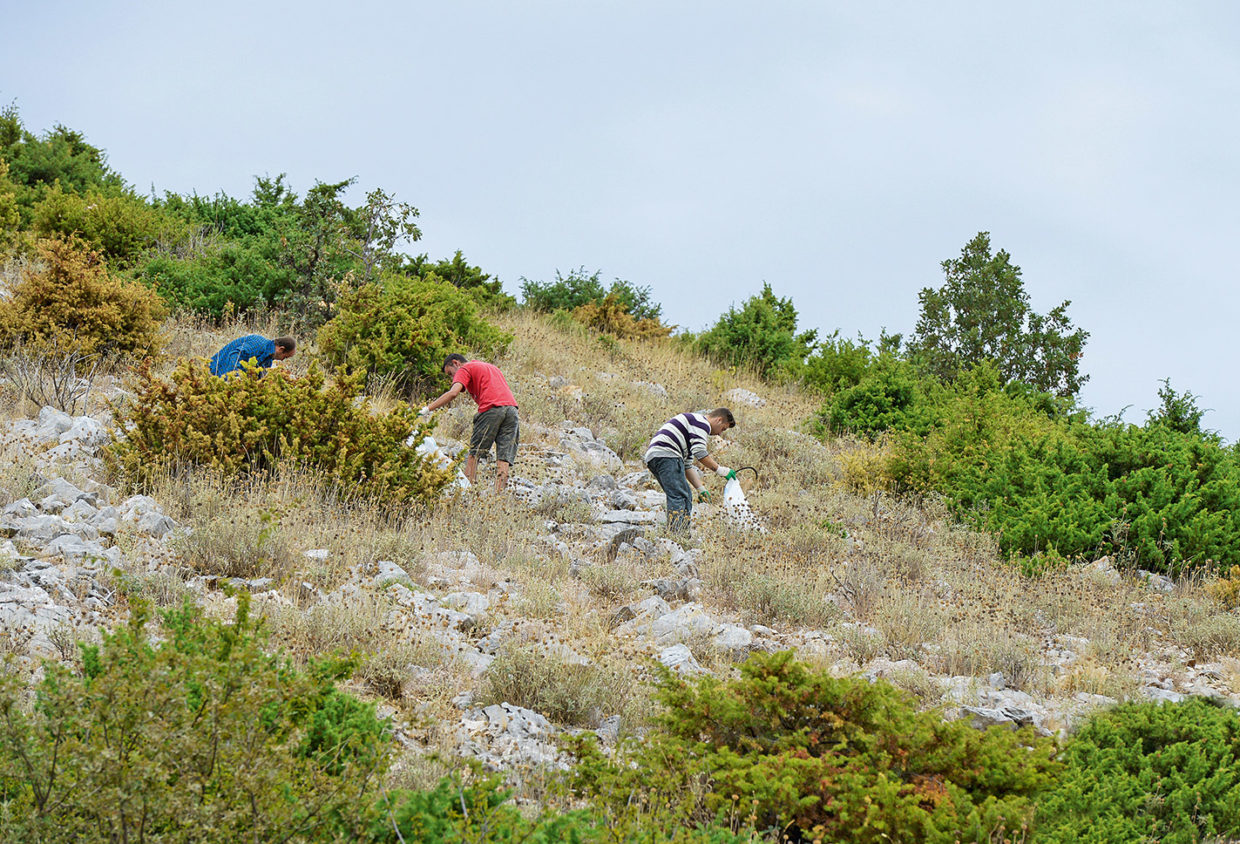 Col­lect­ing wild herbs in the moun­tains at Berat.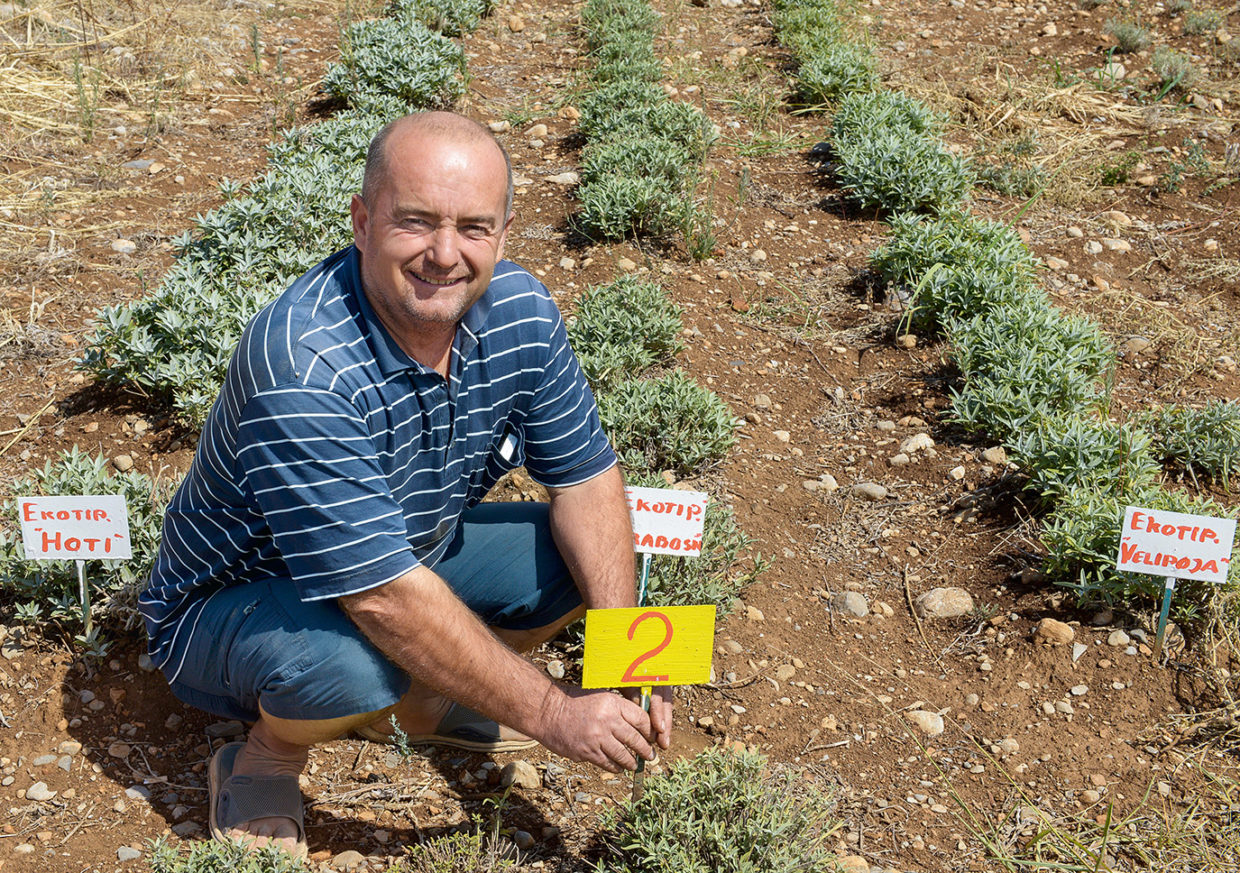 Agim Rama breeds native vari­eties for com­mer­cial cultivation.
With the help of a new trac­tor, the Met­ka fam­i­ly want to increase their cul­ti­vat­ed acreage.
Stor­age with a fra­grance. Alba­nia is one of the largest sage pro­duc­ers in the world.
The pro­cess­ing of herbs requires man­u­al work. Low wages keep the Balkan coun­try com­pet­i­tive.
It runs with a qui­et whis­per in a draughty hall – a delib­er­ate choice so that the employ­ees don't breathe in too many vapours. "The new machine gets the entire oil con­tent out of the plants, the old one didn't even man­age half." The yield is low though, with the oil drip­ping into a plas­tic bot­tle that hangs from the machine's huge hop­per.
A tonne of Helichry­sum pro­duces just 1.5 to 2 litres of oil, and laven­der pro­duces 6-10 litres. So how can that pay off? With prices of up to €1,500/litre (£1,335/litre). That is how much cos­met­ics com­pa­nies or phar­ma­ceu­ti­cal pro­duc­ers pay for these con­cen­trates – if they are of good qual­i­ty. Agro-Map has invest­ed in that qual­i­ty. The young com­pa­ny could not rely on any help from the state or banks for this. It had to raise all the invest­ments by itself, so prof­its are imme­di­ate­ly rein­vest­ed. "Luck­i­ly the demand for high-qual­i­ty oils is very good," explains Shkelqim Karaj, one of the two oth­er Agro-Map part­ners. He stud­ied agri­cul­tur­al sci­ences in Tirana and at the Uni­ver­si­ty of Hohen­heim, Ger­many, where he now teach­es.
Hop­ing for EU
Alba­nia has been a can­di­date to join the Euro­pean Union since 2014, and Mr Gjo­laj and Mr Karaj would wel­come its mem­ber­ship. Export­ing their prod­ucts, for which they already have to meet EU stan­dards, would become much sim­pler. There would be sup­port­ive invest­ments, sub­si­dies and struc­tur­al sup­port for agri­cul­ture. They also hope that all pro­duc­ers would then have to work to the same con­di­tions. "All of our almost 40 employ­ees are offi­cial­ly reg­is­tered, but we have to com­pete with hold­ings that pay no tax­es on their work­ers what­so­ev­er," says Mr Karaj.
Many farm­ers and food com­pa­nies in Alba­nia see the sit­u­a­tion sim­i­lar­ly, whether they are dairy farm­ers, dairy proces­sors, bee­keep­ers, or fruit and veg­etable grow­ers. They are not wor­ried about com­pe­ti­tion with low-priced prod­ucts from abroad. That has been here for a long time already. Since Alba­nia joined the WTO, Alban­ian pro­duc­ers have had to con­tend with goods from Greece, Italy, Mace­do­nia and Ser­bia; all coun­tries with high­ly sub­sidised agri­cul­ture. But in Alba­nia not even the fuel for farm­ers has become cheap­er. Even the many small­hold­ings are hop­ing for bet­ter sup­port, although it will be par­tic­u­lar­ly hard for them to meet EU stan­dards.
Join­ing the EU would open up new prospects, includ­ing for mech­a­ni­sa­tion.

Xhorx­hi Marku
Xhorx­hi Marku also has great expec­ta­tions for join­ing the EU. For many years he has been run­ning an agri­cul­tur­al machin­ery busi­ness in Tirana with his son, where they sell John Deere trac­tors. The office is locat­ed on the road to the air­port, with a work­shop build­ing and spare parts ware­house near­by. How­ev­er, the only evi­dence of the planned new com­pa­ny build­ing so far is the foun­da­tions, as con­struc­tion was blocked by the author­i­ties for no clear rea­son.
Alba­nia is placed 83rd on Tran­paren­cy International's Cor­rup­tion Per­cep­tions Index. But Mr Marku is unde­terred. "We have good land and a cli­mate that allows us to har­vest fruit and veg­eta­bles through­out most of the year. Join­ing the EU would open up new prospects, includ­ing for mech­a­ni­sa­tion." Mr Marku is already ben­e­fit­ting from Albania's sta­tus as a can­di­date coun­try. A pro­gram by the Dan­ish and Ger­man gov­ern­ments to mod­ernise the Alban­ian agri­cul­tur­al sec­tor is providing farm­ers with invest­ment aids and cred­it for trac­tors. Some of them are his cus­tomers.
Mod­erni­sa­tion pro­gress­es
The deal­er takes us to meet Agim Metka's fam­i­ly, who work a farm of almost 6ha in the moun­tains of the south­ern Berat dis­trict. The jour­ney there goes past cher­ry plan­ta­tions and small corn fields. It's not rare to see farm­ers work­ing with sick­les and pil­ing the corn on don­keys' backs. It has only been a few months since Mr Met­ka and his three sons start­ed work­ing with a new John Deere 5055 E. The first big job that they used it for was in the extreme­ly dry sum­mer. "We were able to water the fields and as a result save the har­vest," explains Mr Metka's 30-year-old son Engiell. Right now they are plough­ing one of the fields to sow cere­als. "We don't have to wait for the con­trac­tor any more and with that we also save on costs."
Soon the fam­i­ly wants to lease an addi­tion­al 10ha. "Then hope­ful­ly my sons won't need to work as har­vest work­ers in Greece any more," says the father, rais­ing a glass of fruit schnapps that they have dis­tilled them­selves. You have to try one. To hos­pi­tal­i­ty. And to the future.

Alba­nia in Num­bers
Pop­u­la­tion: 2.9 mil­lion
Area: 28,748 km², of which 1/4 arable
19 % of GDP comes from agri­cul­ture, 2/5 of the pop­u­la­tion works in the agri­cul­tur­al sec­tor
at its peak, almost 25 % of the GDP was made up of pay­ments from Alba­ni­ans over­seas to those back home, in 2015 it was just 6 %
mem­ber of WTO since Sep­tem­ber 2000
can­di­date for EU mem­ber­ship since mid-2014
Until 2020 the EU has a pro­mo­tion bud­get for agri­cul­tur­al mod­ern­iza­tion and rur­al devel­op­ment of € 90 mil­lion. But Alba­nia can only imple­ment this bud­get autonomous­ly once it has set up man­age­ment and con­trol sys­tems up to the EU's stan­dards.