For Phan Van Hom mon­ey real­ly does near­ly grow on trees. "Cur­rent­ly I get the equiv­a­lent of two dol­lars for two kg of man­gos." Inspect­ing the tree tops as he goes along, the farmer walks bare­foot through the still wet grass. The morn­ing traf­fic head­ing to Can Tho can be heard in the dis­tance. Although it's only 10km away, the largest city of the Mekong Delta seems far away. An old boat rat­tles along the small canal on which water hyacinths are grow­ing. Birds twit­ter. A cock crows. "Pre­vi­ous­ly there was only for­est here with a few wild man­go trees," the 46 year-old tells us.
Today the land­scape is a patch­work of small orchards and irri­ga­tion ditch­es. The pre­dom­i­nant­ly small farms feed the farm­ers well. "A man­go tree can bring in more than $200 a year." Phan Van Hom has 40 of them. He climbs up the lad­der to trim a few shoots, one or two fruits are also still hang­ing in the tree. He care­ful­ly pass­es them to his wife, who places the man­gos in a red plas­tic bas­ket. "Pre­vi­ous­ly we also had oranges and bananas, but no oth­er fruit is so sought after coun­try­wide than the man­go."
A man­go tree can bring in more than $200 a year.

Phan Van Hom
Phan Van Hom must sure­ly know this, as he not only grows but also trades fruit. He reg­u­lar­ly trav­els with his deliv­ery van to Hoh Chi Minh City to deliv­er to the mar­kets there. All in all the fam­i­ly earns around $10,000 per year, which is four times the salary of an office admin­is­tra­tor or teacher. "We also work very hard," says the fruit farmer, mov­ing his lad­der to the next tree.
Fas­ci­nat­ing diver­si­ty
Not least due to the indus­tri­ous nature of its peo­ple, Viet­nam has seen con­sid­er­able eco­nom­ic growth of near­ly 6%, even right after the finan­cial cri­sis of 2008. The country's many farm­ers are also ben­e­fit­ing from this. The grow­ing mid­dle class and many food vari­eties of the South East Asian coun­try pro­vide plen­ty of demand. Vietnam's mar­kets and the famous float­ing mar­kets in the Mekong Delta offer a fas­ci­nat­ing array of fruit and veg­eta­bles, includ­ing okra, lotus root, water spinach, guavas, lychees and drag­on fruit.
Then there is the boom­ing export sec­tor. Viet­nam is the sec­ond largest pro­duc­er of cof­fee and pep­per in the world. 6m tonnes of rice were export­ed by the South East Asian tiger econ­o­my last year and shrimps to the val­ue of $3.6bn. Then there are the huge quan­ti­ties of fish, par­tic­u­lar­ly basa fish and tilapia, from aqua-farm­ing.
Much of this comes from the Mekong Delta, with its near­ly 3m hectares of land for agri­cul­ture and aqua­farm­ing. The region accounts for 30% of the country's total agri­cul­tur­al area, more than the total size of Den­mark, for exam­ple. The Mekong Delta sup­plies more than half the aqua­farm­ing prod­ucts and around 70% of Vietnam's yield in fruit. With 24m tonnes of rice pro­duced each year in the Mekong Delta, this accounts for more than 50% of Vietnam's total rice pro­duc­tion. 90% of the export­ed rice comes from the estu­ary area of the near­ly 4,500km long riv­er.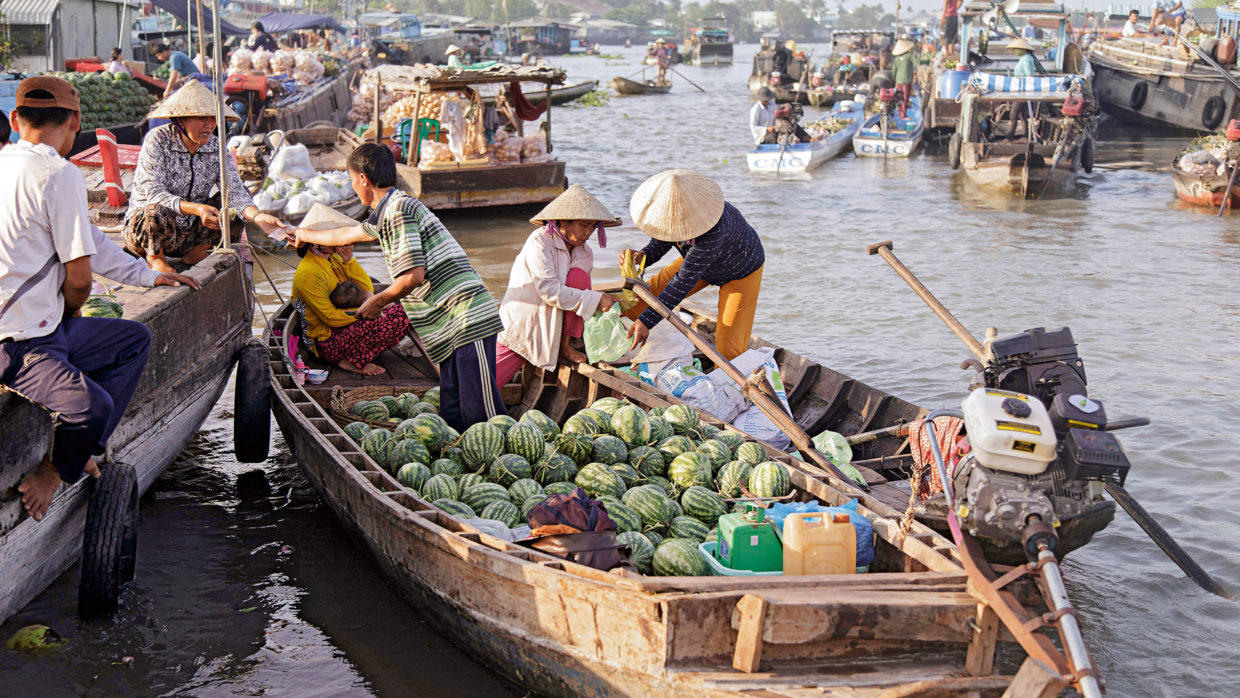 Boats serve as mar­ket stands for farm­ers and mer­chants where they offer their goods on the famous float­ing mar­kets.
Large parts of the rear­ing ponds of organ­ic shrimp farms are cov­ered with man­grove growth.
Con­ven­tion­al shrimp farms are char­ac­terised by sparse man­grove growth and long rows of pad­dle-wheels.
Agri­cul­ture under pres­sure
The Mekong Delta is there­fore one of the most fer­tile regions in the world. But for how much longer? Cli­mate change and the asso­ci­at­ed ris­ing sea lev­els, large-scale for­est destruc­tion, explod­ing lev­els of shrimp farm­ing and heavy encroach­ment on the course of the riv­er threat­en the pro­duc­tion of food­stuffs in the delta. One who has been warn­ing about this for years is agron­o­mist and envi­ron­men­tal sci­en­tist Duong Van Ni from the Uni­ver­si­ty of Can Tho. "At the south­ern tip of Viet­nam, in the Ca Mau Province, the land pre­vi­ous­ly grew a few metres towards the sea every year, but now the land is being destroyed from ero­sion due to a lack of man­groves," explains the researcher, who has been study­ing the region for 30 years.
At the south­ern tip of Viet­nam, the land pre­vi­ous­ly grew a few metres towards the sea every year, but now the land is being destroyed from ero­sion due to a lack of man­groves.

Duong Van Ni
In the last 15 years, 80% of man­grove forests in south Viet­nam have fall­en vic­tim above all to shrimp farm­ing. And in the upper part of the Mekong, near­ly three quar­ters of the forests have been chopped down in the last 20 years. Water which once seeped away there now flows into the Mekong sys­tem and increas­es the water lev­els, which leads to more ero­sion. The large-scale exca­va­tion of sand for the con­struc­tion indus­try exac­er­bates the phe­nom­e­non. Fur­ther­more, Chi­na and oth­er neigh­bour­ing coun­tries are push­ing to build large dams at the top of the riv­er course. This could have seri­ous con­se­quences for the entire catch­ment area, such as the absence of sea­son­al floods.
Some farm­ers in the Mekong Delta are los­ing land due to these fac­tors. Many more are also hav­ing to deal, in par­tic­u­lar, with the salin­i­sa­tion of their soils. On the one hand due to the increas­ing sea lev­el, and on the oth­er hand due to the deep­en­ing of the riv­er bed, heav­ier salt water can grad­u­al­ly move fur­ther up the Mekong below the fresh water flow­ing down­stream. Even shrimp farm­ers some­times have prob­lems with salt, but it is rice and fruit farm­ers who are most affect­ed.
As with man­go farmer Phan Van Hom, Nguyen Ngoc Van from the vil­lage of An Lac Tay has also cre­at­ed a mod­er­ate lev­el of afflu­ence for him­self. At his home he has a TV and two refrig­er­a­tors. In his cup­board hang a con­sid­er­able num­ber of nice shirts. For his vis­i­tors he puts a fan on the veran­da. It is extreme­ly hot. "Much has got bet­ter," says his moth­er, offer­ing home-made sweets made from bananas, peanuts, gin­ger, sesame and lots of sug­ar. "Traders come and buy our rice; we pro­duce for a glob­al mar­ket and get bet­ter prices."
But over the past few years the fam­i­ly had to face crop loss­es because the water from the tide-depen­dent irri­ga­tion canal was too salty, even though the coast is near­ly 100km away. Sev­er­al of the three har­vests a year did not yield any­thing. "One har­vest less means there isn't enough mon­ey to buy seed and fer­tilis­er for the next har­vest, so then we need to bor­row from the bank," explains her son.
Salin­i­sa­tion is the biggest prob­lem
Walk­ing to his field, Nguyen Ngoc Van points out the irri­ga­tion canal and the small water­gate he uses to flood his 0.5ha of land. He hun­kers down on the small dam and looks at the light green area. In the neigh­bours' adja­cent fields, the work­ers are walk­ing through the rows of small rice plants and pulling out weeds. What they will get from this har­vest, they don't know. "We actu­al­ly always leave the water­gate open for 100 days and then close it, har­vest and plant anew." How­ev­er, Nguyen Ngoc Van recent­ly dis­cov­ered crys­tals of salt at the pil­lar of the small bridge in the vil­lage and closed the water­gate as a pre­cau­tion.
With a rice yield of 10t/ha, the yields from the soils of the Ke Sach dis­trict are actu­al­ly com­par­a­tive­ly high for Viet­nam. How­ev­er, the prob­lems have been grad­u­al­ly increas­ing for a few years. This is also con­firmed by the oth­er farm­ers who come to join us from the fields. Even neigh­bour Le Van Loi, who grows lychees on half his land, reports there being salt on his low-lying areas.
"First the leaves of the trees turn yel­low, then they fall off ear­ly," he says, fold­ing his arms behind his lean upper body. "The trees don't die but they bear a lot less fruit." He had actu­al­ly switched to lychee grow­ing because it was sup­posed to bring high­er yields and be less work. Now he is wor­ried about his 700 trees.
With a 2004 map of the soil salt con­tent, we trav­el fur­ther through vil­lages that 10 years ago did not have any prob­lems, to talk to oth­er farm­ers. Peo­ple are work­ing in the fields and orchards every­where. The answers we get are var­ied. One farmer has lost some of his banana trees due to salin­i­sa­tion, and a rice grow­er has lost his entire har­vest. Oth­ers shake their head when asked about prob­lems. Duong Van Ni from the Uni­ver­si­ty of Can Tho tells us the prob­lems are not hap­pen­ing to the same extent every­where.
Sus­tain­able shrimp farm­ing
Head­ing towards the south­ern tip of the coun­try, the land­scape becomes more and more sparse. Canals and roads inter­sect the swampy land. Orchards are no longer to be seen, and there are all the more rice fields. Har­vesters work their way through the gold­en yel­low crops. Bulging sacks filled with rice stand on the road­side wait­ing to be trans­port­ed away. Chil­dren fly kites on the fields of stub­ble, before these are burnt.
After the "Amer­i­can war" – which is how they refer to the Viet­nam war here – end­ed in 1975, the gov­ern­ment of the reunit­ed coun­try had parts of this coastal region dyked for rice farm­ing. How­ev­er, there are now more and more shrimp farm­ers mov­ing inland from the coast. You can recog­nise the farms from the rows of small pad­dle wheels attached to rods and turn­ing on the water's sur­face over the farm­ing basins. They are providing oxy­gen to the basins lined with tar­pau­lin. With 150 shrimps per square metre these are dense­ly packed. Con­ven­tion­al farm­ing with the use of pel­let feed and med­ica­tion brings an aver­age shrimp yield of 15t/ha.
The shrimp farm of Nguyen Thi Tuyet and her hus­band works quite dif­fer­ent­ly. In order to get there you have to take a long jour­ney by boat through rivers and canals, pass­ing man­groves and wood­en hous­es on stilts. The organ­ic farm is 2.7ha in size and two-thirds of that are home to man­groves.
Man­grove as shrimp feed
The cer­ti­fi­ca­tion under the require­ments of the WWF-ini­ti­at­ed Aqua­cul­ture Stew­ard­ship Coun­cil (ASC) for sus­tain­able aqua-farm­ing pre­scribes that at least half the land should be occu­pied by man­groves to serve as coastal pro­tec­tion and biofeed. The leaves of the man­groves fall in the water and the phy­to­plank­ton that form as a result of this serve as food for the shrimps. "Oth­er food or med­ica­tion is not nec­es­sary."
Nguyen Thi Tuyet sits on the wood­en planks of the veran­da of her house and pours green tea into small cups. It is true that the organ­ic shrimp farm­ers only har­vest 1t/ha of shrimps, but because they sell these to the Ger­man organ­ic com­pa­ny Bin­ca via a Viet­namese dis­trib­u­tor they get the equiv­a­lent of around $10/kg, which is a good price. "Since we gave up our rice farm in the North near Hanoi to start a shrimp farm down here, life has gone steadi­ly uphill." Nguyen Thi Tuyet nods with sat­is­fac­tion. With her annu­al income of around $10,000 she can even pay for her two chil­dren who stayed in Hanoi to go to uni­ver­si­ty.
Local solu­tions are need­ed
If there were a larg­er num­ber of these shrimp farms, the deple­tion of the main­land at Vietnam's south­ern tip might stop. How­ev­er, this hard­ly goes for all the changes in the delta region being caused by humans, which are putting more and more farm­ers into dif­fi­cul­ty. Duong Van Ni from the Uni­ver­si­ty of Can Tho sug­gests some con­crete mea­sures to take.
The alarm must be raised not just in Viet­nam

Duong Van Ni
"We need to act local­ly now," says the sci­en­tist. For exam­ple, he and his team have devel­oped a mon­i­tor­ing sys­tem to warn farm­ers by text mes­sage when the salt con­tent in their water is too high. Then they can close the water­gates of their irri­ga­tion canals in good time. Salt-resis­tant rice vari­eties could also be impor­tant. "The alarm must be raised not just in Viet­nam," urges the sci­en­tist. How­ev­er, the farm­ers in the Mekong Delta can­not wait for glob­al cli­mate pro­tec­tion mea­sures to be put in place. Oth­er­wise the mon­ey won't grow on trees any more.