Long before the city of Las Vegas was founded in the United States, a farming region of the same name existed in Spain, 50km south-east of Madrid. The Las Vegas region has deep, fertile soils which have been farmed for centuries. The soils have a loamy texture and are rich in organic matter, which is great for the local farmers. This farm­land sits on the banks of the Jarama, Tajuña and Tajo rivers, which pass through several munic­i­pal­i­ties, the most well-known being Titulcia, San Martín de la Vega, Villa­conejos, Chinchón, Colmenar de Orega, Ciem­pozuelos and Aran­juez.
Belmonte farm
The Belmonte's farm, on the plains of the Tajo River, is part of the Aran­juez munic­i­pality and has been the family's place of work for many gener­a­tions. Up until the 1970s, they grew a wide variety of crops here including pota­toes, arti­chokes, peppers, asparagus, and other vegeta­bles. In those days, most of the labour was done by hand and there weren't many trac­tors.
Due to easy mech­a­niza­tion and good yields, corn cultivation spread rapidly throughout the Las Vegas region.
...
The story behind the farm is a long journey span­ning gener­a­tions. With a lot of hard work and commit­ment, they have expanded their orig­inal 4-5ha of land to today's 170ha. Farmers started growing maize in 1975 in the Las Vegas region. As it is such an easy crop to grow and to get a good yield from, it became popular across the entire region and further afield.
Every­thing is so much easier now that we have the machines on the farm

Manuel Belmonte Gómez
The Belmonte Farm company was founded in 1995 and besides running the farm also offers contracting services. It now employs seven people, led by Manuel Belmonte Gómez. It has become a very well-estab­lished company and has a great future ahead. Mr Belmonte Gómez's chil­dren work on the farm too, are involved in its manage­ment, and share his passion for agri­cul­ture. And one of his grand­chil­dren, although still very young, has already shown interest in contin­uing the family legacy.
As well as their own 170ha, the Belmontes also grow crops on 60ha of rented land, bringing their total arable land to 230ha. As of today, the farm's main crop and source of income is still maize, but they have also brought wheat and alfalfa crops into the rota­tion. The maize produced in this region comes from FAO 700 hybrid isogenic crops, designed to be used as animal feed.
Trust in John Deere
To manage this land, the Belmonte family now owns five John Deere trac­tors, two John Deere combines, and two trailers. The first tractor they bought back in 1960 was a 38hp (28kW) Lanz Bulldog, with a wooden cab, windows, and curtains. Back then, the Lanz brand belonged to Deere & Company. The first John Deere tractor arrived on the farm in 1975. It was the JD 2135, which the farmer remem­bers very fondly. The tractor was manu­fac­tured in Spain and was "so much better than any we had had before". It had 75hp (55kW), hydraulic steering and brakes, and a three-range gearbox, which was a huge advance­ment in trac­tors at that time.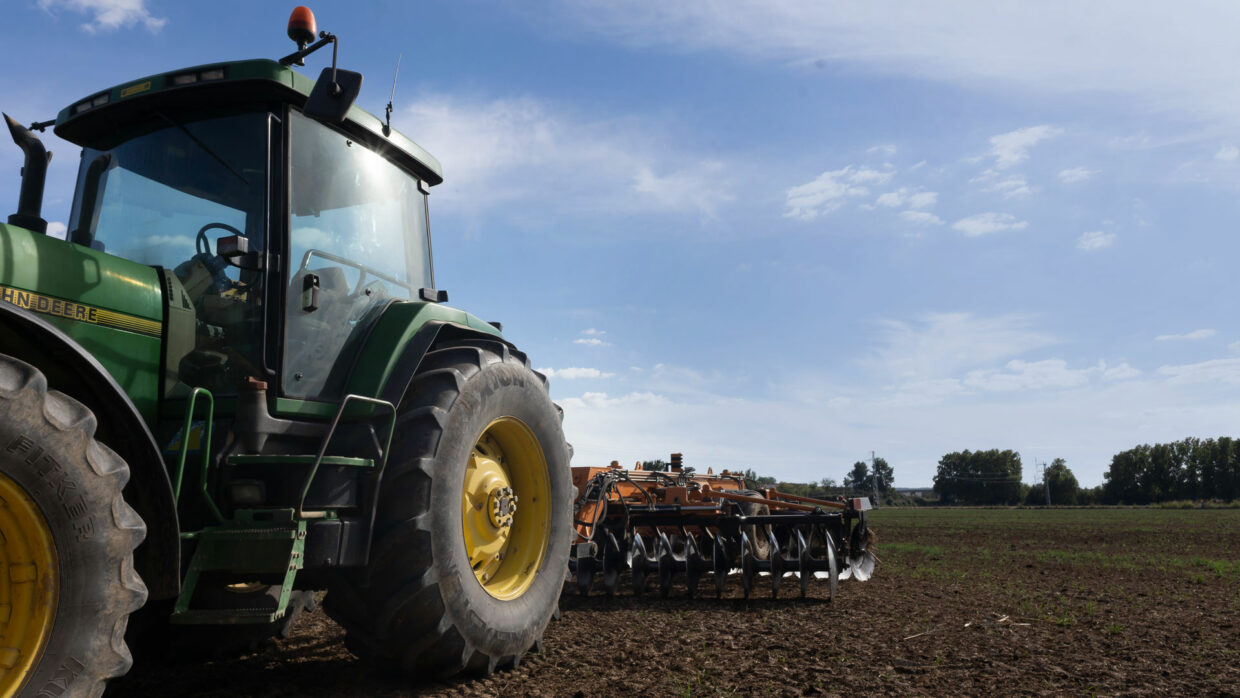 Agrí­colas owns five John Deere trac­tors...
... as well as two John Deere harvesters - for their own use and rural contracting work.
Other John Deere trac­tors such as the 3150, the 6300, the 6500 and the 8100 came along later. Purchasing a John Deere 8100 tractor (180hp / 132kW) was another impor­tant mile­stone for the family busi­ness, because at that time it was one of the most powerful trac­tors on the Spanish market. Nowa­days, the smallest tractor on the farm is a John Deere 6530 with 140hp (103kW), which is used for tasks with lower power require­ments, such as seeding and spraying.
As for the combines, the first one the Belmonte family bought, in the early 1970s, was from another brand, but "after that one, the rest have all been from John Deere because they're the best". The first John Deere combine they had was a 975, which they bought in 1976. As they were so happy with its perfor­mance, they continued to buy more as the company grew. They had the John Deere 955, 965, 985, 1085 and other combines from the Z and T series. The combine they purchased most recently was a John Deere T-550 in 2018. This combine is a formi­dable machine with a 6.8 litre engine able to generate 305hp (224kW) of power.
When you buy a tractor or a combine, the most impor­tant thing is the after-sales service. And John Deere is where you will find the best service.

Manuel Belmonte Gómez
The Belmontes have always bought their new trac­tors and combines from the Aran­juez John Deere deal­er­ship, now known as Tajada Barrio. They have more than just a profes­sional rela­tion­ship with this deal­er­ship: It is a "strong bond and personal friend­ship". When buying a tractor or a combine, the farmers recog­nise that "without a doubt" the most impor­tant factor is the after-sales service, and John Deere is where you will find the best service".
Services for third parties
Belmonte company doesn't work that much for third parties anymore. But for many years, the main busi­ness was harvesting crops for other farmers.
At that time, Belmonte had five combines which they used to harvest maize, wheat, barley and more, from Toledo to Burgos, trav­eling thou­sands of kilo­me­tres over a span of many months.
The impor­tance of main­te­nance
The farmers have had their trac­tors and combines serviced by the John Deere deal­er­ship "since the begin­ning". At Belmonte, the offi­cial service tech­ni­cians' work is partic­u­larly appre­ci­ated because it's these tech­ni­cians who are most familiar with the brand's different models and "they work very effi­ciently".
"Before getting to work, we do preven­ta­tive main­te­nance of the combine and the trac­tors to make sure we don't run into any prob­lems with them during the more crit­ical moments of the harvest." When it comes to spare parts, they always use genuine parts because it is impor­tant that they are compat­ible with the manufacturer's spec­i­fi­ca­tions, and to date they have had almost no issues.
Preci­sion farming is our next chal­lenge.

Manuel Belmonte Gómez
Preci­sion Farming
One of the plans for the near future is to intro­duce preci­sion farming tech­nolo­gies, starting with the combines. They want to install GPS devices and yield sensors which would allow the combine to record the yield and the coor­di­nates of every­thing it harvests, to then create produc­tivity maps for each field. They are also looking to incor­po­rate guid­ance systems so that they can bring more preci­sion to various harvesting tasks.
These tech­nolo­gies are already success­fully used in other parts of Spain, and the staff at Belmonte Farm want to be at the fore­front in all areas of agri­cul­tural machinery, so that they are best equipped to deal with what­ever the future might bring.