With an almost imper­cep­ti­ble nudge of the joy­stick, 4,500hp of tug­boat mus­cle revs qui­et­ly as Cap­tain Steve Coles lines up the Ryan Point with an anchored barge. The new tug­boat is the pride and joy of the trans­port com­pa­ny Tide­wa­ter, as it was designed to be able to turn on the spot. Mr Coles, who has spent 38 years on the Colum­bia Riv­er, con­trols the boat with ease. It requires both pow­er and a light touch to mas­ter these waters as they rush towards the Pacif­ic at 8.5m litres/second.
Mr Coles and his four-per­son crew have already picked up two barges car­ry­ing 3,000t of grain each in Pas­co, Wash­ing­ton and brought an emp­ty nat­ur­al gas barge to Pacif­ic Ethanol in Board­man, Ore­gon (see map). A few yards fur­ther down­stream, they are pick­ing up a barge of emp­ty steel con­tain­ers that car­ry Van­cou­ver, Washington's sol­id waste to a land­fill site on the oth­er side of Board­man. Freight trains stretch­ing for miles trans­port grain from North and South Dako­ta, potash from the Prairies and even Ford cars from Detroit to ports in the North West Pacif­ic region for export. The trains may reach their des­ti­na­tion long before Mr Cole's ship does, but he only needs about one litre of diesel per tonne of wheat to get the tug­boat the 170 miles from Board­man to Port­land.
Down­stream from Board­man, the Ryan Point will pass through three of the five dams on the Colum­bia Riv­er, past hydro­elec­tric tur­bines that used to sup­ply the area's alu­minum smelters and air­craft fac­to­ries with elec­tric­i­ty dur­ing World War II. Now they sup­ply ener­gy to enor­mous serv­er banks by the riv­er to keep the inter­net work­ing and the dig­i­tal world mov­ing along.
Gaz­ing through his win­dow nine metres above the sur­face of the water, Mr Coles looks out on the kha­ki-coloured hills of Mor­row Coun­ty, Ore­gon. Along the hori­zon are the cir­cu­lar sprin­kler sys­tems that draw 1% of the Columbia's water to trans­form the desert into a fer­tile land for grow­ing pota­toes, onions, mint, veg­eta­bles and alfal­fa. Behind him, on the north bank, vine­yards cling to the steep slopes.
This place, also known as "Riv­er Mile 270", is rough­ly in the mid­dle of the almost 465-mile (750km) long Colum­bia Riv­er sys­tem (which includes its largest trib­u­tary, the Snake Riv­er). It is a micro­cosm of every­thing that makes Amer­i­can rivers and the land­scape around them so mag­nif­i­cent, fas­ci­nat­ing, and yet chal­leng­ing. On the riv­er there are boats, barges, fish­ing skiffs and speed­boats. This region not only grows agri­cul­tur­al crops, it process­es and ships them too. Data is stored and of course, liv­ings are earned.

High­ly diverse
The Port of Mor­row is incred­i­bly diverse, accord­ing to Kristin Meira, exec­u­tive direc­tor of the Pacif­ic North­west Water­ways Asso­ci­a­tion. "They are not doing a lit­tle of every­thing. They're doing a lot of every­thing." A pletho­ra of dif­fer­ent com­pa­nies pro­cess­ing every­thing from pota­toes to cheese to data have estab­lished them­selves here in a 3,200ha area on a net­work of roads, rail­ways, pipelines and pow­er­lines. Along­side a con­ven­tion­al pow­er plant that con­verts nat­ur­al gas into elec­tric­i­ty, one of the com­pa­nies is exper­i­ment­ing with bio­fu­el, while anoth­er is dis­till­ing corn grown in the Mid­west into ethanol. Togeth­er with the port, these com­pa­nies pay out around US$500m (£383m) in wages every year to more than 8,400 employ­ees.
Gary Neal, the port's gen­er­al man­ag­er, points out that Mor­row boasts the third-high­est aver­age income any­where in Ore­gon. Some­thing that could help Board­man and the oth­er neigh­bor­ing com­mu­ni­ties to hold on to the next gen­er­a­tion through chal­leng­ing and well-paid jobs. "You don't need to move to a met­ro­pol­i­tan area to get a job in tech," Mr Neal says. For elec­tri­cians, lab tech­ni­cians, plant tech­ni­cians and oth­er tech­ni­cal pro­fes­sions, the region around Board­man – which has been iso­lat­ed for so long – is now a pop­u­lar place to come and work.
Strate­gic loca­tion
Just 12 to 18 hours by barge from the export ter­mi­nals around Port­land, mile 270 is also a strate­gic place to be. "The riv­er gives us just a great trans­porta­tion tool that's safe, it's reli­able, and it does such a great job in help­ing us get the crop out of the inte­ri­or and into the export chan­nels," says Kevin Gray, gen­er­al man­ag­er of the local agri­cul­tur­al co-oper­a­tive, Mor­row Coun­ty Grain Grow­ers. Both red and white wheat is trans­port­ed from a 60-mile radius to the riv­er, and is even­tu­al­ly export­ed, pri­mar­i­ly to Asia.
The riv­er gives us just a great trans­porta­tion tool that's safe and reli­able.

Kevin Gray
The agri­cul­tur­al co-oper­a­tive can store up to 27,000t of grain at the Port of Mor­row and has already laid the ground­work to expand a fur­ther 16,000t. This will make it pos­si­ble to trans­port maize from freight trains in the Mid­west and load it direct­ly onto barges.
Next door to the Mor­row Coun­ty Grain Grow­ers, Pacif­ic Ethanol unloads a train of Mid­west­ern maize every 10 days, says man­ag­er Daniel Koch. The com­pa­ny dis­tills this into bio­fu­el and ships it to refiner­ies in Port­land by barge. Every day, 25 truck­loads of wet dis­tillers' grains sup­ply feed to around 100,000 cat­tle in a 50-mile radius of Board­man and corn oil is trucked to poul­try farms in Ore­gon and Utah. The effi­cient trans­port of maize and ethanol, as well as the region's bustling buy­er mar­ket for by-prod­ucts are cru­cial rea­sons to min­imise the car­bon inten­si­ty, Mr Koch notes.
Irri­ga­tion life­line
Thanks to the irri­ga­tion lines that trans­port the riv­er water to farm­land, a suc­cess­ful pota­to and veg­etable indus­try has been estab­lished in the Colum­bia Basin. Farmer Jake Madi­son from Echo, Ore­gon says water is the dif­fer­ence between pro­duc­ing a US$250 (£191) dry­land wheat crop every oth­er year and har­vest­ing veg­eta­bles and onions that can gross US$14,820/ha (£11,347/ha).
The life­line that ensures Madison's boun­ti­ful har­vests is a 20m long pipeline and canal sys­tem that trans­ports the riv­er water to his farm. Applied spar­ing­ly using 86 cen­tre piv­ots and oth­er irri­ga­tion sys­tems, he is able to opti­mal­ly divide the water between his fields.
Since his father secured the last unre­strict­ed water rights to get access to the Colum­bia in the 1990s, the Madis­ons have been refin­ing the farm's water con­ser­va­tion pro­gramme. Mr Madi­son explains that the yield poten­tial of each crop is analysed, along with the amount of water need­ed to achieve this. Seed­ing pop­u­la­tions, fer­tilis­ers and water­ing sched­ules are opti­mised to make the most of the water avail­able.
Tech­nol­o­gy takes care of the of the rest. Real-time neu­tron mois­ture probes, drop tubes on the piv­ots, and pres­sure reg­u­la­tors have sig­nif­i­cant­ly reduced water con­sump­tion. Today Mr Madi­son con­sumes just over half of the total water used when the farm first start­ed irri­gat­ing. "We can actu­al­ly grow bet­ter qual­i­ty crops with less runoff," he explains.
We can actu­al­ly grow bet­ter qual­i­ty crops with less runoff.

Jake Madi­son
Mr Madison's oper­a­tion also plays a key role in the port's envi­ron­men­tal sus­tain­abil­i­ty and local agri­cul­tur­al econ­o­my. He is among a num­ber of oth­ers who are using par­tial­ly treat­ed indus­tri­al water from the port's indus­tri­al plants to sup­ple­ment his irri­ga­tion rights on non-veg­etable crops. "It's got a pret­ty good nitro­gen load to it and it's liq­uid, so we can grow crops on it," he says. "It's a least-cost alter­na­tive to hav­ing them just treat it and dump it back in the riv­er. With this addi­tion­al water and nutri­ent sup­ply, we can con­tin­ue with our crop rota­tion and even expand it."
In total, the water from the port is spread across about 4,856ha, mak­ing it one of the largest areas in the coun­try to take advan­tage of indus­tri­al water in this way, and at the same time be of enor­mous ben­e­fit to the region­al agri­cul­ture. "When you have a region that gets about 180mm of annu­al pre­cip­i­ta­tion, most places real­ly need the water for irri­ga­tion any­way," Mr Neal says.
Ide­al loca­tion for vine­yards
The Colum­bia Riv­er has always trans­port­ed much more than just freight. Thanks to the soil deposits left by glac­i­ers, the floods that formed the course of the riv­er, and the wind that fol­lows the riv­er inland, the region's wine cultivation is real­ly boom­ing. Wine­mak­er Brit­tany Komm at Pre­cept Wine says that the grapes on the north bank of Riv­er Mile 270 make excel­lent wine that strong­ly reflects the local con­di­tions.
"The riv­er is the rea­son this is such a great grow­ing site," she says. "We are warm-to-hot in the sum­mer. Around har­vest, we cool down just enough to allow for extend­ed hang time, which lets the grapes devel­op flavour, colour, and sug­ar." Accord­ing to Ms Komm, the wind blows in an ide­al direc­tion up for the vine­yards, so the grapes get thick skins that give deep, dark col­ors and a lot of tan­nins.
Back in Board­man, the port oper­a­tor and its ten­ants decid­ed to share the local fea­tures of inter­est with the pub­lic and car­ry out pro­fes­sion­al mar­ket­ing. They cre­at­ed the SAGE Cen­tre (Sus­tain­able Agri­cul­ture and Ener­gy), that is a mag­net for more than 20,000 vis­i­tors annu­al­ly, with exhibits rang­ing from a French fry pro­cess­ing to scale mod­els of barges.
The vis­i­tors are fas­ci­nat­ed by the Tide­wa­ter exhib­it, which high­lights the effi­cien­cy of barges. A four-barge tow can trans­port 12,500t of grain – the equiv­a­lent of 140 rail cars or almost 500 trucks – with few­er acci­dents and low­er emis­sions. "We move between 3m and 3.3m tonnes of grain a year," says Bruce Reed, COO of the ship­ping com­pa­ny Tide­wa­ter. "If all that grain had to move on anoth­er mode of trans­porta­tion, it would cer­tain­ly clog up the high­ways."
Colum­bia Riv­er: North America's third-largest grain trans­port cor­ri­dor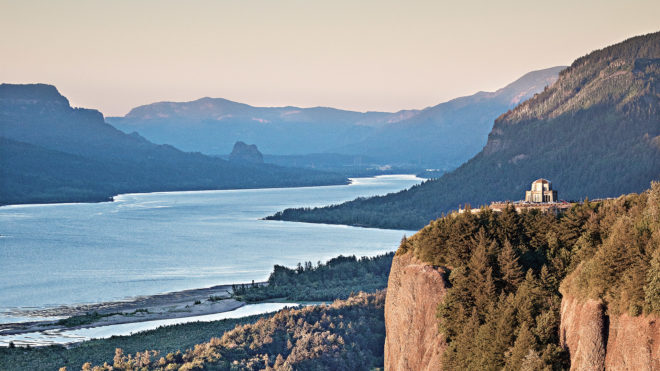 The Colum­bia Riv­er flows through the Pacif­ic North­west of the USA, ie the states of Wash­ing­ton and Ore­gon. Its source is fur­ther north, in the Cana­di­an province of British Colum­bia. The Colum­bia Riv­er meets the Pacif­ic at Asto­ria, Ore­gon. It is one of just three rivers that man­age to break through the coastal moun­tain range on the North Amer­i­can Pacif­ic coast. For this rea­son, it is a vital con­nec­tion from the Continent's inte­ri­or to the Pacif­ic coast. With a dis­charge of around 8.5m litres/second, the Colum­bia Riv­er is the largest riv­er in North Amer­i­ca by dis­charge vol­ume that flows into the Pacif­ic.