"But I don't want to go home," the lit­tle girl wails, as her par­ents cajole her into the car. Togeth­er, they have enjoyed an after­noon of fresh air, sun­shine, free­dom to do things and access places that are nor­mal­ly not open to them. The lit­tle girl has tum­bled off bales into soft straw, clam­bered into the cabs of com­bines and trac­tors, 'milked' an arti­fi­cial cow, and han­dled baby chicks, lambs and goats. With her friends, she has pic­nicked, laughed and played in the coun­try­side. It is Open Farm Sun­day, a June day when some 365 farms from Jer­sey to Shet­land open their gates to the gen­er­al pub­lic and say, "Wel­come! Come in!"
For one, brief day, chil­dren enjoy the her­itage that in ear­li­er days was the birthright of many, if not most, chil­dren. Today, how­ev­er, it's esti­mat­ed that more than a third of all chil­dren have nev­er even heard a real cow moo, and a fifth of the pop­u­la­tion has nev­er vis­it­ed a farm. The con­se­quence of mod­ern agri­cul­tur­al prac­tice and today's more enlight­ened under­stand­ing of what con­sti­tutes a duty of care means that total free­dom for chil­dren is no longer real­is­tic.
For­tu­nate­ly, agri­cul­ture and rur­al indus­try is well endowed with peo­ple who have a pas­sion to pass on the next gen­er­a­tion their own love for rur­al cul­ture, farm­ing and nature. They rec­og­nize the risk that, gen­er­a­tion by gen­er­a­tion, chil­dren can eas­i­ly become iso­lat­ed from the real­i­ties of life and deprived of pre­cious expe­ri­ences that pre­vi­ous gen­er­a­tions took for grant­ed.
Encour­age­ment and respect
Wilt­shire farmer John But­ler is one of many farm­ers who have helped to make it pos­si­ble for all school­child­ren to vis­it a real farm. "I think it's very impor­tant to encour­age young peo­ple and help them with their edu­ca­tion," he declared.
As he talks, he may not use the word 'respect', but it's clear that's what he feels for the 1000 or more chil­dren who come to Row­de­field Farm each year on orga­nized school vis­its. Many farm­ers, Mr But­ler among them, only began to open their farms to edu­ca­tion­al vis­its as one of the aspects of the Coun­try­side Stew­ard­ship Scheme. This result­ed in a net­work of farm­ers who have the expe­ri­ence and the facil­i­ties to ful­fill what can now be seen as a real edu­ca­tion­al need. "Children's aspi­ra­tions are high­er than they were," Mr But­ler com­ment­ed. "They are increas­ing­ly inter­est­ed in oth­er aspects of agri­cul­ture. But the trick is not to get too tech­ni­cal."
Ini­tial­ly, school vis­its were based in the farm work­shop, but the first pur­pose-built 'school­room' was opened at Row­de­field in 2007, with space to accom­mo­date a full class of pri­ma­ry chil­dren. Since then, school class sizes have increased and the cur­ricu­lum has diver­si­fied, so there are plans to con­vert an old cow­shed into a larg­er, gen­er­al pur­pose teach­ing facil­i­ty. Mr But­ler would like to make bet­ter use of elec­tron­ic media and to explore devel­op­ing agri­cul­tur­al tech­nolo­gies, such as robot­ics and pre­ci­sion farm­ing.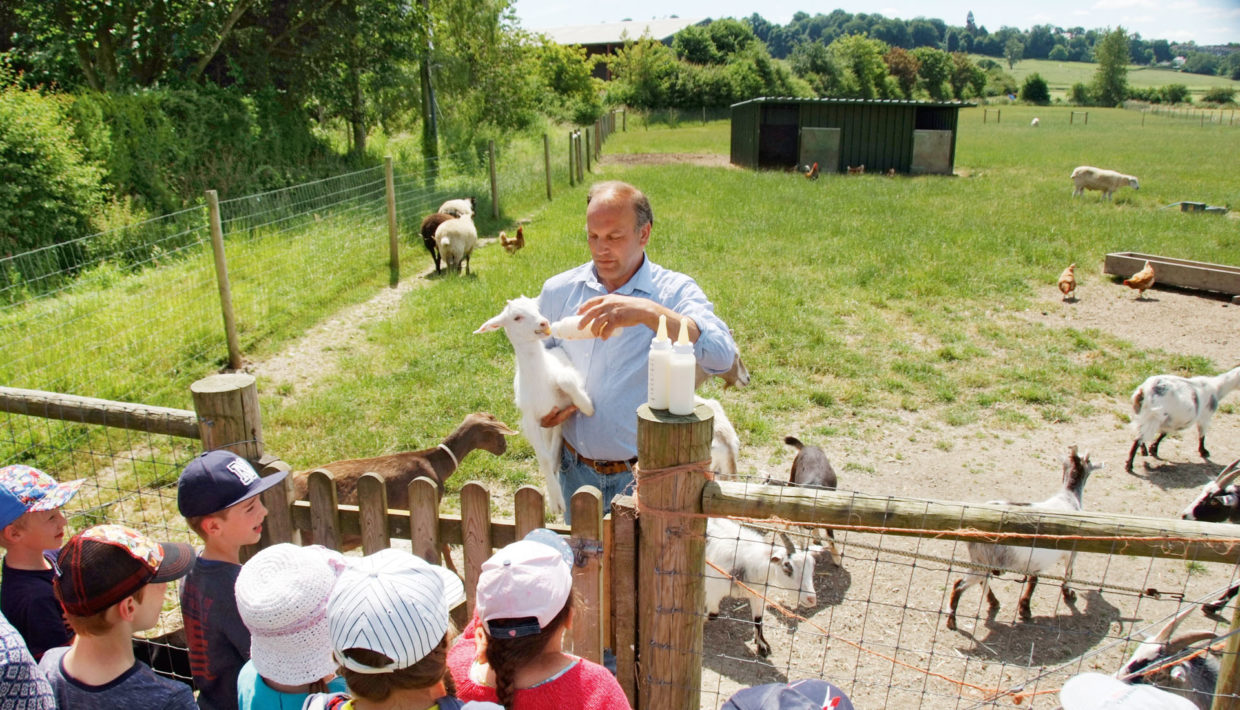 Farms are fun, but John But­ler empha­sis­es the seri­ous busi­ness that is mod­ern agri­cul­ture.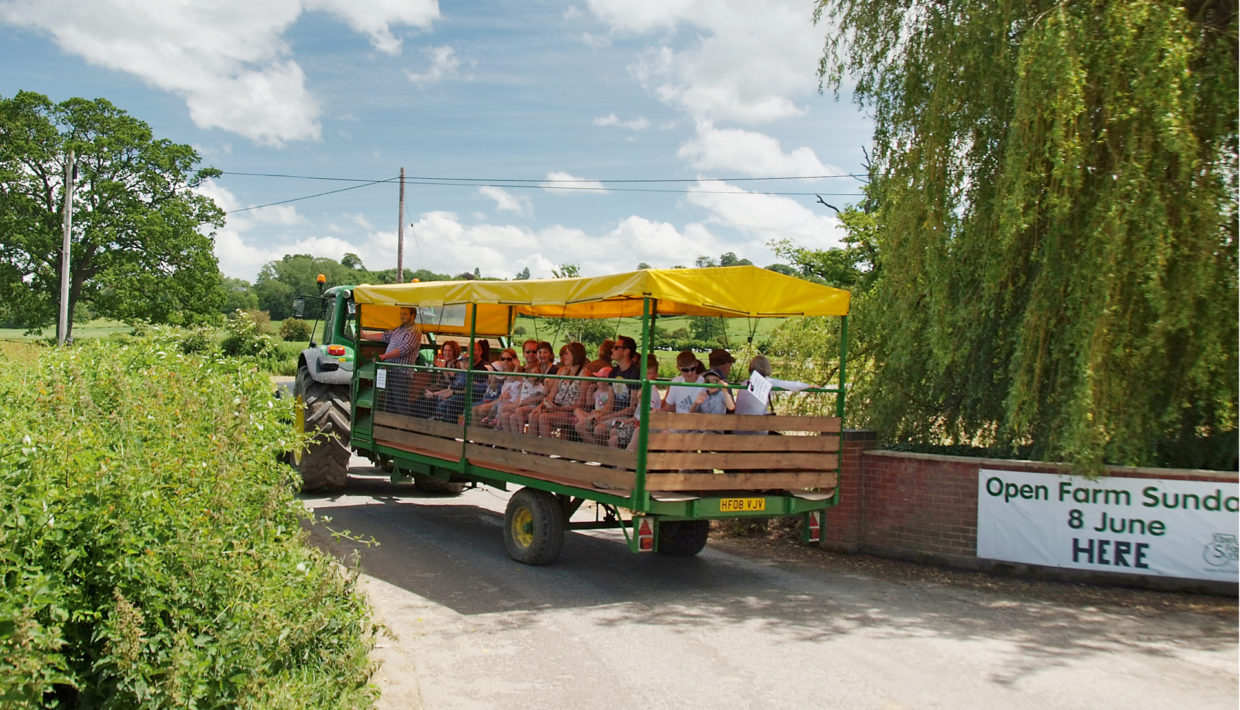 Open Farm Sun­day is no easy under­tak­ing, and comes at a busy time of year for many farm­ers.
Few young peo­ple or their par­ents realise the range of skills and sci­ences that are required in agri­cul­ture.
Baby ani­mals are always pop­u­lar, espe­cial­ly when there's a chance to feed one your­self.
He empha­sizes the impor­tance of know­ing a lit­tle about the chil­dren them­selves, so that he can estab­lish points of inter­est. With pri­ma­ry school chil­dren, ani­mals are an easy focus. The tech­ni­cal­i­ties of arable crop­ping are not quite as invit­ing, but intro­duc­ing prac­ti­cal activ­i­ties such as grind­ing wheat to make flour help to empha­size aspects of the food chain. "Teach­ers also tend to be less aware of the arable side," he com­ment­ed.
It's impor­tant to encour­age young peo­ple and help them with their edu­ca­tion.

John But­ler
Not least of the expe­ri­ences enjoyed by ear­li­er gen­er­a­tions of chil­dren was the oppor­tu­ni­ty to work along­side adults as part of a team. But as paid farm work­ers have declined in num­ber, increas­ing­ly the adults they work with are Dad and Mum, and the chil­dren who get to expe­ri­ence a farm are those lucky enough to have been raised there.
Coun­try chil­dren once learned through con­tact with expe­ri­enced work­men and women; but those days have long gone, replaced by brief, con­trolled vis­its in a more for­mal teach­ing con­text. Even so, they clear­ly have a big influ­ence on chil­dren.
Mem­o­rable expe­ri­ences
"First-hand expe­ri­ences make a big impres­sion and are more mem­o­rable than oth­er teach­ing meth­ods," said Car­ol Snow­den, Year Three Class Teacher at Frog­well Pri­ma­ry School, Chip­pen­ham, Wilt­shire. In a sin­gle sen­tence she sums up the rea­sons why school vis­its to farms have become so pop­u­lar in recent years. It would be dif­fi­cult to think of a man­age­able envi­ron­ment that could offer more eye- ear- and nose-open­ing expe­ri­ences than a real, work­ing farm in unspoiled coun­try­side.
While urban adults might flinch at mud, manure and ani­mal smells, for chil­dren who are meet­ing them for the first time, they are mem­o­ries in the mak­ing. "Chil­dren want to be dirty, and like the smells and oth­er farm sur­pris­es, because they use all their sens­es," Mrs Snow­den said. "That gives them mem­o­ries."
These mem­o­ries can then be recalled and applied again and again in sub­se­quent edu­ca­tion and in lat­er life, she explains. For sev­en- and eight-year-olds at Frog­well Pri­ma­ry, their farm vis­it is wrapped up in a three-day stay at a cen­tre just a mile's walk from the host farm.
What the chil­dren do at the farm is always care­ful­ly linked with the teach­ing cur­ricu­lum. Sub­jects such as food chains, care of the envi­ron­ment and nutri­tion are part and par­cel of the pri­ma­ry school learn­ing agen­da, togeth­er with read­ing, math­e­mat­ics and oth­er aca­d­e­m­ic skills.
Chil­dren want to be dirty, and like the smells and oth­er farm sur­pris­es, because they use all their sens­es.

Car­ol Snow­den
Even in this pre­dom­i­nant­ly rur­al area, only a very small pro­por­tion of chil­dren end up work­ing in agri­cul­ture. But who knows what seeds of ambi­tion may be sown in the fer­tile minds of young chil­dren? "For all chil­dren it gives an exam­ple of a career oppor­tu­ni­ty." It's an eye-open­er to them to dis­cov­er that there are many pos­si­ble ways of becom­ing part of a great indus­try, even if farm­ing doesn't run in the fam­i­ly.
Inter­lock­ing rela­tion­ship
"What's cru­cial is how sev­en- to ten year-olds under­stand where their food comes from. This has an impact on the land­scape, their well-being, and the liveli­hoods of every­body respon­si­ble for get­ting food from farm to plate." Yousaf Mirza gets it. He first spot­ted this inter­lock­ing rela­tion­ship as a child grow­ing up in rur­al Leices­ter­shire. His inter­est devel­oped fur­ther while teach­ing geog­ra­phy in sec­ondary schools, and orga­niz­ing trips and expe­di­tions that aimed to open the eyes of young peo­ple to the con­se­quences of ordi­nary deci­sions upon the world around them.
He believes young peo­ple are intrin­si­cal­ly linked to the land­scape. "Food, cloth­ing, fuel and water are just some of the exam­ples of things we rely on the man­aged land­scape to pro­vide," he said. "Many peo­ple are unaware of the sig­nif­i­cance of this con­nec­tion, due to changes in employ­ment num­bers in the pri­ma­ry indus­try sec­tor." He con­sid­ers that, if not trans­ferred to young peo­ple, a grad­ual loss of skills will lead to a change in how future gen­er­a­tions could choose to use their land­scapes.
Now head of edu­ca­tion at Brae­side Edu­ca­tion and Con­fer­ence Cen­tre in Wilt­shire, Mr Mirza uses the resources of the area as a prac­ti­cal 'class­room', tak­ing in places such as Row­de­field Farm. Brae­side pro­vides accom­mo­da­tion and facil­i­ties for schools to broad­en children's under­stand­ing of the world and them­selves plus oppor­tu­ni­ties to prac­tice life skills. For exam­ple, chil­dren may be sent out to buy the ingre­di­ents for their own lunch­es on mar­ket day. Their choic­es are then dis­cussed and eval­u­at­ed.
What's cru­cial is how sev­en to ten year-olds under­stand where their food comes from.

Yousaf Mirza
"What­ev­er food is on your plate comes from some­where, and some­body," he explained. "This influ­ences jobs, finances, the envi­ron­ment and land­scape. We also explain the 'before' and 'after' con­se­quences of sim­ple choic­es such as whether to choose organ­ic, Fair Trade or local prod­ucts." By these means he hopes that, as adults, the chil­dren will take more respon­si­bil­i­ty for stew­ard­ship of the envi­ron­ment, the char­ac­ter of the land­scape and encour­ag­ing the agri­cul­tur­al econ­o­my to move for­ward.
Mis­sion to pass skills on
Forestry-trained Andrew Williams is qui­et­ly spo­ken, almost shy, but he admits he's a man gripped by a love of coun­try skills, and his inter­est becomes a pas­sion when he talks about hand­ing these skills on to the ris­ing gen­er­a­tion. "The old crafts were still alive when I start­ed out," he says. "I think it's so impor­tant in my own time to pass them on." Some hedges are 1000 years old, so they have been fea­tures of the land for all that time. "If all hedges were left untend­ed, it would destroy the land­scape," he believes. But even today, hedge lay­ing is more than just a way of improv­ing the view.
The Roy­al Agri­cul­tur­al Uni­ver­si­ty at Cirences­ter, Glouces­ter­shire, con­sid­ers it an impor­tant part of bound­ary main­te­nance and con­ser­va­tion and runs week-long hedge lay­ing cours­es for agri­cul­tur­al stu­dents and oth­ers who need to acquire the nec­es­sary skills. Mr Williams is an instruc­tor on these cours­es dur­ing the win­ter hedge lay­ing sea­son and also tar­gets local schools. He devised a way of set­ting up a mini-hedge lay­ing com­pe­ti­tion that can be done in the class­room, using nat­ur­al mate­ri­als. He esti­mates that he intro­duces at least 100 peo­ple a year to this tra­di­tion­al craft. "My real pas­sion is for pass­ing it on," he says, remem­ber­ing a wide-eyed farm appren­tice who said to him, "I didn't know jobs like this ever exist­ed."
This arti­cle was first pub­lished in The Fur­row mag­a­zine in June 2015.