Mr Kreutzer, what is your role at John Deere and how did you come to work in this role?
I come from an agri­cul­tural holding near Diepholz in Lower Saxony. As the eldest of four, after school I decided not to take over manage­ment of the farm; it is now run by my two brothers. Instead, I studied geoin­for­matics. That's when I was given the oppor­tu­nity to work with GPS and GIS systems and was inspired to go on to work for John Deere in the preci­sion farming sector.
In 2005 I completed my thesis on the topic of section control at John Deere's site in Zweibrücken. At that time, I was working in the testing depart­ment. After working in different stations within John Deere, I am now respon­sible for the so-called digital appli­ca­tions. These include the mobile apps and the the Oper­a­tions Centre web appli­ca­tion. I also still have a close connec­tion with my family's farm. When I'm there, I can test out the new tech­nolo­gies in the field.
What does preci­sion farming look like on your family's farm?
As I am so passionate about this area, we started working with new tech­nolo­gies very early on. For example, in 2000, we were one of the first busi­nesses in Germany to have yield recording on our John Deere combine. A lot has happened since then.
Now all our trac­tors and combines have Auto­Trac.
Now all our trac­tors and combines have Auto­Trac. We also use the yield mapping options, drive using section control, docu­ment our work in detail and are starting to use site-specific manage­ment. Our busi­ness is a processing plant. We rear 10,000 pigs per year and operate a biogas plant along with other farms. It is there­fore espe­cially impor­tant for us to opti­mise the nutrient flow in-field and on the farm.
How do the mobile apps actu­ally help you on the farm?
Like many other people, we are using smart­phones more and more. In the MyOp­er­a­tions Mobile App, for example, I can see the error codes of a machine in real time. This was very useful recently when we chopped crop for the biogas plant. Diesel had just been deliv­ered and my brother was the first to refuel. There was prob­ably a little dirt in the tank, so the diesel filter closed and the power failed. I received this error message directly on my phone and sent a screen­shot to our dealer via What­sApp. He put a new filter out for me and after half an hour I was able pick it up. That was at 7.30 pm on a Saturday.
The app has also already prevented major damage to machinery on your farm. How was that?
That was in the early summer of 2020. As it hadn't rained since March, the ground was very dry and we were going over with a deep culti­vator, without ploughing the soil. The culti­vator goes 30cm or more into the ground. I was sitting on the tractor when there was a quick "clack" sound behind me and I saw that three of the culti­vator tines were sticking up. It was obvious that there was a large obstacle in the way. I used the app to docu­ment the loca­tion with a marker and GPS posi­tion: Stone warning! As the maize seeder was trav­el­ling directly behind me, we didn't have time to take a closer look at the obstacle at the time.
The maize culti­vated on this land then went directly into the biogas plant silo in October. Rye should be grown next in the crop rota­tion. So we choppedand ploughed directly behind so we could drill the rye the next day. Thanks to the marking func­tion, we knew exactly where we had to watch out for the obstacle. Instead of driving at full speed, my brother drove slowly over the problem area. Even then, the obstacle still caught two of the plough's shear bolts. However, if he had driven at full speed, the entire plough could have been ripped off. By using this feature, we avoided a huge amount of damage.
The marked obstacle on the machine display ...
... and in the field.
How could your brother know where the problem area was when he was driving the tractor?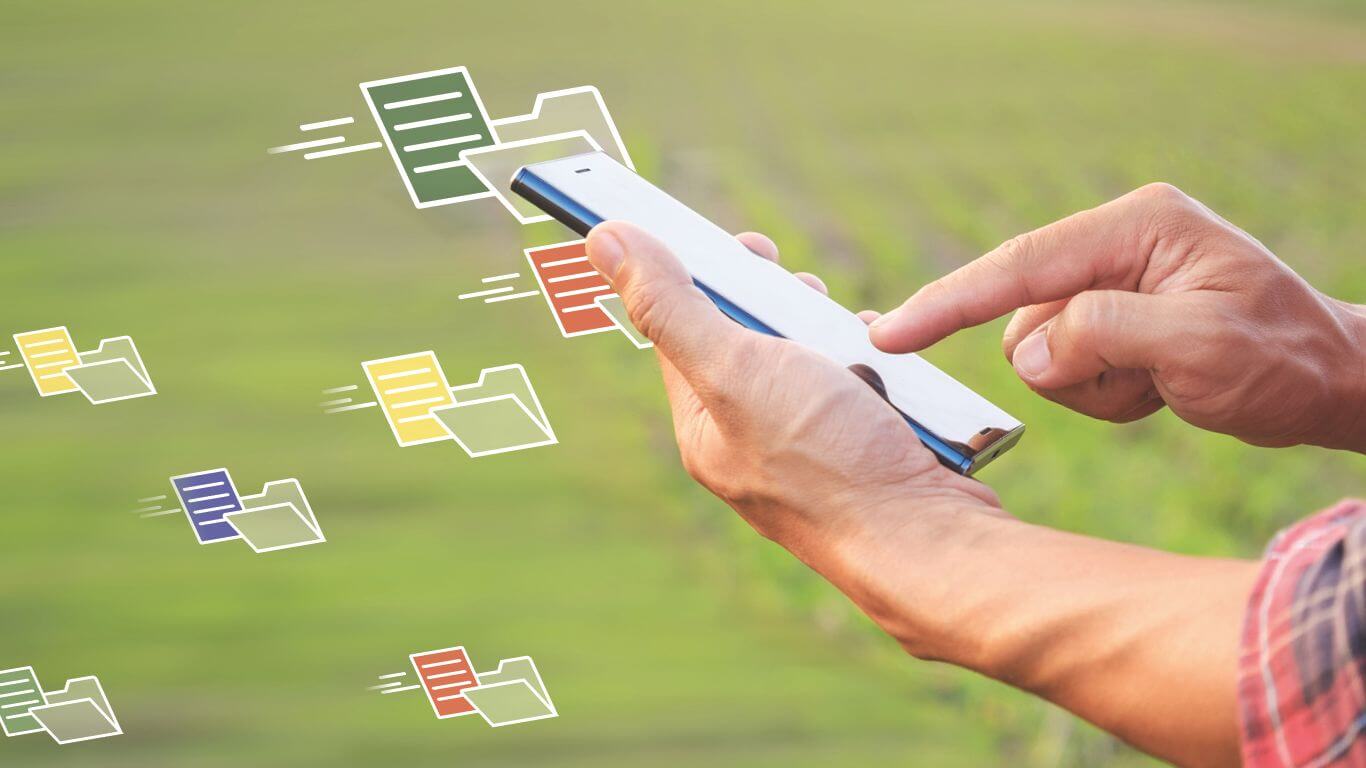 Go Oper­a­tions Center
Schedule your work in advance and send job infor­ma­tion directly to each machine.To the Oper­a­tions Center
The infor­ma­tion that I docu­mented with the app was imme­di­ately synchro­nised with the Oper­a­tions Centre. Throughout the season, I distribute all the infor­ma­tion docu­mented in the Oper­a­tions Centre back to the machines via setup files. The mark­ings, for example, are then shown directly on the machine displays. This allowed my brother to see exactly where the problem area was when he was ploughing. Infor­ma­tion is trans­ferred from the Oper­a­tions Centre to the machines either wire­lessly via JDLink Connect or via a USB stick.
And what will happen to the obstacle?
As soon as the field has been harvested next summer, we will drive out with the exca­vator and take a closer look at it. It must be quite large because it caught several shear bolts at once.
Short tuto­rial about setting flags in the mobile app: