LONG-TERM LOSS OF YIELD OF COMPACTED AREAS COMPARED WITH NON-COMPACTED REFERENCE AREAS
In Reck­en­holz, Switzer­land, a study by the Swiss Agro­scope Insti­tute and ETH Zurich is inves­ti­gating the long-term effect of soil compaction on produc­tivity. In 2014, trial areas were compacted under wet soil condi­tions with a machine weight of 32 t and high tyre pres­sure in order to be able to measure yield changes in the course of crop rota­tion. In addi­tion, the oxygen and CO2 content, water and gas exchanges and biolog­ical activity in the soil were inves­ti­gated in subse­quent years. The results show that the soil has not recov­ered several years after compaction. Losses in yield remain consis­tent. This is due on the one hand to subsoil compaction, which can hardly be influ­enced by machines, and on the other hand to the topsoil, which has not regen­er­ated in four years despite repeated ploughing.
FACTORS INFLUENCING COMPACTION


Axle load


Number of
passes on the field


Soil mois­ture


Soil pres­sure in
contact area


Number and
type of tyres


Soil type
and struc­ture
COMPACTION IN DEEPER SOIL LAYERS IS HARD TO MANAGE
Using wider tyres, total load can be almost doubled without increasing soil pres­sure on the surface. However, the pres­sure reaches much further down.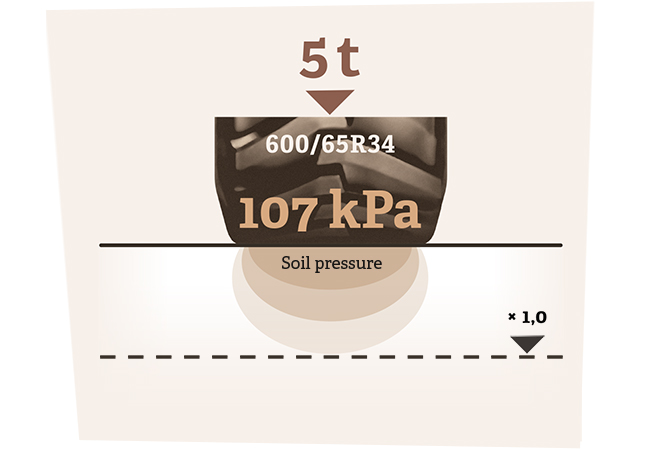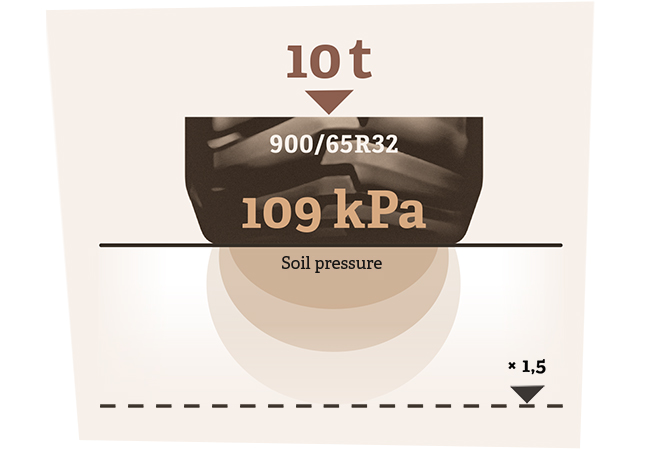 Total weight of machinery
300 t
Total weight of machinery used in a biogas crop rota­tion over three years.
SOIL DEGRADATION FROM COMPACTION (MILLION HA)
33Europe10Asia4Australia18Africa3Amer­icas
Compaction risk of Euro­pean soils
36 %
Percentage of Euro­pean soils with
high or very high compaction risk.
Sources: FAO, Inra, Europäische Umwelt­a­gentur, Thomas Keller / Agro­scope, Terranimo, Northern Illi­nois Univer­sity, Biogas Forum Bayern