Between the Camargue region and the city of Marseille extends the plain of La Crau, 52,000ha, including 12-13,000ha of meadows, irri­gated by a network of canals. These plots are bordered by fili­oles (small irri­ga­tion canals), connected to the network, which are made to over­flow by means of martelières (small sluices) which obstruct them. The submer­sion is gradual and lasts several hours; the volumes supplied in the order of 15,000 to 20,000m3/ha/year.
This water is needed to produce the famous Crau Hay, appre­ci­ated for its diver­sity and nutri­tional rich­ness. "It is made up of a balance of grasses, legumes and other plants," explains Olivier Tommasi. "The owners gather it in three cuts, pressed into cubic bales of 500kg each, and then graze it with sheep. "
Restoring an ideal degree of slope – 0.28%
After 40 to 50 years, complete restora­tion of the meadow is neces­sary. Its level­ling for reseeding and the asso­ci­ated struc­tural work (canals, drainage ditches, embank­ments) are the specialty of the Tommasi Company and its three drivers. "The problem in the La Crau plain is twofold: The avail­ability of water in the Durance is reducing, and the labour force – to manu­ally manage the water intake in the canals – is becoming scarce," explains the entre­pre­neur. "Hence the impor­tance of creating a level meadow with an ideal degree of slope – 0.28%, so that the water submerges the meadow by gravity, evenly and above all else quickly."
To carry out this work, Mr Tommasi uses GPS and laser guides, as well as powerful trac­tors. After clearing the meadow of cover crop, his driver Adrien Noguès takes control of a John Deere 8400R, which arrived last year, pulling the Amer­ican 4.5m-wide Reynolds heavy scraper.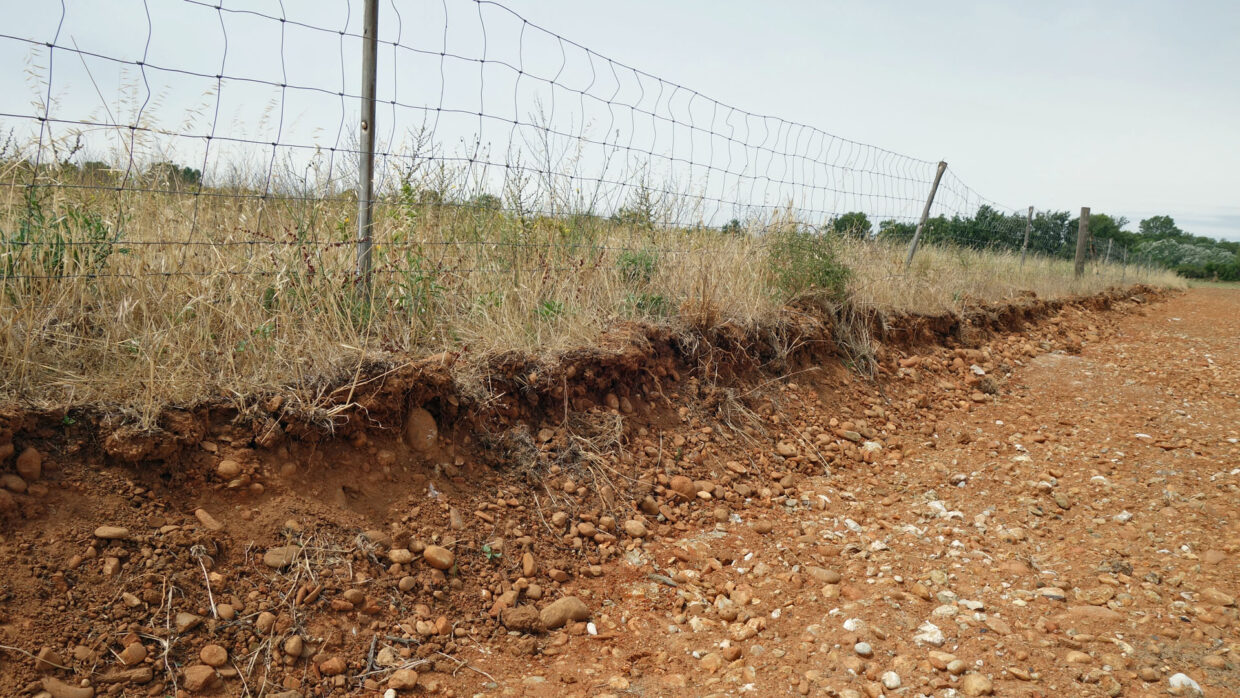 The soil profile of the irri­gate meadows of the Crau: On the irri­gated land, the deposited silt creates, over dozens of years, a layer of allu­vial soil; only about 20cm thick, which is rich in minerals and trace elements, just what is needed for hay grown on it.
Specific program­ming of the E23 trans­mis­sion
"Upon delivery, the 8400R Power­shift trans­mis­sion was config­ured to act like a classic arable tractor," recalls Mr Noguès. However, with the scraper attached, the trac­tion effort was violent when starting: The stan­dard trans­mis­sion setting led to slow down­shifts and jerky trans­mis­sion. "I had to compen­sate by accel­er­ating again. We had to figure out how to adjust the trans­mis­sion, to better antic­i­pate the trac­tion forces," he continues.
Mr Tommasi then consulted his colleague Pierre Douineau, from Divatte-sur-Loire (Loire-Atlan­tique), a well-known contractor in the field of earth­work scrapers, towed by John Deere trac­tors. "Remotely, Pierre guided us in making adjust­ments to the in-cabin console," confirms Mr Tommasi. "We were able to reduce the transmission's down­shift antic­i­pa­tion rate from 20% to 14%. The tractor imme­di­ately became extremely effi­cient." Mr Noguès reports, for example, that if the soil is soft, he can load 20t into the scraper in just 15m of travel.
Opti­mising ballast and tyre pres­sure
The John Deere 8400R is fitted with rear tyres sized IF 900/60R42 and front tyres IF 650/60R34. The IF (Improved Flex­i­bility) tech­nology of these tyres, in this case 900mm wide, seems to have been a good choice, because after 600 hours of oper­a­tion, Mr Tommasi esti­mates that the power of the 400-horse­power tractor is effi­ciently trans­mitted, with fuel consump­tion main­tained at 20 litres/hour.
To obtain this result, it was also neces­sary to opti­mise the vehicle's ballast as well as the tyre pres­sure. The tractor weight was increased to its maximum, following exten­sive ballasting, partic­u­larly at the wheels. "Thanks to the follow-up by tech­ni­cians from the tyre manu­fac­turer Trelle­borg, we were able to weigh the assembly – first empty, and then loaded with soil," recalls the contractor. "It turned out that the optimum tyre pres­sure, in my case, was 1.8 bar for both front and rear wheels."
Machinery Fleet
3 high-power John Deere trac­tors
2 scrapers Reynolds/Autec
2 Autec level­ling blades
1 Razol forest cover crop disc harrow
1 Cater­pillar bull­dozer
1 artic­u­lated dumper
1 Amazone combo drill and 1 Nodet seed drill without coul­ters (meadows)
1 Amazone mounted sprayer
1 classic KV 4-body plough
Adam de Craponne (1526-1576), engi­neer to King Henry II, built a canal in 1557 at his own expense to bring the waters of the Durance River, laden with silt, to Salon-de-Provence, Eyguières, Istres and as far as Arles. This canal, which allowed irri­ga­tion of part of the once arid La Crau, is still in use today.