At the end of the working day, when the Gaus and Lütje fami­lies sit together with their chil­dren and appren­tices over dinner, there's always plenty to talk and laugh about. This vibrancy coupled with their close family bonds almost certainly cements the foun­da­tions of Gaus-Lütje Kartoffeln's success in horti­cul­tural and arable produc­tion.
Before joining together, the fami­lies' main­stay crop was pota­toes with sugar beet grown and harvested for a local plant – which closed down in the 1980s. But this presented them both with the oppor­tu­nity to reassess their respec­tive busi­ness' direc­tion.
Today the merged busi­nesses produce several vari­eties of potato, from waxy to floury, onions – marketed under 'Braun­schweiger Dunkel­blutrote – and sweet pota­toes, which are sold whole and as crisps. They also grow spelt, winter rape­seed, sugar beet, malting barley, winter rye, wheat, and maize, near the Mittel­land Canal and Elbe Lateral Canal. In addi­tion, there is a piglet breeding facility on the Gaus' farm, and a pig fattening unit on the Lütjes' farm, and a farm shop where they sell their produce directly to the customer.
There can be no doubt that the two closely farming fami­lies from the south of the Gifhorn district have broad­ened their busi­ness hori­zons and achieved some­thing special for their fami­lies.
Up on the Gaus-Lütje Kartoffeln's list of prior­i­ties was shed­ding their anonymity as the producer and going direct to the customer – which they've success­fully managed. However, they say it didn't happen overnight, and certainly not without setbacks, including selling pota­toes via a self-service station at a VW plant 20km from their farms in Wasbüttel and Ohnhorst.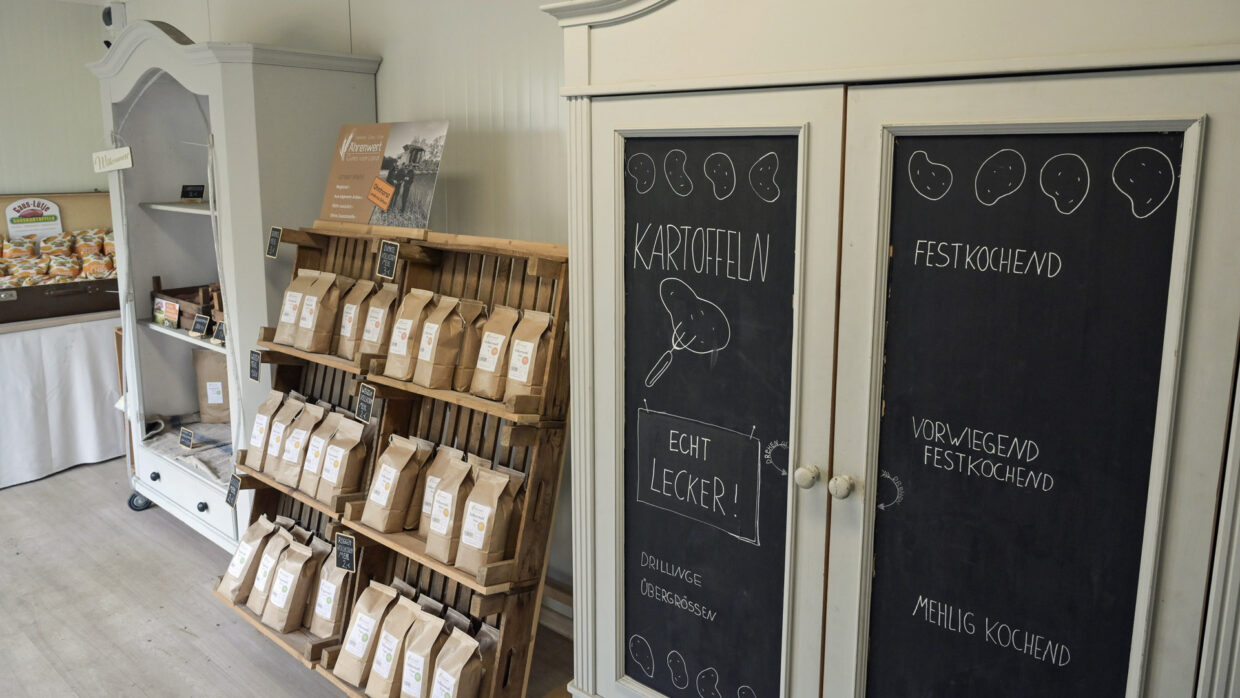 Besides being sold in super­mar­kets, Gaus-Lütje prod­ucts are also offered in their own farm shop in Wasbüttel.
Gaus-Lütje deliver their pota­toes directly from the ware­house to the super­mar­kets.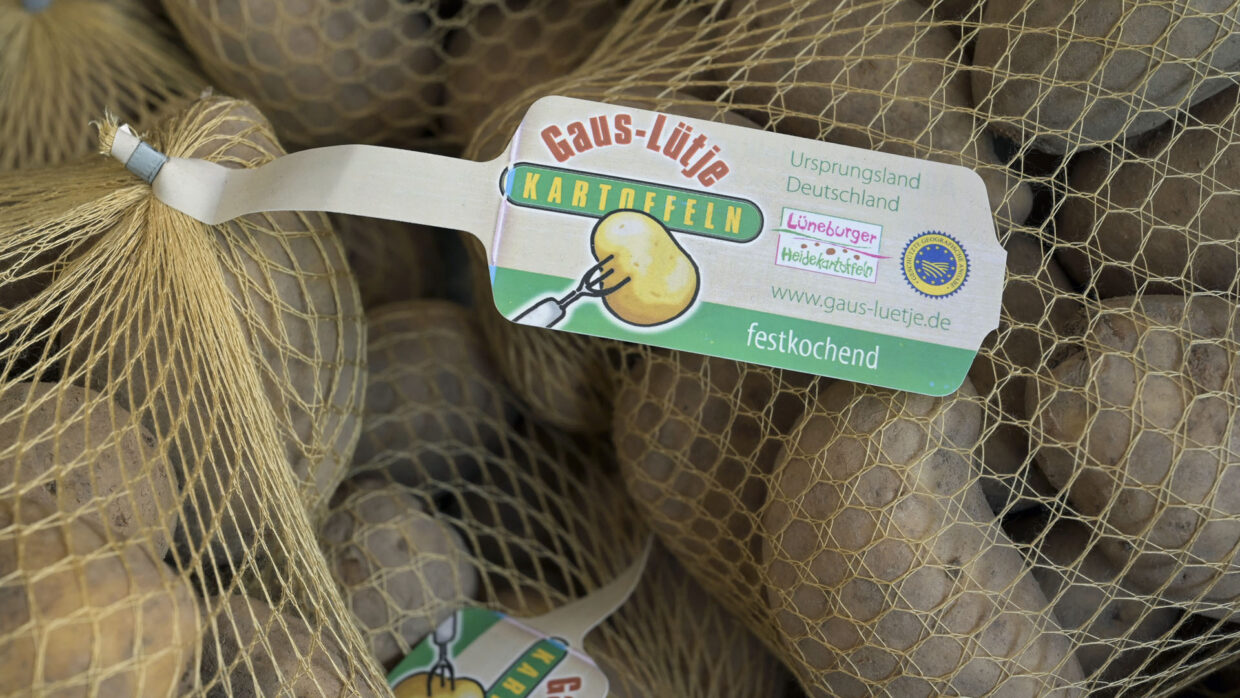 Ready for delivery: Lüneburg Heath pota­toes with branding in compostable nets.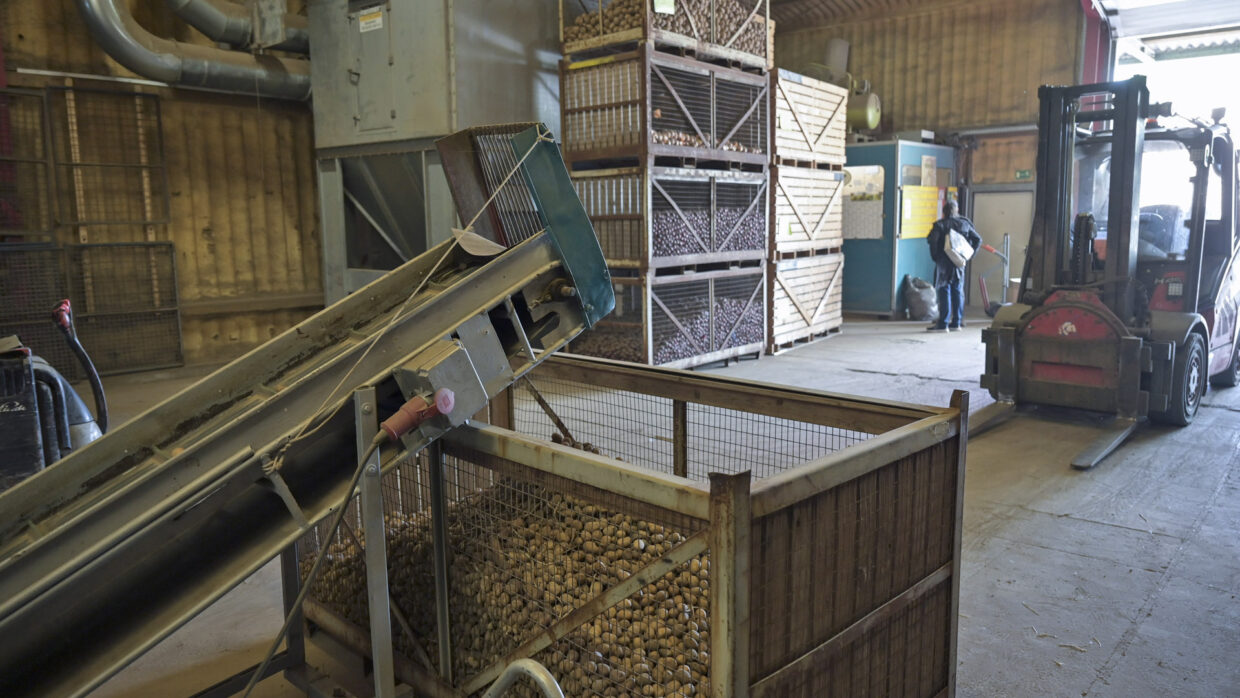 The Gaus-Lütje potato ware­house on the Wasbüttel farm.
Closer to the customer through direct marketing
It was evident to the part­ner­ship that they needed help to market them­selves if they were going to success­fully build a busi­ness that put them front and centre. "It felt incred­ibly impor­tant for our farms in Wasbüttel and Ohnhorst to engage with a marketing agency to help give us some thought on how to build our own brand and market ourselves," says Ernst Lütje.
The fami­lies felt lessons had been learnt about depen­dence on proces­sors with the loss of their sugar beet contracts in the 1980s. Bianca Lütje remem­bers well the first steps out of anonymity. "We wanted some­thing that would bring us closer to the customer," she recalls. "When our agency presented us with their ideas, we were impressed with the possi­bil­i­ties."
Just one year after the Gaus-Lütje brand was estab­lished under the slogan "Forget the noodles!", the branch manager of a super­market chain in the region called the part­ner­ship and asked if they would like to sell their pota­toes in his super­market. The part­ner­ship didn't waste this oppor­tu­nity and started to deliver. That was the begin­ning of what is now a remark­able supply to some 100 regional markets within a radius of around 60km.
This achieve­ment is testa­ment to the fami­lies' deter­mi­na­tion and hard work. "We are all people who like to work and want to create some­thing," explains Tina Gaus-Gevers. "All the family members pitch in and take on tasks. For example, Ernst Lütje's father still regu­larly carries out farm work, while the mothers of Ernst Lütje and Jochen Gaus sort the pota­toes by size and quality on the conveyor belt."
Sweet pota­toes expand the port­folio
There is obvi­ously a very great will­ing­ness in both fami­lies to adapt to changing circum­stances and to take advan­tage of the resulting oppor­tu­ni­ties. A good example of this is their venture into sweet pota­toes, which are not related to the common potato. "Just when you thought you'd got the culture figured out, some­thing completely unex­pected comes your way," reveals the 49-year-old Ernst Lütje.
Never­the­less, the sweet potato is now grown on 4ha and is enjoying a high and increasing demand from customers – as a fresh product, but also as crisps with two different flavours produced using a new type of tech­nology. The sweet potato is sustain­ably expanding the product range under the Gaus-Lütje brand.
Just when you think you have under­stood the crop, some­thing completely unex­pected comes your way.

Ernst Lütje
The newly release product brochure states: "We are constantly working on further devel­oping our marketing with inno­v­a­tive ideas to increase the potato's appeal and to meet changing customer needs." The part­ner­ship actively listens to customer feed­back and remains trans­parent about its sustain­ability and busi­ness devel­op­ments. Gaus-Lütje no longer use potato nets made of plastic. Instead, they only use renew­able raw mate­rial, or to be more precise mate­rial from the cellu­lose fiber Lyocell, that is biodegrad­able and compostable.
If you take a closer look at the diverse activ­i­ties of the two fami­lies, it quickly becomes apparent that the busi­ness is far from static – however, some things remain unchanged. For example, in the farm shop they have imple­mented new payment tech­niques, while the logo which is almost 25 years old, has remained despite it perhaps not quite meeting current tastes.
"We discussed this inten­sively with our agency and in the end came to the conclu­sion that we want to stick to our logo," says Jochen Gaus, commenting on the some­what outdated look. He says that according to the agency, the most impor­tant thing about the brand is its recog­ni­tion by the customer. "And that really is the case at this point."
And while the logo may seem a bit outdated, the busi­ness is keeping up with modern digital chan­nels including the use of social media, show­casing a wide range of image-promoting activ­i­ties like farm tours and children's birthday parties with pony rides. At harvest, there are great photos both from the air and from other unusual perspec­tives, that are posted on Insta­gram and Face­book.
Ernst Lütje presents a field with early pota­toes of the Alexandra variety under film.
The Israeli NETAFIM system is used for drip irri­ga­tion.
Visual pres­ence for more aware­ness
Employees and family members take part in online engage­ment, as do promi­nent members of society; a photo­graph of the Minister Pres­i­dent of Lower Saxony, Stephan Weil, is included in this series when he paid a visit to the stand of the Gifhorn potato farmers at the Green Week in Berlin. But it doesn't come without the work, the website also needs constant atten­tion to keep its appear­ance and content up to date. "It's quite a hassle some­times," admits Bianca. "But inte­grating these things into the day-to-day work is all part of the job."
And there really is enough work over the 500ha comprising fields, stables, and cold stores at Gaus & Lütje Land­wirtschaft GbR. In addi­tion to 84ha of pota­toes – including new pota­toes under foil with drip irri­ga­tion – and the multi­tude of other horti­cul­tural and arable crops, along­side the harvest work.
So where will the brand and the farms be in five years' time? A ques­tion that neither of the fami­lies can answer exactly, not least because there have been so many changes in a very short time over the past few years. And even though nobody dares to predict the future, there will defi­nitely be an online shop by then they say – but whether the logo will undergo a facelift by then remains to be seen. The only thing that seems certain is that the chil­dren of the two fami­lies have a great desire to carry on the busi­ness into the next gener­a­tion.
Internet pres­ence of the Gaus-Lütje brand