Over the next few years, global meat produc­tion will increase signif­i­cantly, which may lead to price fluc­tu­a­tions on the soybean market. At the same time, consumers have higher demands in terms of trace­ability and eco-balance. This is a partic­ular chal­lenge for Europe, as a large propor­tion of the required protein feed comes from abroad.
See the inter­ac­tive info­graphics to find out what is happening in Europe and how gaps could be filled.
---
SOYA PRODUCTION WORLDWIDE AND IN EUROPE

Italy and France are the largest soya producers in Europe. Of the 347m t of soya produced world­wide, 80% goes to the food industry for oil and protein produc­tion. After pressing or extrac­tion, soya meal remains for animal feed.
IMPORTS INTO THE EU
32,4m t
14.1m t of soyabeans and 18.3m t of soyabeans meal are imported into the EU 28 per year.
EUROPEAN AUTONOMY BY PROTEIN CONTENT CATEGORY
Discover the propor­tion of self-suffi­ciency depending on the protein group:
protein content< 15%
protein content15-30%
protein content30-50%
EU 28 TOTAL PROTEIN USE
Sorted by source, in million t raw protein
18,54m tCrops38m tRoughage25,95m tCo-prod­ucts from pressing2,5m tNon-plant sources
DEVELOPMENT OF MEAT PRODUCTION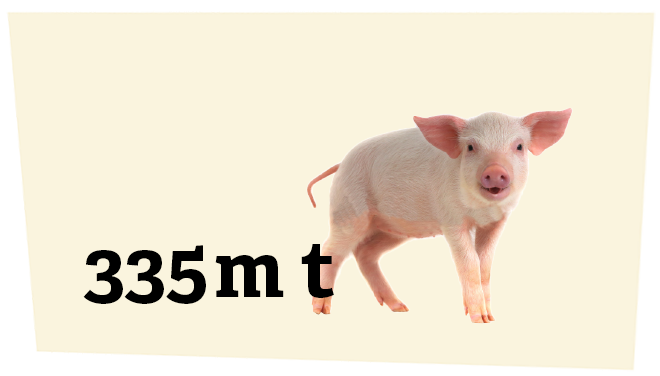 In the mid-term, no price explo­sion is to be expected on the soyabean market: Projec­tions by the USDA predict a soyabean meal price increase of only $35 (£29)/t by 2027/2028. In the long term, some para­me­ters point to possible supply bottle­necks. For example, the increase in global meat produc­tion, according to the FAO.
HOW TO CLOSE THE GAP?
Old and new protein sources offer solu­tions for more inde­pen­dence
RAPESEED CAKE
Rape­seed meal with low fibre content and protein content up to 46% thanks to new processing methods
PEAS, BEANS, LUPINS AND CO
Good candi­dates to boost self-suffi­ciency in mid to high protein levels
EUROPEAN SOYA
There is hope that breeding will help adapt soya to Euro­pean climates and get rid of unwanted ingre­di­ents
INSECTS
Very good amino acid patterns and unbeat­able area effi­ciency – but EU legis­la­tion could be an obstacle
BACTERIA
They turn CO2 into a highly concen­trated protein product. However, envi­ron­mental foot­print needs to be improved
ALGAE
With 50% crude protein content, they are a good source of protein for pigs, but currently expen­sive to produce
SOURCES: FAO, DG AGRI (FIGURES 2017-2018), AGRESTE