Suèvres, Loir-et-Cher: The crops alter­nate in a gently undu­lating land­scape, punc­tu­ated with hedges which protect the fauna. Jean-Michel Ombredane stands under a bright sun in the middle of his soyabean field. He shows the roots of a freshly dug up plant and the rhizo­bium nodules which cling to it. "Soyabeans inte­grate well into rota­tions," he says. Not far from there, garden peas are also standing tall. Mr Ombredane, pres­i­dent of the depart­mental union of seed growers, SAMS (Syndicat Départe­mental des Multi­pli­ca­teurs de Semences), culti­vates 15ha of soyabeans in a conven­tional system on a seed contract, along with other legu­mi­nous crops.
The French soyabean sector is still taking its first steps, producing 420,000t in 2018. Beyond the ecolog­ical interest, the chal­lenge is to reduce the 45% deficit in protein-rich feed for the live­stock sector. Some 3.5m tonnes of soyabean meal is imported annu­ally into France. This is a commend­able degree of inde­pen­dence compared to the whole of Europe, where protein imports cover 70% of the needs. This well-known Euro­pean protein deficit has been around for at least 50 years, but the issue has become more polit­ical in recent years. Still, the situ­a­tion will only improve if it makes economic sense for farmers to produce their own protein.
Soy cultivation compa­rable to beans
Mr Ombredane has run the 350ha farm over three loca­tions since 1994, together with his parents and his brothers François and Damien. Seed growing takes about 30% of the culti­vated land, with a dozen species, including peas, onions, spinach, radishes and sugar beet, as well as wheat and barley, providing varied crop rota­tions.
In Suèvres, France, Jean-Michel Ombredane grows 15ha of soyabeans in a conven­tional farming system on a seed contract.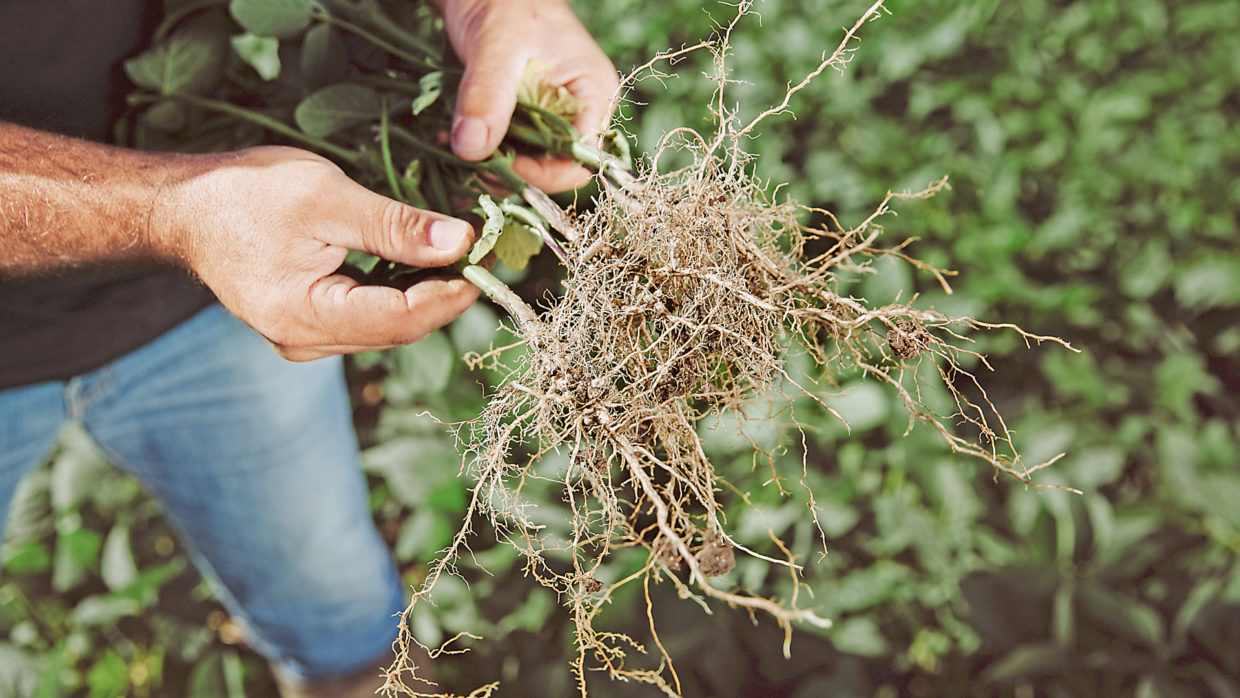 Rhizobia on soyabean roots: the 5% of the seed, which the farmer inoc­u­lated as a test in a cement mixer, ...
... show a simi­larly good nodule devel­op­ment.
"The cultivation of soyabeans is similar to that of beans, but with some extra precau­tions," says the farmer, who is passionate when it comes to his crops. Firstly, with the inoc­u­lated seeds, you need to make sure that the rhizobia are well conserved. This year, the farmer used a seed drill with a row spacing three times wider than for small grain seeds. As for weed control: "It is more effec­tive looking at the weeds' stage of devel­op­ment than the soyabean stage."
Soyabeans inte­grate well into rota­tions, but there is a down­side: Care is needed with field beans, as both species are sensi­tive to scle­ro­tinia. So leave at least four years between crops, so as not to increase the inoculum. "On the other hand, there are no other diseases, and there are fewer pests," says Mr Ombredane. Here, at the border of the Loire Valley and the Beauce, soils vary. The rendz­inas are on slight slopes of lime­stone: The bedrock is at 30cm, without capil­lary rise of water. The organic matter contents range from 2.5 to 3.5% and the pH figure can rise to 8. The water reten­tion capacity is low. Fortu­nately, all plots can be irri­gated, a neces­sity for sweet­corn and soyabeans.
Cautious opti­mism about the protein gap
"Soyabeans need water, but less than maize," says Mr Ombredane. With this year's drought, he irri­gated his fields twice by mid July with 30mm each time. Should the lack of rain continue, he would need to repeat this another five to six times. Usually, harvest takes place in September and the seeds are quite robust. Year-on-year, yields range from 3-4t/ha and the price for seed can be €100/t (£90/t) higher than that of imported soyabeans.
Soyabeans inte­grate well into rota­tions.

Jean-Michel Ombredane
When it comes to increasing the soyabean area and reducing the protein gap in Europe, Mr Ombredane is cautiously opti­mistic: "The polit­ical will has been shown, but the economic condi­tions may have diffi­culty keeping up. In France, costs and charges are very high, and stan­dards and oblig­a­tions are very strict." And there are still the market condi­tions: The feed industry is struc­tured for using imported soya, and restruc­turing the sector is complex. But the compe­tency of farmers to produce high-end non-GM soyabeans is in place, points out Mr Ombredane. "Tech­ni­cally, we are up to speed." Increasing the acreage will be done little by little; the ambi­tion of stake­holders in the French soyabean sector is to increase produc­tion to 650,000t in 2025.
Main­te­nance breeding
With 2.6m tonnes of soyabeans produced in Europe each year, the industry is still far from meeting live­stock producers' concen­trated protein require­ments – unless they bet on future progress in breeding. "Reducing this deficit is possible thanks to alter­na­tive solu­tions," says Uwe Brede, an organic egg producer in the state of Hessen, Germany.
On the 180ha Nieder­beisheim estate, protein autonomy has been a guiding prin­ciple since the early 2000s. "The quan­tity (of home-produced protein) is very limited in Germany," says Mr Brede. The farm feeds 10,500 laying hens and 18,000 Lohmann Brown pullets.
A two-minute walk from the farm build­ings, a large plot of broad beans stretches out. "We have specialised in this prac­tice," says Mr Brede, who is growing 20ha of broad beans in 2019. This is the Bilbo variety, which the farmer produces for his ration and conser­va­tion purposes. "It has purple flowers and a long stem, a useful trait against weeds. It has a very homo­ge­neous matu­rity, which is also impor­tant for us. The protein content, at 27%, is good, and the yield is between 4 and 6t/ha."
Laying perfor­mance
The variety performs well despite the modest soil quality and high alti­tude of the farm. Thanks to an advan­ta­geous amino acid profile, and because the hens do not eat the shell – which contains tannins – the seeds contribute to the protein autonomy of the farm without penal­ising the hens' laying perfor­mance (about 270 eggs per hen a year). The beans comprise 12% of the feed ration.
Laying hens have high require­ments for protein-rich feed and Mr Brede must rely on other sources too: Hemp cake, peanuts, safflower, flaxseed, pumpkin seeds or hazel­nuts, depending on avail­ability, for a further quarter of the ration. "These oleic co-prod­ucts allow me to provide other types of amino acids." In 2019, he cut the share of soyabeans in the ration to 5% – buying his soyabeans directly from German or Euro­pean farmers. Cereals (wheat and barley) account for 37% of the ration, plus sunflower and rape­seed cake (4% respec­tively), as well as minerals and other supple­ments.
Reducing the deficit
Such a system comes at a cost. Mr Brede opti­mises his margins by selling direct to regional super­mar­kets. With a neigh­bour, he has just invested €230,000 (£207,500) in an egg packing machine. And they can only reach their goal of protein autonomy thanks to clien­tele who are willing to pay more for a sustain­able label. All things consid­ered, he reckons it is possible that organic live­stock farming in Germany could achieve inde­pen­dence from protein imports.
But when it comes to conven­tional produc­tion, talking about autonomy is illu­sory in the short term. "That said, we could signif­i­cantly reduce the deficit. It would require a lot more resources for research and breeding, and work to opti­mise seed treat­ment, for example by applying the methods used for soyabeans."
Protein demand, a key factor
The real change, according to Mr Brede, should come from the retail sector. "We create supply; demand needs to be raised. It would be great to see an adver­tising campaign touting a 'sausage made from (pigs fed with) local plant proteins'. If one chain went ahead with it, the others would follow. Of course, commit­ting to a guar­antee of origin is an obstacle for large retailers."
Ideal­istic as it may be, this solu­tion would be more sustain­able in his eyes than financing greening through subsi­dies. "Legu­mi­nous crops would be more prof­itable in arable farming, and it would be economic secu­rity for live­stock farms."
We create supply; demand needs to be raised.

Uwe Brede
Still, commu­ni­cating the issue is not easy. "Outdoor farming is easy to promote, people see that the animals have space. But in the context of imported soyabeans, nitrates, nitrogen fixa­tion, animal produc­tion… it is very complex for the consumer." Mr Brede there­fore wants to inform and educate. A leaflet devoted to the issue is placed in each box of eggs sold, and the farm website is being updated accord­ingly. There will also be an open day to cele­brate the farm's 25th anniver­sary this year, to which he expects 2,000 visi­tors.
"Starting from eggs, my ambi­tion is to provide an overview of the problem, going through the produc­tion of farm food, and up to a visit to the breeding plots. I hope to make it clear for visi­tors to see the link between plant proteins and those of animals."