On the island of Noir­moutier, bathed by the Atlantic and connected to France by a bridge nearly 600m long, the first crops of early pota­toes were not planted yesterday. They date back to the end of the 18th century. The island enjoys 2,200 hours of sunshine a year, with typical temper­a­tures higher than on the Conti­nent.
The prized tuber has long been culti­vated in the island's sandy soils, between the sea and salt marshes, with a tradi­tional savoir-faire passed down from gener­a­tion to gener­a­tion.
The market gardeners of Noir­moutier acquired a good repu­ta­tion for their excel­lent tubers as early as 1875. With the emer­gence of improved vari­eties in the 1920s, Bonnotte was intro­duced to the island and became a bench­mark of high quality. A farmer's union was founded on the island in 1939, supple­mented by the creation of an agri­cul­tural co-oper­a­tive for producers.
In 1950, 4,000t of early pota­toes were produced. Today, produc­tion has eased back to around 1,200t across 450ha. Yields are rela­tively modest for this short produc­tion cycle: Between 18 and 25t/ha. The most impor­tant thing is that the tradi­tion is kept alive: 25 farmers in the co-oper­a­tive culti­vate vari­eties chosen for the tender­ness of their flesh.
Farmers fertilise some vari­eties, like Bonnotte, with seaweed.
Plots of land prepared in ridges for the PGI are culti­vated once a year.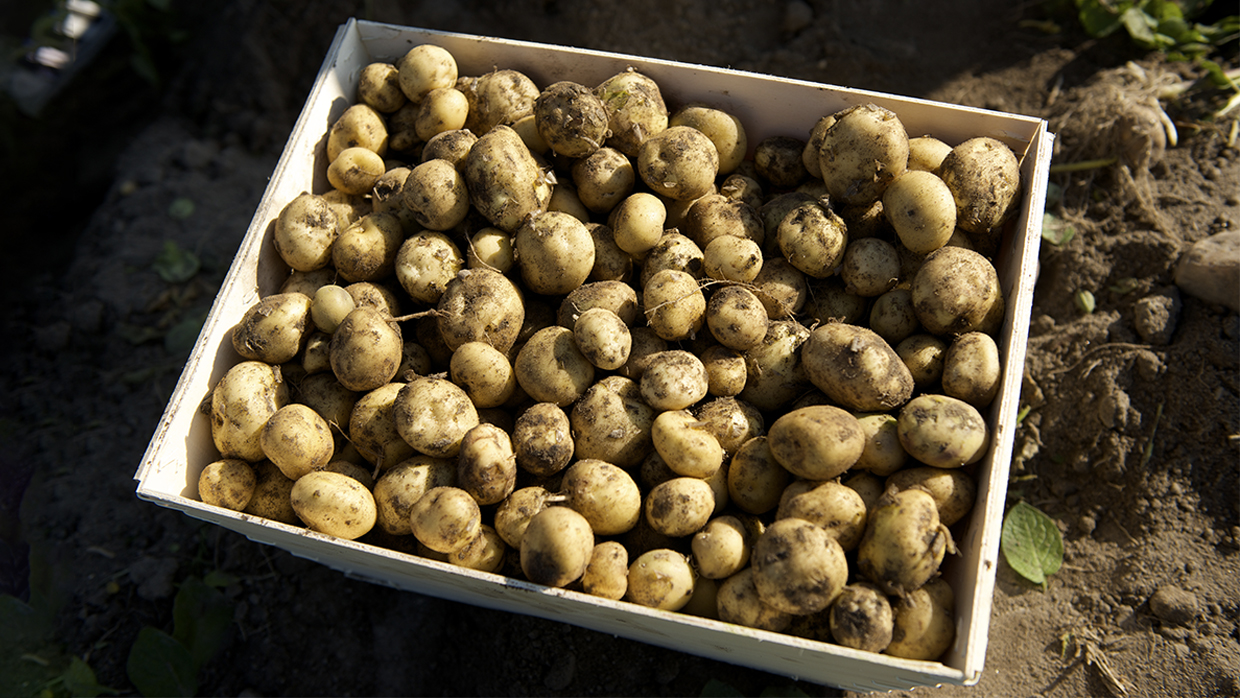 Produc­tion spec­i­fi­ca­tions require a minimum size of 17 mm and a maximum of 70 mm.
A top quality early potato
Why is this potato so unusual? On the one hand, it stands out because it matures early – thanks to the mild climate, planting can begin in the middle of winter, in January. Harvesting begins two months later, in mid-March. The last lifting takes place by the end of August at the latest. Due to this short growing period, the island yields a remark­able tuber, distin­guished by its fine skin and its low dry matter content, at most 22%.
When cooked, it has a creamy texture and sweet flavour, making it a success with connois­seurs. Its char­ac­ter­is­tics are accu­rately described by the following target spec­i­fi­ca­tion: "Tubers of a size of no less than 17mm and no more than 70mm, with a permitted differ­ence in each package of not more than 25mm." A handful of vari­eties are chosen in Noir­moutier for their tender and tasty yellow flesh: Sirtema, Lady Christ'l and Bonnotte. All have to be included in a list selected by the producer group.
"It took us some 15 years to obtain the Protected Geograph­ical Indi­ca­tions (PGI) marque," says Nicolas Paille, director of the Noir­moutier Agri­cul­tural Co-oper­a­tive. "We have bene­fited from recog­ni­tion at Euro­pean Union level since July 2020. This status offers our product protec­tion and ensures that our sales volumes are moni­tored. Our first real PGI campaign will take place in 2021."
Prior to obtaining the PGI, the co-oper­a­tive took another step forward by launching "zero pesti­cide residue" pota­toes. In 2019, it also obtained the red label stan­dard for three vari­eties; Sirtema, Iodéa and Lady Christ'l. This ensures top quality at all stages of produc­tion, from pre-germi­nating seedlings on site to ridge planting and controlled irri­ga­tion to mechan­ical defo­li­a­tion. Each step, from receiving the seedlings to measuring the end product, is carried out in the geograph­ical area. "The entire crop moni­toring process is comput­erised and centralised, so that each batch is fully trace­able," adds Mr Paille.
Guar­an­teed fresh­ness
In winter, the seedlings undergo a pre-sprouting stage, lasting at least eight days before they start to germi­nate in the producer's soil. Mechan­ical planting is only permitted from March 10. Before this date, the seeds must be planted manu­ally. Producers then use different blade or jaw bucket systems. "All our pota­toes are planted using these tech­niques in wide ridges," explains Patrick Michaud, pres­i­dent of the co-oper­a­tive. "They remain in the ground for about 90 days. The plots are fertilised as much as possible with local seaweed and cattle manure. We also do a lot of manual work during the first grub­bing to avoid shocks, as the tubers are fragile."
The early potato has an advan­tage: It does not need to be stored. "Every potato that is picked from the fields is washed, sorted, measured and bagged the same day to be stacked on the super­market shelf," says Mr Paille. "Forty-eight hours after being harvested, our fresh produce can be found on the shelves of small and large super­mar­kets – it's a real guar­antee of fresh­ness." To make this system work, the co-oper­a­tive has invested in optical sorters capable of processing more than 300t per day.
Planting begins in early winter.
Very wide ridges accom­mo­date the tubers.
As in the past, the farmers of Noir­moutier manage small plots of land, most often handed down from gener­a­tion to gener­a­tion. The average plot size is just 3,000m2. "Our members culti­vate an average of 10-15ha – and pota­toes are grown only once every five years," says Mr Michaud. "This is done to avoid prob­lems caused by para­sites. What's more, the plots of land intended for PGI produc­tion must be culti­vated once a year." The aim of the PGI is to protect the sector, and not to increase the cropped area.
The island of Noir­moutier has seen rapid tourist devel­op­ment over the past 20 years, which has eaten into the arable land. Fortu­nately, it is still not possible to build on part of the island's marsh­land. "Our approach is not an isolated one," concludes Mr Michaud. "In addi­tion to early pota­toes, the island's producers have also started to certify other local resources: Salt, oysters and certain fish prod­ucts."