It is a qui­et morn­ing like any oth­er at Bjerggaard on the small island of Barsø, just east of Løjt­land in South­ern Jut­land. Helle Kreiberg Sven­nesen has the radio tuned to P4 while she gets the 150 or so black and white dairy cows through the her­ring-bone milk­ing par­lour
Mean­while, her hus­band Søren Sven­nesen dri­ves the wheel loader around and feeds up with the mix­er wag­on before going to insem­i­nate two cows that Mrs Sven­nesen sep­a­rates from the herd dur­ing milk­ing. An appren­tice with a skid steer loader is bed­ding up the cubi­cles and calves.
It is out­side of the tourist sea­son and no vis­i­tors apart from the jour­nal­ist from Furen are expect­ed today. It is not like the busy peri­od from mid-May to ear­ly Sep­tem­ber, when the small fer­ry to Barsø is often ful­ly loaded with up to 24 pas­sen­gers and three cars for the 15-minute jour­ney.
1,500 vis­i­tors in a sea­son
There is a big sum­mer rush of pri­mar­i­ly day-trip tourists on Barsø, and this is felt at Bjerggaard, the island's only remain­ing farm. Over the sea­son, at least 1,500 peo­ple take advan­tage of the oppor­tu­ni­ty to vis­it the farm and see the cows, calves and farm­ers.
"It's usu­al­ly school and day care cen­tre groups or par­ents with chil­dren on day trips to Barsø, or per­haps spend­ing the night in the facil­i­ties we have for school camps and the like," explains Mrs Sven­nesen as she pre­pares a break­fast of bread with cold cuts, cof­fee and tea after the morn­ing jobs.
Des­ig­nat­ed a farm attrac­tion by the Dan­ish Agri­cul­ture & Food Coun­cil, the Sven­nesens receive an amount for each school-going child who comes to vis­it with their class. There is no mon­ey in the oth­er vis­i­tors. "But they should be allowed to vis­it and see a cow as well," says Mrs Sven­nesen with a hos­pitable smile.
The many vis­it­ing chil­dren are a major rea­son why the sow, Olga, is enjoy­ing her annu­al lit­ter of piglets in an out­door pen. It is fun for the chil­dren to see the tiny piglets, and lat­er in the year there is pork aplen­ty to fill the Sven­nesens freez­er, as well as those of their friends and fam­i­ly mem­bers.
All kinds of water sports
On the whole, sum­mer is very busy on the small island. Not only because of the vis­i­tors, but also because the Sven­nesen fam­i­ly and their appren­tices enjoy out­door activ­i­ties dur­ing the light and warm months. "We enjoy sail­ing, swim­ming, water ski­ing, and all kinds of water sports in gen­er­al," says Mr Sven­nesen. "If we fin­ish work ear­ly one day, we might take the whole fam­i­ly and the appren­tices on a trip on our motor­boat to Søn­der­borg or Aaben­raa, for exam­ple, and either take food with us or go ashore for a piz­za and ice cream."
The sit­u­a­tion is quite dif­fer­ent on Barsø dur­ing the win­ter. There is no city life to lure any­one out on to the dark roads; instead, they spend qual­i­ty time at home with board games and shared TV view­ing. Oh, then there's Mr and Mrs Sven­nesens' annu­al ski trip they take togeth­er with their adult daugh­ters, Car­o­line and Fred­erikke, while the appren­tices look after the farm for the week.
Straw as dan­ger­ous goods
What­ev­er the sea­son, farm­ing on a small island like Barsø presents unique chal­lenges. The small size of the fer­ry can make things par­tic­u­lar­ly dif­fi­cult. "When we built a new cow­shed in 2004, we had to mix all the con­crete over here because the fer­ry wasn't big enough to car­ry a con­crete mix­er," says Mr Sven­nesen. "And the big arch­es for the roof had to be trans­port­ed sep­a­rate­ly in eight pieces rather than in the more usu­al two pieces."
Today, it is the trans­port of straw that caus­es the islanders the most has­sle. When Mr and Mrs Sven­nesen switched Bjerggaard to organ­ic pro­duc­tion in 2016/17, they stopped grow­ing grain. Now the entire – but lim­it­ed – area of the island has been giv­en over to graz­ing and the pro­duc­tion of coarse fod­der, which is why they buy all the straw they need from a col­league on the main­land.
But straw is flam­ma­ble and there­fore falls under the cat­e­go­ry of "dan­ger­ous goods". This means that there can­not be any pas­sen­gers on the fer­ry when straw is being trans­port­ed to Barsø. That is, apart from the one per­son who, accord­ing to the rules, must accom­pa­ny the straw when it is being trans­port­ed by water in case any of the bales catch fire dur­ing the cross­ing.
"We need straw over here dur­ing the tourist sea­son as well, at a time when there are often a lot of fer­ry pas­sen­gers. That's why we some­times have to pay for an extra cross­ing with­out any pas­sen­gers. The straw also has to be wrapped in plas­tic dur­ing the cross­ing," says Mr Sven­nesen.
Col­lect the fod­der them­selves
The cou­ple have to col­lect pur­chased fod­der like corn­meal and soya either from the fod­der com­pa­ny or the fer­ry berth on the main­land using their own truck. The com­pa­nies won't send a truck to Barsø, mean­ing that the Sven­nesens can­not get a bulk dis­count.
Con­verse­ly, the trans­port of milk is not par­tic­u­lar­ly prob­lem­at­ic. The milk tanker's route is planned so that it arrives and returns with the last fer­ry of the day, and there is an agree­ment with the fer­ry to wait if the milk col­lec­tion from Bjerggaard is delayed. For­tu­nate­ly, milk can't burn, mean­ing there can be oth­er pas­sen­gers on that cross­ing!
How­ev­er, not all chal­lenges are has­sle-free and inescapable. There are also some that are self-imposed and fun. One of them is an elite graz­ing com­pe­ti­tion in which the Sven­nesens par­tic­i­pate along with 47 oth­er organ­ic farms. It involves get­ting as much grass into the cows as pos­si­ble dur­ing the sum­mer sea­son, thus low­er­ing fod­der costs.
"We've always come out on top so far, so it's pret­ty excit­ing," says Mrs Sven­nesen. "We do well because the cows can come and go as they please 24 hours a day. We only bring in the ones who haven't come back of their own accord for milk­ing."
Bjerggaard Farm vol­un­tar­i­ly takes part in a renowned "graz­ing com­pe­ti­tion". The aim is to let the cows eat as much grass as pos­si­ble dur­ing the sum­mer in order to reduce feed costs.
In breed­ing, the farm pays atten­tion to health char­ac­ter­is­tics and is not afraid to go its own way and try some­thing new.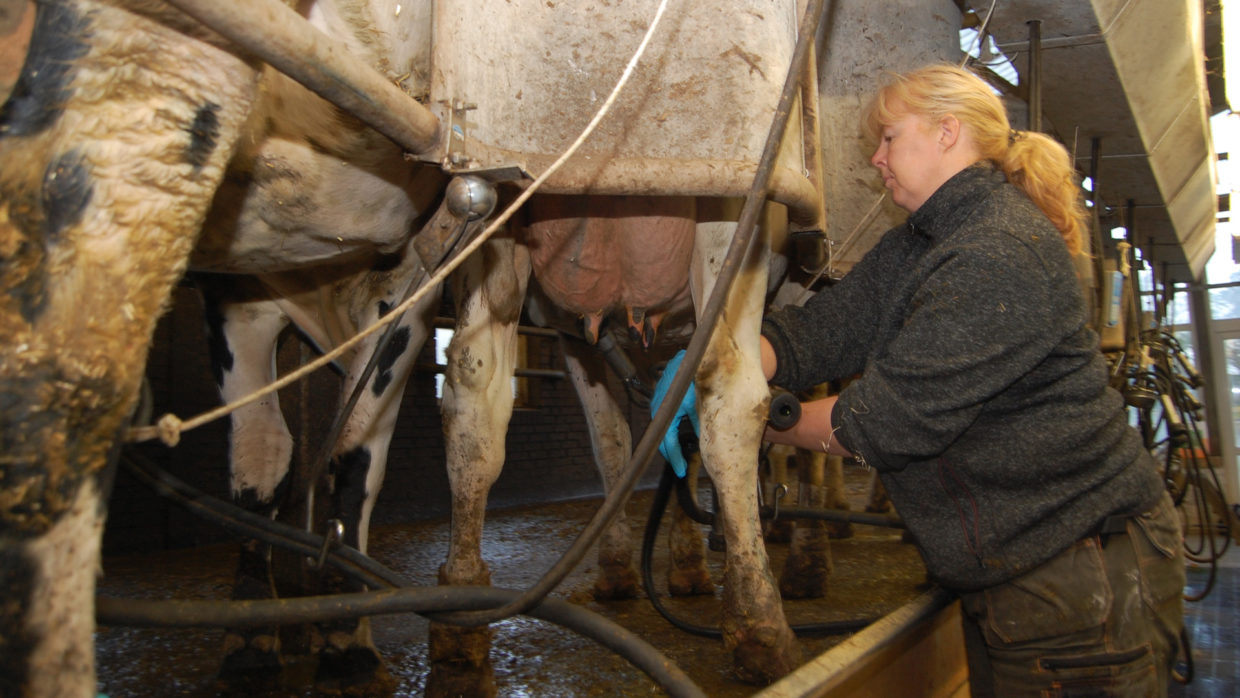 The cows are only brought into the barn if they do not come back for milk­ing on their own.
Bjerggaard Farm is the only farm on Barsø.
Three bulls sold to Viking
Anoth­er excit­ing chal­lenge is the breed­ing work, for which Mrs Sven­nesen is respon­si­ble. She does this so well that Bjerggaard has deliv­ered three bulls to the cat­tle breed­ing asso­ci­a­tion Viking. "We're very focused on health in breed­ing, and we're not afraid of try­ing some­thing dif­fer­ent," she says.
"Our first bull to Viking was VH Bar­so. For him we used semen from the Amer­i­can bull Blind­side, which no one else had used in Den­mark or else­where, and insem­i­nat­ed one of our best heifers. We still have her and she is now on her sev­enth lac­ta­tion. We aver­age about 4.5 lac­ta­tions per cow." Mrs Svennesen's inter­est in breed­ing has led to her becom­ing a mem­ber of Viking Denmark's board of rep­re­sen­ta­tives. Mr Sven­nesen is also active as a mem­ber of the board for Land­boSyd.
Of course, this means they have to attend some meet­ings on the main­land. But as Mr Sven­nesen explains, this is not a prob­lem: "We have our own boat, which can cross to the oth­er side in just four min­utes, and we have a car parked over there. So it's just as easy for us to get around as it is for every­one else. And if you're like me and you were born and raised on the island, it's com­plete­ly nor­mal to take your boat out when you need it."
Mrs Sven­nesen is from Hader­slev and lived on the main­land until she met Søren at Gråsten Agri­cul­tur­al School and decid­ed to become an islander with him.
Barsø
Island cov­er­ing an area of 2.7km2 in the Lit­tle Belt, east of Gen­ner Fjord and Løjt­land in South­ern Jut­land, Den­mark.
14 inhab­i­tants live in half of the island's 20 hous­es all year round. The oth­er hous­es are hol­i­day homes.
Fer­ry from Barsø Land­ing, 12km north­east of Aaben­raa. Five to eight cross­ings dai­ly.
Hilly land­scape with both sandy and clay soil; the high­est point is 39m above sea lev­el.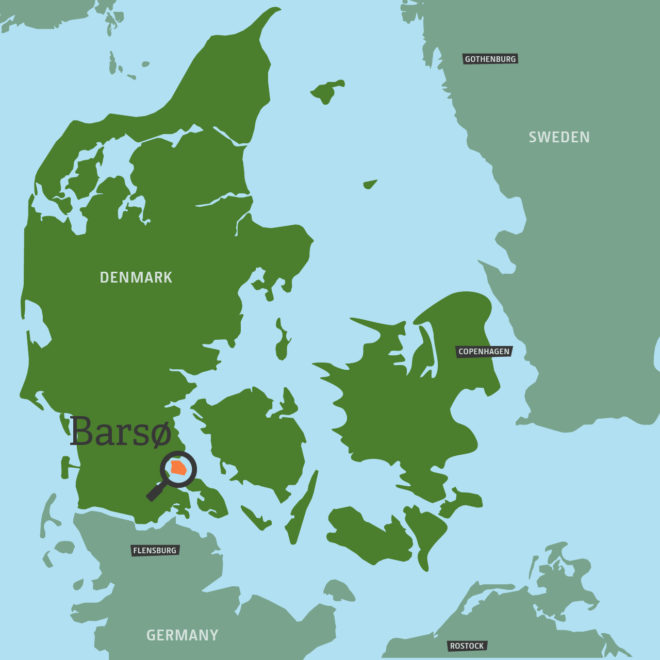 Bjerggaard dairy farm
Only farm on Barsø.
Owned and run by Søren Sven­nesen and Helle Kreiberg Sven­nesen since 2001.
Size: 250 hectares.
Crops: 30 ha corn, 60 ha green rye (whole­crop) and 110 ha grass for mow­ing and graz­ing, 50 ha peren­ni­al grass­es (pri­mar­i­ly coastal mead­ows).
Schaube­triebe-Pro­gramms des Dänis­chen Land­wirtschafts- und Nahrungsmit­tel­rats.