A bumpy dirt road trail along an irri­ga­tion canal leads to the peach orchard of Mamu­ka Amon­ishvili and his son Vazha in the heart of Kakheti. Look­ing into the cloud­less sky, you can see the peaks of the Cau­ca­sus moun­tains on the hori­zon. On the plains of the fer­tile Alazani Val­ley, the tem­per­a­tures rise to 25 degrees Cel­sius even at the end of Sep­tem­ber. Arriv­ing at the orchard, we take a break under a home-made shel­ter, which the peach-pick­ers use for shade in July and August dur­ing har­vest.
Mr Amon­ishvili walks down the rows and comes back with a hand­ful of peach­es. "We start­ed plant­i­ng peach trees here 17 years ago, in very chalky soil where wheat, bar­ley and corn used to grow," says the 55 year-old.
Hail­ing from the vil­lage of Khum­la­ki, he worked in the local col­lec­tive farm dur­ing Sovi­et times and, like all Geor­gians work­ing in agri­cul­ture, received an area of 1.25ha from the Geor­gian state after the col­lapse of col­lec­tive farm­ing. Not real­ly enough to earn a per­ma­nent liv­ing, which is why Mr Amon­ishvili bought more land in the 1990s. The fam­i­ly now cul­ti­vates around 8ha of their own land.
Kakheti: A wine-grow­ing region with prospects
As well as peach­es, they also grow wal­nuts, nec­tarines, apri­cots and, on a small patch, cher­ries – a fruit that is in rather high demand at the moment. Mr Amon­ishvili is gen­er­al­ly quite con­tent. The har­vest in 2019 went well, and prices weren't bad. With that in mind, it's hard­ly sur­pris­ing that demand for land in the Kakheti val­ley is high. "It's next to impos­si­ble to expand our oper­a­tions because the land on the mar­ket is so expen­sive," says his 26-year-old son Vazha. At the end of the day, it's also proof that agri­cul­ture and wine-grow­ing offer the younger gen­er­a­tion in Georgia's east­ern region real prospects, adds Mr Amon­ishvili opti­misti­cal­ly.
The dri­ving force is wine-mak­ing, which has a near 8000-year his­to­ry south of the Cau­ca­sus. Dur­ing the grape har­vest, which reach­es its peak at the end of Sep­tem­ber, thou­sands of work­ers swarm into the vine­yards to pick the pro­duce. The roads every­where are filled with vans tak­ing the sweet fruit to the cel­lars.
Old Russ­ian trucks are still in use in a lot of places, although in the val­leys of the Alazani and Iori rivers, there has been a lot of invest­ment in wine-mak­ing in the past few years. New, care­ful­ly tend­ed vines can be seen every­where on the slopes – around 200-600m above sea lev­el – and espe­cial­ly in the Alazani val­ley, many new, some­times very sophis­ti­cat­ed-look­ing win­ery build­ings rise up out of the land­scape. In fact, many new wine­mak­ers are now link­ing their wine pro­duc­tion to tourist offers.
Tra­di­tion meets tourism
For exam­ple, at the Mosmieri win­ery in Kisiskhe­vi, vis­i­tors are intro­duced to tra­di­tion­al wine­mak­ing in so-called Qvevris (large amphorae) which can hold up to 2,000 litres and are hand­made from clay. While this age-old method of wine-mak­ing was com­plete­ly sup­pressed in the Sovi­et era, it is cur­rent­ly expe­ri­enc­ing an unex­pect­ed renais­sance. For many new wine­mak­ers, it's no longer just a ques­tion of quan­ti­ty, but also of qual­i­ty.
Nukri Kur­dadze embod­ies this approach to the full. Dur­ing the 1980s he worked as a physi­cist and after the ham­mer and sick­le final­ly fell to the ground in Geor­gia, he served as a brand ambas­sador for a French spir­its com­pa­ny in the Russ­ian-speak­ing world. After about 10 years he had had enough. By buy­ing a small vine­yard near the vil­lage of Akhasheni, he ful­filled a life-long dream: To final­ly be a wine­mak­er him­self.
Right in the cen­tre of his vine stock – which now com­pris­es 9ha of Saper­avi and Rkat­siteli vari­eties – he has built him­self a cubic func­tion­al build­ing. It con­tains his cel­lar with sev­er­al Qvevris on three lev­els, a small wine store and a styl­ish­ly fur­nished apart­ment. From the ter­race there is a won­der­ful view of his eco­log­i­cal­ly cul­ti­vat­ed vine­yards and the dis­tant moun­tain range.
Fer­men­ta­tion is a mag­i­cal process, the more you exper­i­ment the less you know.

Nukri Kur­dadze
"Fer­men­ta­tion is a mag­i­cal process, the more you exper­i­ment the less you know," explains the 62-year-old with a mys­te­ri­ous expres­sion. His organ­ic farm with the Papari Val­ley brand, cer­ti­fied by the Cau­cac­ert agency, pro­duces around 20,000 bot­tles a year. They are main­ly export­ed, pre­dom­i­nant­ly to Japan, Ger­many, USA, France and Great Britain. The cus­tomers in these coun­tries appar­ent­ly like to dig deep in their pock­ets for the syn­the­sis of mod­ern wine knowl­edge and sen­si­tive tra­di­tion­al crafts­man­ship à la Qvevris, as a prod­uct sealed with a nat­ur­al cork costs more than €30 (£26) per bot­tle.
"The new gen­er­a­tion of wine­mak­ers is try­ing to com­bine the mod­ern with the tra­di­tion­al to cre­ate some­thing new," explains Mr Kur­dzadze. "The art of Geor­gian wine is ulti­mate­ly a Euro­pean wine cul­ture."
Wine diver­si­ty from Geor­gia
More­over, Geor­gian viti­cul­ture boasts an incom­pa­ra­ble genet­ic diver­si­ty: Nowhere is this bet­ter demon­strat­ed than in Jighau­ra, a small town north of the cap­i­tal Tib­lisi. The Nation­al Cen­tre for Vine and Fruit Tree Prop­a­ga­tion, a depart­ment of the Sci­en­tif­ic Research Cen­tre for Agri­cul­ture (LEPL), has plant­ed over 450 indige­nous Geor­gian grape vari­eties on many hectares, thus ensur­ing their long-term preser­va­tion.
The diver­si­ty is very impres­sive – you can see it in the grapes alone: Large, small, long, fur­ry, sweet, fruity, etc. "We know the enor­mous val­ue of the many vari­eties in our col­lec­tion," assures direc­tor Prof Lev­an Ujma­juridze. "That is why we are so care­ful with their preser­va­tion." There is also great inter­est in the genet­ic pool from abroad.
Agri­cul­ture and wine-mak­ing play a deci­sive role for the econ­o­my in Kakheti.

Irak­li Kadag­ishvili
"Agri­cul­ture and wine-mak­ing play a deci­sive role for the econ­o­my in Kakheti," Gov­er­nor Irak­li Kadag­ishvili empha­sis­es in his office in Telavi. It's not with­out some pride that the head of Kakheti's region­al admin­is­tra­tion speaks of the 250,000t of wine pro­duced annu­al­ly, along­side over 20,000ha of fruit plan­ta­tions.
In addi­tion, Mr Kadag­ishvili men­tions the numer­ous entre­pre­neurs, some for­eign, who try to grow hazel­nuts, olives, pis­ta­chios and ros­es in the warm, and in some areas even sub­trop­i­cal, cli­mate which has an annu­al rain­fall of about 800mm. But sheep farm­ing and the cultivation of maize and wheat are also impor­tant. In the Kakheti region alone, for exam­ple, around 70% of Geor­gian wheat is grown.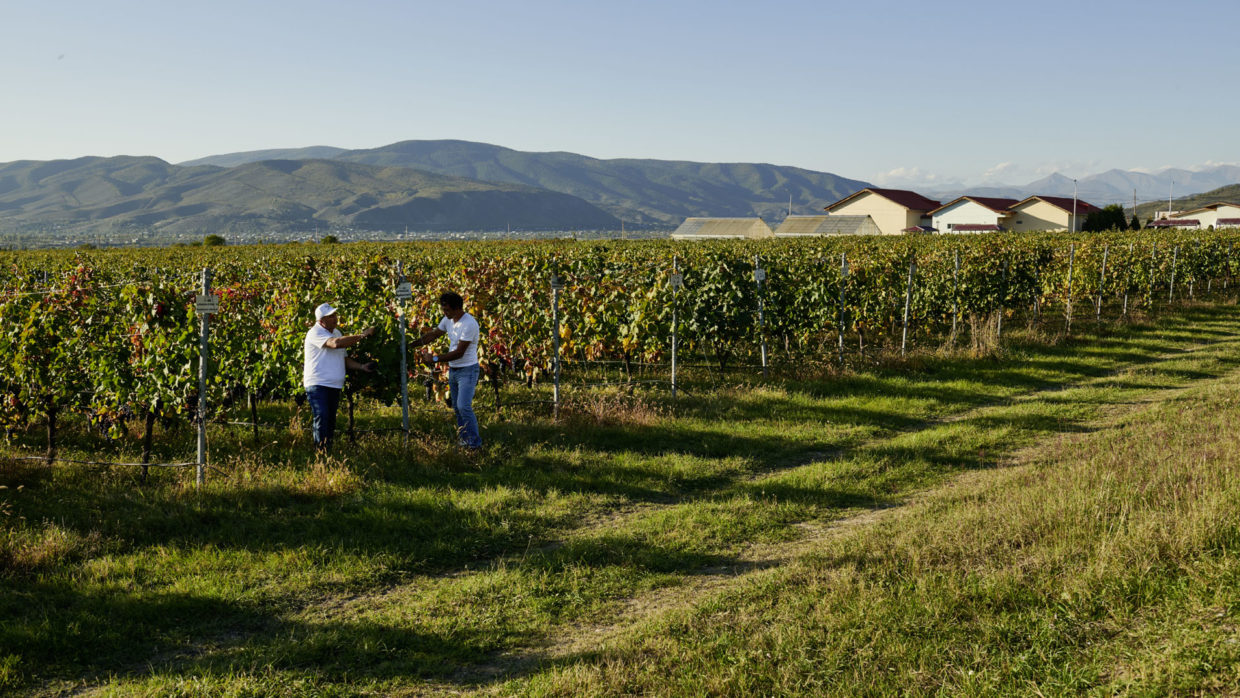 The Nation­al Cen­ter for Vine and Fruit Tree Prop­a­ga­tion in Jighau­ra, as part of the Geor­gian Sci­en­tif­ic Research Cen­ter for Agri­cul­ture, hous­es a col­lec­tion of over 450 indige­nous vine vari­eties.
The direc­tor of the Research Cen­tre Prof. Dr. Lev­an Ujma­juridze presents grapes of the vari­ety Mtsvane Kakhuri clone 12.
Gov­er­nor Irak­li Kadag­ishvili in his office in the region­al admin­is­tra­tion of Kakheti in Telavi.
Water sup­ply for vine­yards
In view of these inten­sive agri­cul­tur­al activ­i­ties, it is unsur­pris­ing that the region­al author­i­ties are called upon to ensure a smooth water sup­ply to guar­an­tee good har­vests, espe­cial­ly in inten­sive crops. In fact, the provin­cial ame­lio­ra­tion office man­ages all water-relat­ed issues. The moun­tain waters of the Iori and Alazani rivers are already dammed at the upper reach­es of the rivers and chan­nelled into canals which sup­ply the land.
While the flow of the riv­er Alazani eas­es off to a trick­le after a long sum­mer, the water con­tin­ues to rush lav­ish­ly through the con­crete canals. Keep­ing an eye on the water lev­els at all times, fine­ly con­trol­ling them and main­tain­ing dams, is cer­tain­ly not an easy task for the state author­i­ties. Nev­er­the­less, the fee per hectare cul­ti­vat­ed costs each farmer a mere 87 lari – the equiv­a­lent of around €30 (£26).
To fur­ther opti­mise water man­age­ment as demand increas­es and to adapt it to the respec­tive needs, the gov­er­nor would like to see more region­al deci­sion-mak­ing pow­ers. How­ev­er, much would still be decid­ed cen­tral­ly in Tib­lisi. At the same time, he has to admit that the respon­si­ble author­i­ties in neigh­bour­ing Azer­bai­jan, where the Alazani Riv­er flows east­wards, will not be involved in plans for new bar­rages or oth­er water uses.
The Duisi Dam in the Pankisi Val­ley, built in 1971, reg­u­lates the inflow of water from the Alazani Riv­er into the irri­ga­tion sys­tem of the Alazani Val­ley.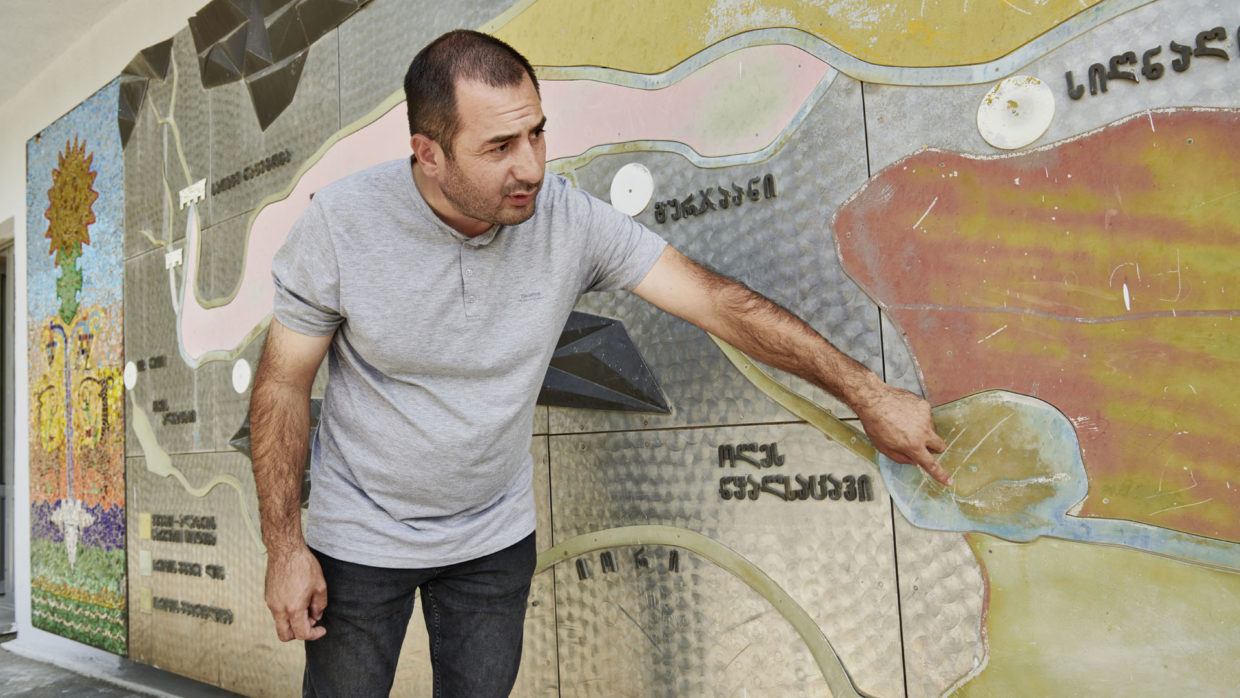 Josif Gigo­lashvili, head of the ser­vice cen­tre, explains on a mur­al the irri­ga­tion sys­tem that also sup­plied areas in Azer­bai­jan dur­ing Sovi­et times.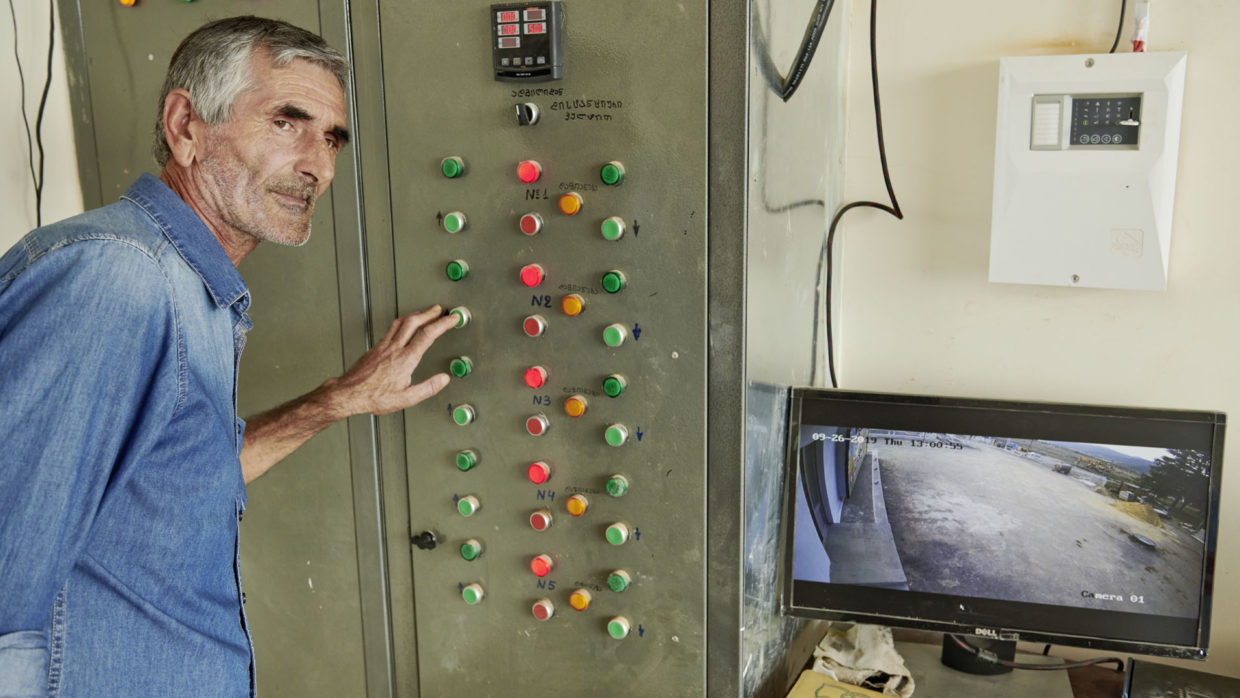 Tech­ni­cian Nadari Kau­tarashvili reg­u­lates the water flow into the canal.
Banana trees in the sub­trop­i­cal micro­cli­mate
Mean­while, not far from the Azer­bai­jani bor­der, in the very north-east of Kakheti and north of the Alazani in the vil­lage of Nat­sisqvi­lari, the water flows abun­dant­ly from many arte­sian wells. It flows into the ditch­es and sup­plies lush gar­dens. The micro­cli­mate is almost sub­trop­i­cal, even banana trees – although with­out ripe fruit – grow here.
Lau­ren­ti Chachanidze push­es the big barn door aside. "This is my corn from this year's har­vest," says the 56-year-old farmer and con­trac­tor. A few chick­ens, star­tled, scur­ry away on the large, 1,000t pile. By the end of August, Mr Chachanidze was able to com­bine the 100ha of maize on his land in extreme­ly dry con­di­tions and store it direct­ly with­out any fur­ther dry­ing. But he is not entire­ly sat­is­fied with the har­vest, since at around 8t/ha it was far below the aver­age of 18t.
"That's why I'm hop­ing all the more that prices will keep going up steeply towards win­ter." Mr Chachanidze nev­er­the­less looks ahead undaunt­ed and on the way to his gar­den, where colour­ful peren­ni­als, kiwis and pome­gran­ates thrive, picks a few fresh kakis from the next tree. Tasty, like so much of the nat­u­ral­ly blessed kakheti.
Wine­grow­ing in Kakheti
The Kakheti region stretch­es east of Georgia's cap­i­tal Tbil­isi to the Azer­bai­jani bor­der. It is about half the size of Hesse in Ger­many and has about 312,000 inhab­i­tants. The provin­cial cap­i­tal is Telavi. Archae­ol­o­gists esti­mate that wine was already being cul­ti­vat­ed and drunk in Kakheti 6,000 years before Christ.
This tra­di­tion is still man­i­fest­ed today by the so-called Qvevris (amphorae made of clay), which are most­ly buried in the earth to fer­ment the wine. In addi­tion, due to the ground stor­age, hard­ly any oxy­gen pen­e­trates the wine through the clay pores. Only micro-oxi­da­tion takes place, which is impor­tant for the wine to mature. The grapes – com­plete with skins and seeds – are poured into the Qvevris and fer­ment­ed, fol­lowed by a four-to-five month aging on the mash. In this way, addi­tion­al tan­nins and polyphe­nols are released, mak­ing the wine very full-bod­ied.
In the sec­ond half of the 19th cen­tu­ry, the whole of Geor­gia had about 71,200ha of vine­yards. Due to fun­gal dis­eases intro­duced from North Amer­i­ca (pow­dery and downy mildew) and pests (like phyl­lox­era), this area decreased to about 37,400ha by the begin­ning of the 20th cen­tu­ry. In order to put the destroyed vine­yards back into eco­nom­ic use, phyl­lox­era-resis­tant Amer­i­can vines were import­ed as root­stocks in Geor­gia as in the rest of Europe.
Geor­gian wine then found strong sales in the Sovi­et Union. An era of mass pro­duc­tion began: Georgia's vine­yard area grew to about 128,000ha by 1985. After the end of the Sovi­et Union, this area shrank and was severe­ly curbed by the import ban on Geor­gian wine imposed by Rus­sia in 2008. How­ev­er, accord­ing to wine experts, the sud­den prob­lem with sales had a heal­ing effect. From this point on, Geor­gia returned to qual­i­ty and tra­di­tion. Today it can be assumed that the vine­yard area has increased again to well over 50,000ha.