Mr Aude­naert grew up on an arable farm in the south­west of the Nether­lands growing mainly wheat, sugar beet and pota­toes. After studying agri­cul­tural engi­neering at Wageningen Univer­sity he started working in the product engi­neering depart­ment for sprayer manu­fac­turer Douven in Horst. Soon he became a product manager. "I have been inten­sively involved in sprayers right from the begin­ning," he says. After John Deere took Douven over, Mr Aude­naert led the devel­op­ment and Euro­pean launch of a completely new range of sprayers – the 800 Series.
A few years later he moved to John Deere's Euro­pean head­quar­ters, in Mannheim, Germany. "I worked on the large arable and contractor segment, and after a major organ­i­sa­tional change, I now focus on small grain produc­tion systems," he says. The job title changed from time to time, but spraying tech­nology has been a key exper­tise throughout his career. "In that respect it is a very special job, which also requires me to travel a lot. I drive up and down from the Nether­lands to Mannheim, but also to Kaiser­slautern or Zweibrucken in Germany. I also regu­larly visit the John Deere units in the US."
Different trends per country
When Mr Aude­naert started working in the early 1990s, sprayers were very different. "The main goal was to increase capacity, and farmers were switching from mounted to trailed sprayers," he explains. "Higher spraying capacity is still impor­tant, but trends in spraying tech­nology are surpris­ingly different from country to country.
"In the Nether­lands, for example, we see a lot of ultra-wide spray booms, while Germany is espe­cially inter­ested in very large spray tanks. France is leading in spraying at high speeds and in the UK a lot of spraying is done at low volumes. What all coun­tries have in common is an interest in more auto­mated processes like filling and cleaning the sprayer, as well as increasing spraying preci­sion while reducing the envi­ron­mental impact."
"GPS may have been the biggest break­through"
In just a few years Mr Aude­naert saw more and more automa­tion: Auto­mated steering systems, auto­matic boom section control, exact filling systems, auto­matic cleaning and rinsing systems, auto­matic boom height adjust­ment and stability control systems. Most of those features are now stan­dard spec­i­fi­ca­tion on sprayers.
"The intro­duc­tion of GPS tech­nology may have been the biggest break­through I've seen, because it enabled site specific spraying. Boom sections can be switched on and off auto­mat­i­cally and even indi­vidual nozzles can be controlled while spraying," he explains. "We are now entering a devel­op­ment phase, in which crop protec­tion is becoming increas­ingly selec­tive and targeted. The focus is on opti­mising distri­b­u­tion, dosage and coverage to meet the site-specific needs of the crop."
The R900i Series trailed sprayers offer boom withs of up to 40m ...
... and tank sizes of up to 6200l.
Legis­la­tion drives inno­va­tion
According to Mr Aude­naert, this inno­va­tion trend is based on several drivers. "Society is looking for more sustain­ability, and legal require­ments on the use of crop protec­tion prod­ucts are increasing. Farmers are also inter­ested in using fewer crop protec­tion prod­ucts to reduce their costs. At the same time, yield poten­tial can still be increased due to less crop growth inter­fer­ence and more precise and effec­tive control."
The tech­no­log­ical focus has shifted from increasing capacity towards more selec­tive and site-specific spraying. However, Mr Aude­naert wants policy makers to act with caution: "The farmer's interest should not be disre­garded, espe­cially when it comes to drift reduc­tion, optimal spray coverage, and the effec­tive­ness of crop protec­tion. In my opinion these needs are not always prop­erly consid­ered."
Latest devel­op­ments
Now pulse width modu­la­tion nozzles are state of the art: Some­times they can spray down to plant level. Could it ever get more precise? Mr Aude­naert smiles myste­ri­ously: "Of course I cannot tell you every­thing about John Deere's plans, but with the high-frequency pulsating nozzle tech­nology Exac­tApply, we have come a long way." For the first time it is possible to control the dose rate and the droplet size inde­pen­dently of each other, he explains. "With different speeds you can achieve the same appli­ca­tion rate and vice versa, without changing the droplet size." This is a big break­through for preci­sion agri­cul­ture, "because it allows the dosage to be varied precisely over a wide appli­ca­tion range and for every loca­tion in the field."
Filling, agitating, spraying, and multi-cycle rinsing for residue disposal manage­ment can be done almost auto­mat­i­cally.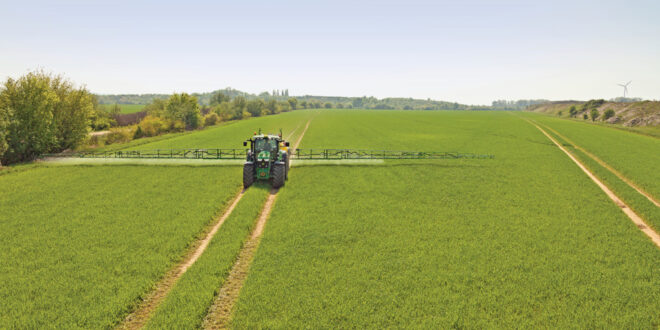 GPS in combi­na­tion with auto­matic boom section control is one key enabler for precise spraying.
So how does Mr Aude­naert see the future for spraying tech­nology? "I am thinking espe­cially of devel­op­ments around data collec­tion and sensor tech­nology, so as to measure even more precisely which treat­ment each plant on a field should have. Detecting and distin­guishing weeds offers great poten­tial for signif­i­cant savings in herbi­cides," he says. "In the long term, I do not rule out the possi­bility that tech­nology will be able to perform disease recog­ni­tion at a very early stage. The obser­va­tion and predic­tion of crop growth is becoming more precise and that will offer all kinds of new oppor­tu­ni­ties."
Algo­rithms are deci­sive
According to Mr Aude­naert, the future for spray tech­nology largely depends on regu­la­tions, partic­u­larly for unmanned machines which are oper­ated by algo­rithms. "To what extent can it be unmanned? Does someone always have to sit on the machine? These ques­tions need to be answered by the legisla­tive author­i­ties."
John Deere Sprayers
Trailed and Self Propelled SprayersGo to Sprayers
Another area in which algo­rithms can play a major role is in deciding where and what to spray. "It is impor­tant to develop good deci­sion algo­rithms, which can, for example, take infor­ma­tion from a biomass map and trans­late it into the right dose of crop protec­tion product," says Mr Aude­naert. If algo­rithms are well-proven, the author­i­ties could approve a wider port­folio of crop protec­tion prod­ucts to be used together with appro­priate preci­sion spraying tech­nology. "A chem­ical like Reglone, for example, is now prohib­ited for haulm killing in pota­toes, but when you spray based on biomass maps, you only need 40-50%. With proper substan­ti­a­tion for its use, this product might still be avail­able."
But are sprayers still rele­vant with the increasing restric­tions on chem­i­cals? Mr Aude­naert thinks so. "People often think fewer prod­ucts leads to less spraying. I think it's the other way around: If you want to imple­ment effec­tive crop protec­tion using fewer prod­ucts, then you must spray more often, but in lower quan­ti­ties. Currently, rules regarding the use of crop protec­tion prod­ucts are geared to treating an entire field with the same rate, while tech­nology can be used to spray more precisely. The approval of crop protec­tion prod­ucts should take tech­nology more into account."
Deploy­ment of drones
The ques­tion also remains whether the advan­tages are inter­esting enough compared to other options, says Mr Aude­naert. "I think that scouting and collecting data is partic­u­larly inter­esting for farmers. If farmers used drones for spraying, they would not need to have tram­lines and could spray under moist soil condi­tions. But our self-propelled machines can now spray more than 50ha per hour. If you want to reach that capacity with drones, you have to use a lot of them."
Keeping tech­nology afford­able
According to Mr Aude­naert, the "tech­no­log­ical end goal" for spraying is to have every plant mapped and provided with the ideal amount of protec­tion. "In the begin­ning, people are often skep­tical and say that some­thing is not worth­while, or that it will not get that far, like auto­matic steering systems or indi­vidual nozzle control. And later you see it breaking through."
But are machines that can spray accu­rately at plant level afford­able for farmers? Mr Aude­naert thinks for a moment. "Of course, there must always be a payback model for the customer, other­wise it has no future. Some inno­va­tions do not seem to break through in the begin­ning, but later in combi­na­tion with other tech­nolo­gies or new machines they become bene­fi­cial for the customer. Contrac­tors also play a major role. They can invest in the machines and tech­nolo­gies and spread the costs over a broader group of customers."
Adop­tion is faster than expected
As far as Mr Aude­naert is concerned, the adop­tion of preci­sion spraying tech­nology is much faster than expected. When a clear benefit is avail­able and commu­ni­cated to the customer, there will always be a break­through. "Site-specific spraying and working with task cards are not always imme­di­ately clear to the grower. In the past, it was often compli­cated to connect systems to each other, but it is getting easier as the years go on. And when sensors become avail­able that recog­nise weeds and target spray them, I expect this tech­nology to take off."
The biggest obstacle? As far as he's concerned, this is uncer­tainty about crop protec­tion regu­la­tions. "Growers don't know where this is going – they can't prepare for the future."
Chal­lenge for John Deere
According to Mr Aude­naert, the major chal­lenge for John Deere in the coming years is the same as that for the entire agri­cul­tural sector. "We need to produce consid­er­ably more food with almost the same amount of land and in a more sustain­able way. Higher yields must there­fore be achieved with a more effi­cient use of fertilisers, crop protec­tion prod­ucts and water."
Source: Geert Hekkert