The current custo­dian at Moat Farm – Antony – welcomes me onto the farm, located on the edge of rapidly expanding Stoke Mandev­ille in Buck­ing­hamshire. Despite its elec­tric gates, you know you have arrived. While I wait for the gates to open, people dart in and out of offices converted from the farm build­ings once used by Antony's grand­par­ents in their tradi­tional mixed farming enter­prise. Yet there is no doubt this is still a working farm – the heavy urban traffic and building work a quarter of a mile back down the drive are a world away.
The gener­a­tions need to trust each other.
Antony Pearce
Antony and I make our way to a small confer­ence room at the end of the farm­house into which he and his wife, Samantha, moved in 2000. They have two chil­dren: Chloe (14) and Max (11). Previ­ously, his grand­par­ents lived in the farm­house, with Antony's parents based on an adjoining holding. Tim lives on one of the family's farms on the edge of Burford in Oxford­shire.
AWAY FROM THE FARM
Like Chloe and Max, when Antony (now 45) and his brother Tim (43) were growing up there was no pres­sure to commit to the expanding farming busi­ness. They helped during school holi­days but were encour­aged to continue their studies to degree level.
The oppor­tu­nity and encour­age­ment to find work and skills away from the farm was a blessing in coming years – espe­cially when the farm and their father's health both came under pres­sure from encroaching urban­i­sa­tion.
At that stage Antony had qual­i­fied as an accoun­tant and Tim was estab­lished in London. They both came home on account of Richard's ill health, with Tim working on the farm and Antony increas­ingly focused on the legal process involved in compul­sory purchase asso­ci­ated with building devel­op­ment and bypasses as the conur­ba­tion drew closer.
A reminder of this on-going work is ever present; up behind his grand­par­ents' farm­house there is an enor­mous scar on the land­scape: The HS2 railway line will pass 200m from their back door and has guzzled up 59ha of the home farm.
THE FARM'S HISTORY
But it wasn't always this way; In quieter times, 1931, Antony's grand­fa­ther Dick started the family's faming legacy. Fondly known as Tricky Dicky, he secured casual grazing rights and started retailing milk. Just nine years later, he had the means and acumen to acquire 40ha near Stoke Mandev­ille.
By the mid-1970s Dick and his son Richard were managing a 240ha mixed farming enter­prise while Dick's wife Eva reared turkeys for the Christmas market.
Richard was an only child so succes­sion should have been rela­tively straight­for­ward. That was before his mother, Eva, bypassed him and gifted Moat Farm directly to just Antony.
"That frag­mented owner­ship certainly clipped my father's wings," explains Antony. "It diluted his control over the busi­ness, making it harder to achieve his aspi­ra­tions, both oper­a­tional and strategic."
But this is a family for which the glass is always half full: The expe­ri­ence has been put to good use. They have used their entre­pre­neurial acumen to ensure this family busi­ness is fit for purpose now and in years to come, with a range of diver­si­fied enter­prises protecting the mixed farm at its core.
Richard and Antony's flair for collab­o­ra­tion helped set up a machinery joint venture in 2007. Antony then joined the board of the Joint Venture Farming Group (JVFG) two years later – a collab­o­ra­tion where members bench­mark finan­cial and phys­ical perfor­mance, thereby increasing prof­itability and effi­ciency. And last year he estab­lished Dudley Peverill Asso­ciates, a farm diver­si­fi­ca­tion consul­tancy busi­ness with his partner (and previous work expe­ri­ence student) Alex Moss.
THE FARM TODAY
Richard is still actively involved with the farm, although the daily manage­ment is now Tim's and Antony's respon­si­bility.
The farming enter­prise now stretches across 10 miles, with 400ha owned and a further 200ha farmed under a contract farming agree­ment.
The 800-turkey enter­prise more than holds its own. Its public inter­face has been strength­ened with the planting of 2,000 sloe bushes, resulting in sales of sloe gin in the pop-up seasonal farm shop – along­side home-produced honey – all managed by a strong support team built up by Antony.
As Richard now considers retire­ment, Antony has joined the farming part­ner­ship, easing the pres­sure at tran­si­tion. This will obvi­ously require extra time, so Antony's busi­ness coach suggested he put aside 10% of his time to prepare for the change.
The best learning expe­ri­ence is living and breathing a busi­ness, rather than being taught in a class­room.
Antony Pearce
He uses this allo­ca­tion to crop walk every week with his father. It has been incred­ibly produc­tive, with discus­sions over each crop's perfor­mance helping to convince Richard that Antony is, in fact, 'an active farmer' rather than just an entre­pre­neur in Dick's mould.
"I have always been aware my father was not confi­dent or keen on all the other arms to the busi­ness I have intro­duced over the years," says Antony. "But recently, it meant a great deal to hear him recounting that I had no option but to take the busi­ness in a diver­si­fied direc­tion. That expe­ri­ence has made me very aware we need to trust the older gener­a­tion as much as the next one."
TRUST IN EACH OTHER
The younger gener­a­tion, Chloe and Max, have also inher­ited a love for the great outdoors and express a strong interest in tradi­tional mixed farming. Antony and Samantha have instilled a work ethic in them both from an early age and they help on the farm.
"I believe chil­dren must have the freedom to mature at their own speed with their own inter­ests. We need to trust where that will take them and not try to contrive a situ­a­tion where the child feels an oblig­a­tion to the farm, in order to earn their parents' trust and respect," he explains.
"The best learning expe­ri­ence is living and breathing a busi­ness, rather than being taught in a class­room. By installing a respected colleague into that busi­ness, you are also providing mentor­ship – hugely impor­tant to a young person's devel­op­ment."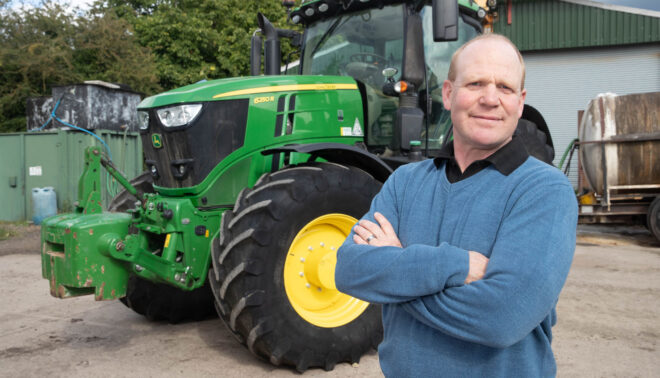 Chil­dren must have the freedom.
Antony Pearce
With that, Chloe drives past in the John Deere gator. "This is a millen­nial farm which is contin­u­ously evolving: That gator is the best gift I could have given the chil­dren," says Antony. "It provides inde­pen­dence for them to go out and explore or do jobs on the farm while teaching them respon­si­bility – all in a safe envi­ron­ment.
"Half the jobs our chil­dren and grand­chil­dren will do have yet to be invented: Who am I to dictate what use this land has in the future? The only sure thing is that we shall keep investing in the farm because 'they' aren't making any more land.
"And I will only consider retire­ment when there is an able replace­ment," he continues. "He or she might be a family member, someone involved in a joint venture, or a share farmer. The latter is a great way to bring young blood into the busi­ness along­side my expe­ri­ence to help expand it.
"And this is where trust between gener­a­tions comes into play. No-one sets out to make mistakes or wrong deci­sions. If we have done our best by them, our chil­dren will do their best. But, as is often the case, there can be fric­tion when the younger gener­a­tion requires a degree of lending to pursue their own busi­ness inter­ests at a time when those assets are held in the older generation's name."
Antony is at pains to point out that his family – like others – owns the free­hold to their land; but the land's util­i­sa­tion will be different for each gener­a­tion, which will find its own direc­tion.
"We are land custo­dians, spending our whole lives holding our farms together. It's easy for a parent to divide a farm evenly between their chil­dren and walk away. This can set chil­dren against one another, blowing apart a family and can result in the breakup of the farm to pay out all bene­fi­cia­ries. It's the worst legacy and creates a very emotional situ­a­tion."
As a direct result of his father's expe­ri­ence, Antony advo­cates intro­ducing a medi­ator to the succes­sion plan­ning conver­sa­tion. "If nothing else, intro­ducing a medi­ator sets the ball rolling – starting commu­ni­ca­tions over what will happen to the farm when the incum­bent dies," he states.
"The fear of addressing succes­sion is often worse than the reality of the process. Start the conver­sa­tion: You will soon wonder what you were worrying about.
The fear of addressing succes­sion is often worse than the reality of the process.
Antony Pearce
"And have this conver­sa­tion pre-retire­ment to calcu­late future income demands: Is there a pension for income at retire­ment? How much income is required; for how long?
"It's always better to hand over the reins when you and the busi­ness are fit and well, rather than die in harness," he adds. "It's not fair to expect the offspring to take on the emotional weight of death at the same time as learning the busi­ness ropes."
So how does Antony reflect on the process, given the benefit of hind­sight? "Now, I would like nothing more than to spend an after­noon with my grand­par­ents showing them around the farm today," he says. "I know they would be incred­ibly proud of what we have achieved over the years."
SECURING A LONG-TERM FUTURE
Antony uses the farm office white board to demon­strate how a busi­ness can secure its long-term future.
"Imagine three circles which overlap each other. Within the top left one you should write down all your passions, the top right, any areas in which you are very good and the bottom center, enter­prises which make money. You should focus on anything which over­laps in all three circles," he explains.
At Moat Farm, the envi­ron­ment, turkeys, arable data and customer focus all feature in the overlap. Regen­er­a­tive agri­cul­ture and tech­nology are working in tandem to improve envi­ron­mental and produc­tion effi­ciency which, in turn, is meeting consumer demand.
"We have signif­i­cantly improved perfor­mance and effi­cien­cies with John Deere's Green­Star, which controls a variety of preci­sion appli­ca­tions, machines and imple­ments," says Antony. "And the same goes for John Deere's Oper­a­tions Centre, which connects our whole fleet – bringing agro­nomic docu­men­ta­tion into one system."
In tandem, as Antony's confi­dence grows and results speak for them­selves, he is taking increasing incre­ments of land into regen­er­a­tive agri­cul­ture. Antony has focused on soil health to enable plant roots to access nutri­ents through micro­bial activity.