Mr Schowalter, how did you get started when it came to further devel­oping the 9 series trac­tors?
By working inten­sively with our customers. But we still had an ace up our sleeve: Since 2011, our trac­tors have been fitted with our telem­atics system. Using anonymised, aggre­gated statis­tics, we have been able to work on improve­ments in a very focused way and there­fore make deci­sions based on a very solid data base. In a short amount of time, we have been able to test more and vali­date new designs more quickly.
An impor­tant goal in the further devel­op­ment was improved produc­tivity. How did you achieve that?
The 9 series trac­tors are, to me, the most produc­tive trac­tors in the world. Not only in terms of the trac­tors' perfor­mance, but also regarding oper­a­tional safety. In terms of power, the customer has a range of different engines to choose from, up to 691hp. We also have our newly devel­oped 13.6-litre engine from the X9 combine, which has incred­ible power delivery. Equally impor­tant for us was to further improve reli­a­bility and reduce main­te­nance costs. Wher­ever possible, we have taken complexity out of the machine, strength­ened the chassis, further improved the hydraulics and electrics, and trimmed the entire drive­train – trans­mis­sion, axles, track drives – for absolute dura­bility.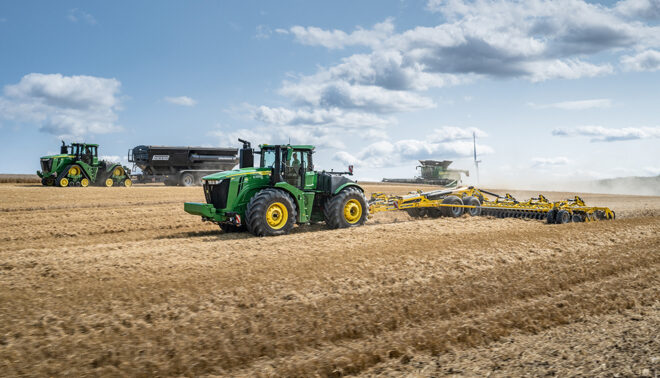 In the fore­ground a 9R wheel machine breaking stub­bles, in the back­ground a 9RX tractor with cater­pil­lars.
9R tractor breaking stub­bles.
9R tractor with drill.
What preci­sion farming bene­fits does the 9 series offer?
The series 9 trac­tors are packed with all the tech­nology the preci­sion ag world has to offer. However, this only bene­fits customers if the tech­nology is intu­itive and easy to use. With AutoSetup, once in the field, the driver can get started with just a single click. When crossing the field boundary, the driver auto­mat­i­cally sees the next work task on the display, which they then only need to confirm. This not only ensures that the work is done, but also that it is done right – with a correct set of docu­men­ta­tion data for manage­ment.
Trac­tors of this calibre work on large areas, making comfort even more impor­tant. What does the 9 series have to offer?
For many compa­nies, it is becoming increas­ingly diffi­cult to find and retain profes­sional drivers. That's why the comfort of a tractor plays an impor­tant role. We have adopted the brand-new cab from our 7 and 8 series, which has enjoyed enor­mous popu­larity since its intro­duc­tion. Where else can you find such a high-quality cab, a seat with massage func­tion, 65° swivel angle, active venti­la­tion and suspen­sion, a 6.1 sound system with Apple CarPlay compat­i­bility, an inte­grated refrig­er­ator, an amazing view on all sides and more? This really is a unique driving expe­ri­ence.