This man is a phe­nom­e­non. Most men of his age would be enjoy­ing a well-earned retire­ment – but not him! When he left the state-run Tan­za­nia Sisal Author­i­ty almost 30 years ago, he imme­di­ate­ly began his own adven­ture with sisal. He pur­chased an aban­doned sisal plan­ta­tion at the foot of the Usam­bara Moun­tains in north­ern Tan­za­nia for a cheap price. The 1,750ha site was cov­ered with weeds grow­ing ram­pant­ly, many of the agave plants were old and gone to seed and no longer fit for sisal pro­duc­tion. Now the sisal plan­ta­tion is all up and run­ning again. More than 300 employ­ees are now cul­ti­vat­ing and pro­cess­ing the prick­ly green leaves of the Agave sisalana plant, of which the fibres were once famous­ly known as the "white gold of Africa".
Demand for sisal is grow­ing
The talk is all about Damien Ruhin­da. He is over 80 years old but looks more like 60. "Yes, sisal is a tough thing", he says, in the small office of D. D. Ruhin­da & Com­pa­ny Lim­it­ed in Tan­ga. "First­ly", he says dri­ly, "sell­ing is no prob­lem, it's the pro­duc­tion which is the real chal­lenge." But his mis­sion goes beyond his own pri­vate com­mer­cial objec­tives: He wants to play his part in return­ing sisal fibre, which was once Tanzania's most impor­tant export, to its for­mer glo­ry.
But to achieve this goal, Tanzania's entire sisal indus­try, from the plan­ta­tions to the down­stream pro­cess­ing oper­a­tions, still has a long way to go. Of course the out­look is not bad now because inter­na­tion­al demand for the nat­ur­al fibre is grow­ing again. In addi­tion to the domes­tic mar­ket, Mr Ruhin­da refers to cus­tomers in the Arab coun­tries and Chi­na, as well as in Europe.
The bulk of sisal exports cur­rent­ly go to the Arab coun­tries, where large quan­ti­ties of the fibres are used as struc­tur­al mate­r­i­al in plas­ter con­struc­tion work. Anoth­er por­tion goes into world­wide car­pet pro­duc­tion, and it is also used in agri­cul­ture and ship­ping – sec­tors in which, after many years of decline, world­wide demand is also pick­ing up again. For exam­ple, ship­ping organ­i­sa­tions in Aus­tralia and New Zealand are seek­ing a ban on the use of syn­thet­ic ropes because they are not biodegrad­able and hence pol­lute the seas.
Ambi­tious goals
Tan­ga is a relaxed, almost sleepy look­ing trop­i­cal port city on the Indi­an Ocean where mosques and Chris­t­ian church­es are peace­ful neigh­bours. From here, the sisal pro­duced in north­ern Tan­za­nia is export­ed over­seas. Dur­ing colo­nial times, the gold­en fibres were car­ried to Tan­ga by rail – but this era is long gone. The old goods sta­tion now looks more like a neglect­ed indus­tri­al muse­um than a func­tion­al trans­port hub.
Sell­ing is no prob­lem, it´s the pro­duc­tion which is the real chal­lenge.

Damien Ruhin­da
Today the raw fibres and yarns from the plan­ta­tions and spin­ning mills are fer­ried to the port city in trucks. "Mkonge ni Tan­ga, na Tan­ga ni Mkonge" is writ­ten in large let­ters on the sign in front of the build­ing from the British colo­nial peri­od, which hous­es the Tan­za­nia Sisal Board. Trans­lat­ed from the nation­al lan­guage, Kiswahili, this means: "Sisal is Tan­ga and Tan­ga is sisal".
This under­scores the huge impor­tance that this resur­gent raw mate­r­i­al once had for the city and the sur­round­ing region. In the 1960s for exam­ple, there were still 100,000 peo­ple work­ing in the sisal indus­try; cul­ti­vat­ed on 500,000ha of land. Today, accord­ing to Yunus A. Mssi­ka, sisal is cur­rent­ly reg­u­lar­ly har­vest­ed on about 43,000ha. "Our efforts are focused on increas­ing this num­ber sig­nif­i­cant­ly in the com­ing years," adds the young man from the Tan­za­nia Sisal Board, in which more than 40 sisal-pro­duc­ing com­pa­nies are organ­ised.
Out­dat­ed tech­nol­o­gy is hold­ing back pro­duc­tion
Mr Ruhin­da damp­ens the eupho­ria a bit. "Wish­es are often the father of ideas," he says in an old hall where he wants to con­struct a new spin­ning mill to increase the company's own pro duc­tion capac­i­ty and income. "Above all, we lack cap­i­tal in Tan­za­nia," declares the grand seigneur, point­ing to the old, used spin­ning machines bear­ing the name "Fibre Mack­high Good Machine", man­u­fac­tured in 1967. A hand­ful of employ­ees wear­ing boil­er suits are slow­ly and painstak­ing­ly restor­ing the old spin­ning machine.
"It's dif­fi­cult to obtain such machines at all, because the demise of the sisal fibre indus­try also affect­ed the machin­ery man­u­fac­tur­ers," Mr Ruhin­da explains. "For exam­ple, there isn't actu­al­ly any inno­va­tion in con­struct­ing sisal pro­cess­ing machin­ery, so we are forced to rely on tech­nol­o­gy which, while proven, is out-of-date."
The machine squash­es the sisal leaves, there­by sep­a­rat­ing the fibres form the oth­er plant mate­r­i­al.
Work­ers are hang­ing up the sep­a­rat­ed fibres for dry­ing on open-air racks.
After comb­ing out the residues, the fibre is pressed into large bales and trans­port­ed for fur­ther pro­cess­ing.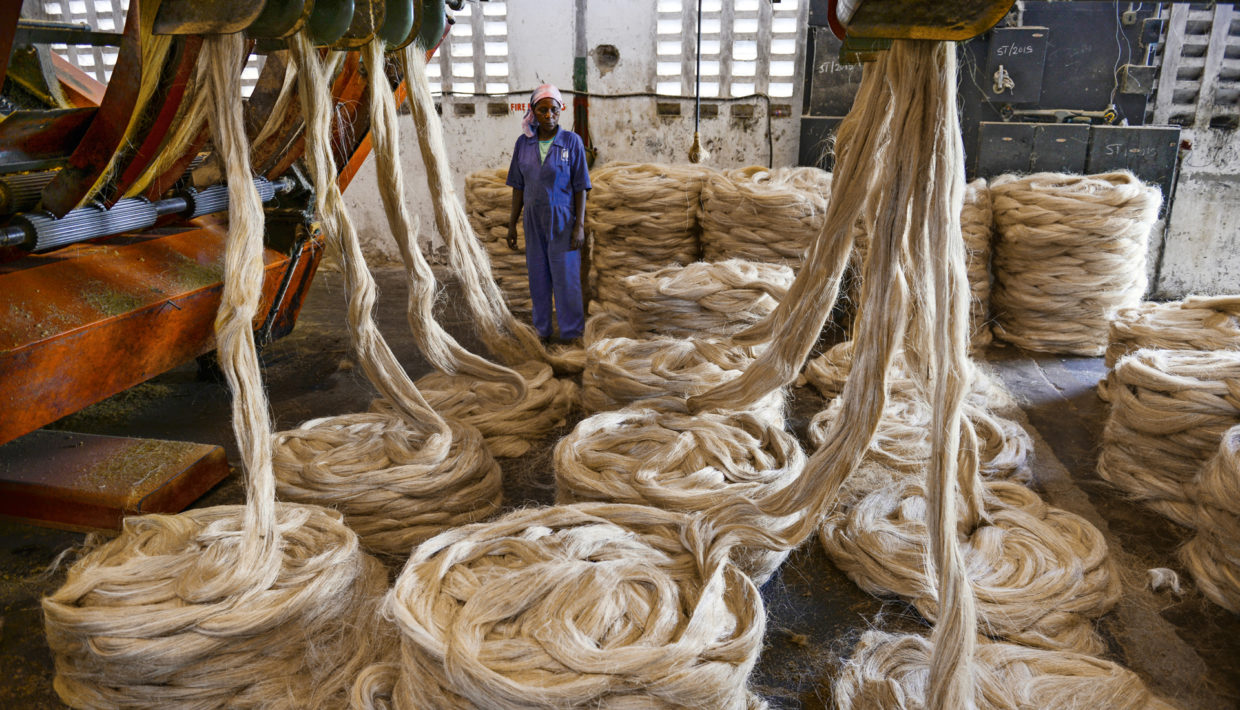 View into the spin­ning work of Tan­cord (1998) Ltd.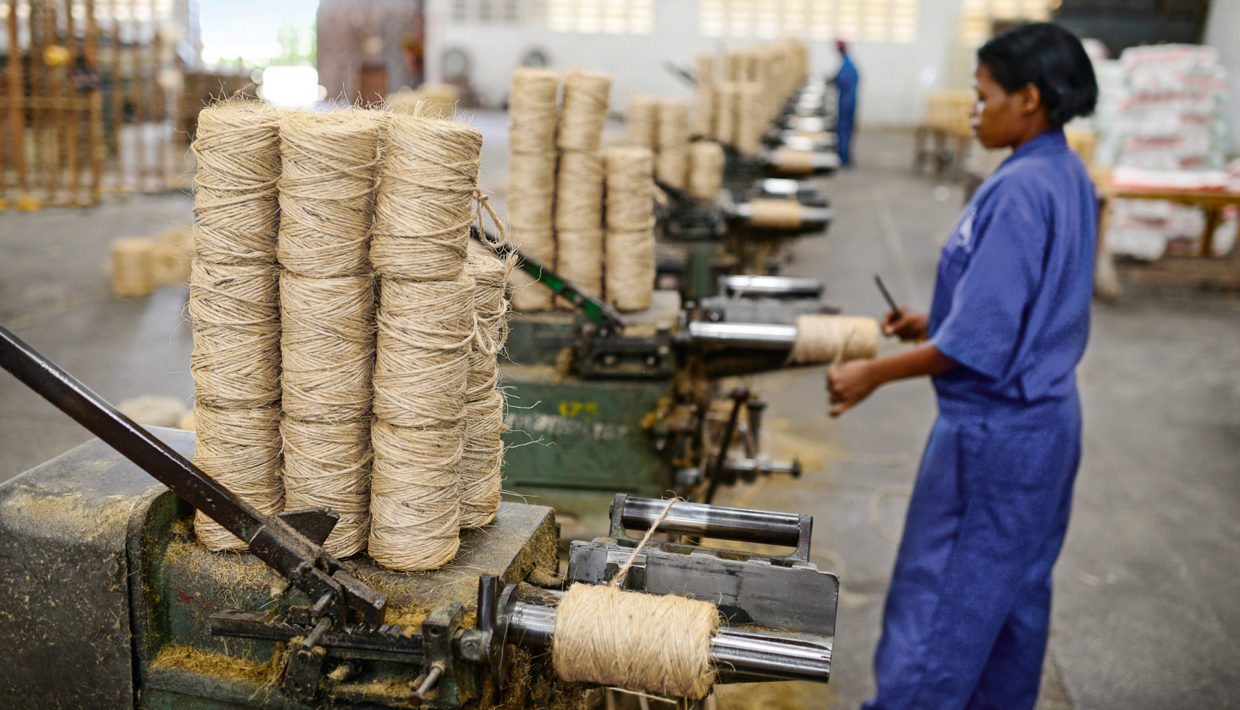 Among oth­er things sisal fibres can be turned into high-qual­i­ty and envi­ron­men­tal­ly-friend­ly twine and rope.
Floor mats and car­pets made of sisal bring nature into the liv­ing room.
An impor­tant mar­ket for sisal is the pro­duc­tion of biodegrad­able rope for naval pur­pos­es.
And there is more to sisal than secur­ing large ships to the quay­side – it even serves as fine thread for tex­tiles.
Mean­while, the machines in the fac­to­ry halls of Tan­cord (1998) Ltd. are spin­ning and weav­ing inces­sant­ly on the out­skirts of Tan­ga. "We are pro­duc­ing car­pets, mats and ropes," observes the gen­er­al man­ag­er, Hamisi Maige. "We main­ly sup­ply the domes­tic mar­ket but we also export to Kenya, Mozam­bique and South Africa," Mr Maige con­tin­ues. "We would love to export over­seas as well. But for that we need inno­va­tion to refine the fibres, which is tech­ni­cal­ly pos­si­ble, but the con­vic­tion to invest in research work in this area is clear­ly still lack­ing. So we remain at the same lev­el of pro­cess­ing as in the time of Euro­pean colo­nial rule."
Anoth­er impor­tant fac­tor, Mr Maige con­tin­ues, is that the prod­ucts gen­er­at­ing income from sisal cultivation should not be lim­it­ed to the pro­duc­tion of fibres. "The fibres only account for 4% of the whole plant. In future, we must put the remain­ing 96% to bet­ter use, for exam­ple by gen­er­at­ing bio­gas," he says. "The extrac­tion of active sub­stances from the agave plant for use in phar­ma­ceu­ti­cal prod­ucts is also con­ceiv­able and, what's more, agave juice can also be used to brew spir­its."
A jour­ney into the past
A few hours' dri­ve inland, south of the Usam­bara Moun­tains on Mr Ruhinda's Mkum­bara Sisal Estate, the moun­tain peaks are still cov­ered by the morning's high fog. With the help of many hands, fresh­ly har­vest­ed sisal leaves are lift­ed out from trucks and placed on a con­vey­or belt which leads direct­ly into the decor­ti­ca­tor (a fibre-strip­ping machine) which is elec­tri­cal­ly dri­ven using large belts. It beats the fleshy lance­o­late leaves with iron mal­lets. While the sap flows down­wards through a chan­nel, the fresh­ly strung gold­en fibre emerges from the oth­er side of the machine.
Men wear­ing old shoes stand in the frothy sap gath­er­ing bun­dles of fibres and load­ing them onto a cart. After defi­bra­tion, women hang the moist fibre bun­dles on waist-high lines where they fade and dry with­in hours under the scorch­ing sun. The fibre is then brushed by a machine. At the end of the pro­cess­ing chain, a press com­press­es the fibrous mate­r­i­al into bales weigh­ing 100kg or 250kg.
Mean­while, dili­gent har­vest­ing is tak­ing place on the plan­ta­tion. A light wind pro­vides some wel­come cool­er air to about 100 men and women who car­ry out their hard work in high tem­per­a­tures. "We har­vest around 5t every day," explains the man­ag­er, Kha­li­di Mgun­do, in an area of the plan­ta­tion that is laid out in a square and sym­met­ri­cal­ly crossed by paths for trans­port. The man­u­al har­vest­ing is a very pre­cise­ly planned sys­tem. The agave plants are plant­ed in rows which are 2m apart from each oth­er, with a gap of 1m between plants with­in the rows.
If the soil is sup­plied with a suf­fi­cient quan­ti­ty of nutri­ents and water, then a har­vest of up to 3t/ha is pos­si­ble.

Kha­li­di Mgun­do
Only the expe­ri­enced har­vesters know which leaves are already ripe for cut­ting. One of them is Nuru Waziri, a woman who has been doing this work for more than 10 years. With great skill, she cuts off the spiky leaves, which are about 1m long and arranged in a rosette around the trunk. She works her way along the rows quick­ly and lays the cut spec­i­mens on the ground between the rows. The sec­ond stage in her work is to pick up 30 leaves and bind them into a bun­dle. She car­ries this from the rows of plants to the trans­port path, where she stacks the bun­dles into square piles. A pile is com­plete when it con­tains exact­ly 110 bun­dles and it then has a vol­ume of one cubic metre.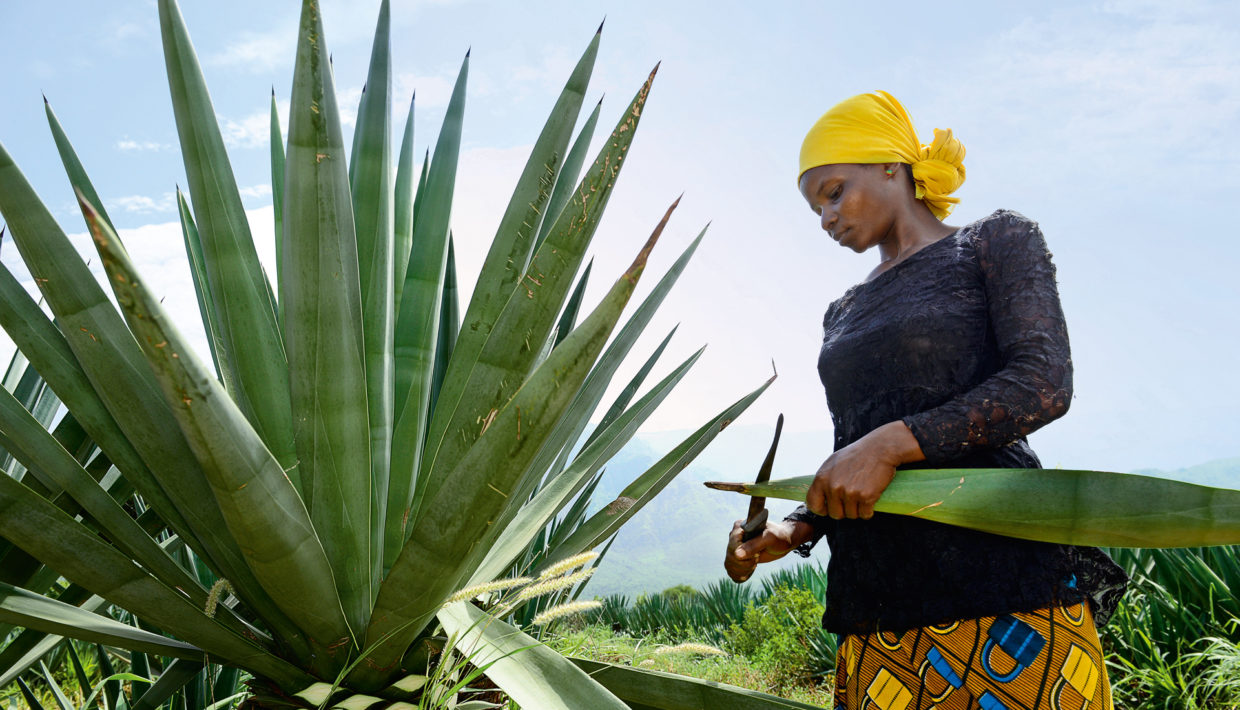 Rou­tine at work – for more than 10 years farm work­er Nuru Waziri has been cut­ting the prick­ly sisal leaves.
Sisal as far as the eye can see. On the Mkum­bara Sisal Estate plan­ta­tion the metre-high peren­ni­al fibre plant cov­ers thou­sands of hectares of land.
After cut­ting the long, meaty leaves they are packed in bun­dles of 30.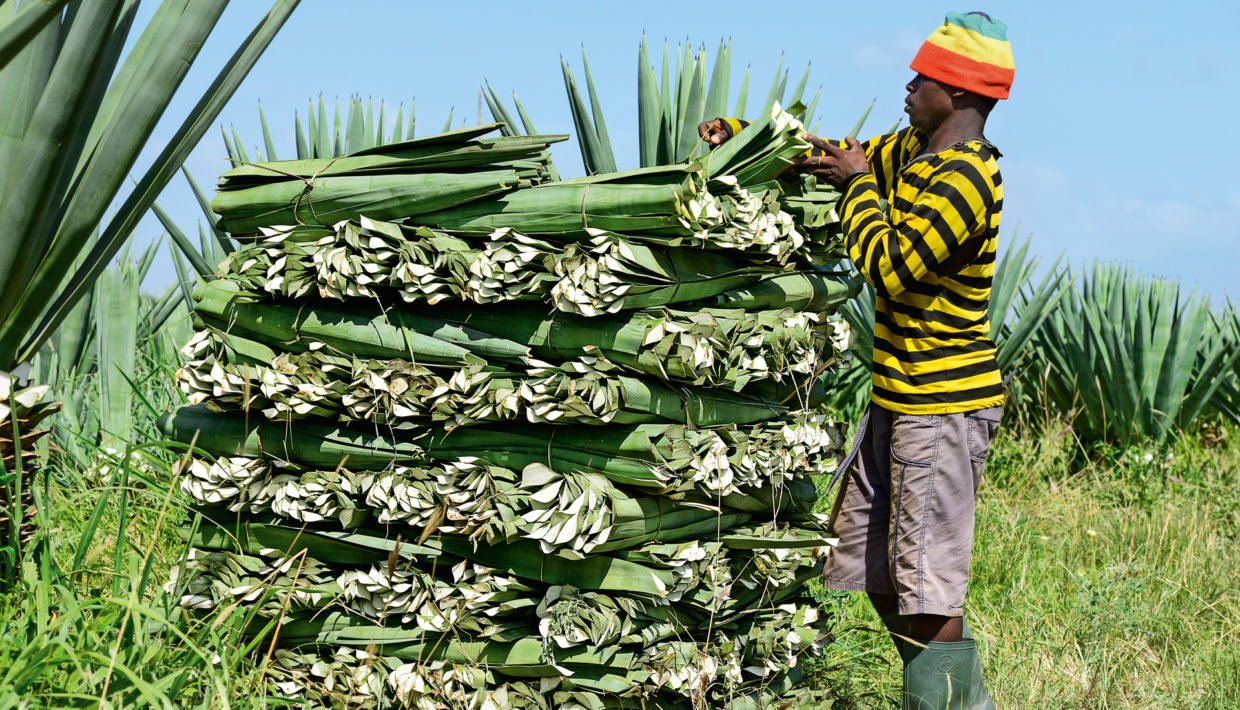 One stack con­sists of exact­ly 110 bun­dles. A trac­tor-trail­er team trans­ports the stacks out of the plan­ta­tion.
The sisal crop from the once state-run Mkum­bu­ra plan­ta­tion has now recov­ered, near­ly 25 years after the work on the plan­ta­tion was resumed. How­ev­er, some of the agave plants are already past their peak yield, which occurs after about 12 to 15 years. They have to be replaced by new seedlings, of which the leaves can be cut for the first time after a four-year growth peri­od. For long-term growth, Mr Mgun­do has plant­ed about 200ha with seedlings.
"To date, we have been har­vest­ing about 1-1.5t/ha each year on aver­age," he explains. "For­tu­nate­ly we haven't had any prob­lems with insect dam­age, or fun­gal or viral dis­eases, such as Korog­we leaf spot dis­ease, and if the soil is sup­plied with a suf­fi­cient quan­ti­ty of nutri­ents and water, then a har­vest of up to 3t/ha is pos­si­ble." The doors and win­dows are open. Mr Mgun­do desk is in the mid­dle of the room. The dai­ly logs; list­ing columns of pro­duc­tion fig­ures and weight­ed down with large shells, are flut­ter­ing in the wind. A pic­ture with sym­bol­ic char­ac­ter: Sisal cultivation south of the Usam­bara Moun­tains is expe­ri­enc­ing tail­winds.
Sisal in num­bers
The world­wide pro­duc­tion of sisal fibres reached a peak of almost 2.5m tonnes at the begin­ning of the 1960s. At the begin­ning of the 1970s, pro­duc­tion was still esti­mat­ed at around 800,000t. Then the mar­ket col­lapsed owing to syn­thet­ic fibres emerg­ing at that time. The main cultivation coun­tries such as Tan­za­nia reduced their pro­duc­tion by up to 80 %. After the turn of the Mil­len­ni­um, glob­al pro­duc­tion fig­ures slow­ly increased back up to 200,000t, the trend is slow­ly increas­ing.
Tra­di­tion­al uses for sisal fibres include car­pets, door­mats, ropes, cords, cables, nets, bags and yarns. The fibres also have var­i­ous uses in the con­struc­tion indus­try (insu­lat­ing mate­r­i­al, fibre­boards, struc­tur­al mate­ri­als for plas­ter build­ing sec­tions and roof tiles). Sisal fibres are increas­ing­ly being used to make fibre com­pos­ite mate­ri­als as they are lighter than fibre­glass. Fab­rics made from sisal are also used for pol­ish­ing wheels – because they clean but don't scratch. In addi­tion, owing to its spe­cial prop­er­ties, sisal is a use­ful addi­tive in pulp pro­duc­tion for spe­cial papers.