The build­ings of the 37 hectare test field are get­ting a bit old. On the wall hangs a black and white por­trait of the founder of the agri­cul­tur­al tri­als. Dr Julius Kühn died in 1910 and has, since 2008, been the name­sake of today's Fed­er­al Research Cen­tre for Cul­ti­vat­ed Plants (JKI), based in Quedlin­burg.
Dr Kühn, remem­bered as a pio­neer, acquired the site, which at the time lay far out­side of the city, with a view to giv­ing his agri­cul­ture stu­dents a bet­ter under­stand­ing of both the­o­ry and prac­tice, in the spir­it of Humboldt's uni­ver­sal teach­ing: The­o­ry in lec­tures, prac­ti­cal study and exper­i­ments on live plants in the test plots.
This means his stu­dents, who had come to Halle from all cor­ners of Europe, moved back and forth between the uni build­ings and test fields. This was the mid 19th cen­tu­ry, when agri­cul­tur­al sci­ence was com­plete­ly unchar­tered ter­ri­to­ry. Whether or not, back in 1878, Dr Julius Kühn had set his sights on estab­lish­ing 6,000m2 of mul­ti-plot rye fields that would keep the exper­i­ment going into the 21st cen­tu­ry is unclear, but that doesn't change the fact that these rye plots have sur­vived the First World War, the Nazis, the Sec­ond World War and and the fall of the Iron Cur­tain.
This means rye has been grown, unin­ter­rupt­ed, on the same site for an unbe­liev­able 142 years. This is why it has been dubbed "Eter­nal Rye Crop­ping" in agri­cul­tur­al cir­cles.
142 years of endurance test­ing
Sta­tion leader, Dr Hel­mut Eißn­er, walks along the nar­row path that his famous pre­de­ces­sor, Dr Julius Kühn, prob­a­bly also fre­quent­ed in the mid 19th cen­tu­ry. On the edge of the plot, only a few hun­dred metres fur­ther away, you can see Halle's large depot. A few min­utes' walk from the admin­is­tra­tion build­ing, he stands in front of the sec­ond old­est plant endurance exper­i­ment in the world. Only in Great Britain, at the Rotham­st­ed Research insti­tute, just north of Lon­don, are there endurance tests that are even old­er. "Here, we have five dif­fer­ent vari­ants of organ­ic and min­er­al fer­tilis­er and one unfer­tilised area," he explains. While it is only the begin­ning of March and the win­ter rye has not yet been plant­ed, the dif­fer­ences from plot to plot are fair­ly easy to see.
The results from the "Eter­nal Rye Cultivation" show that we can use our soils sus­tain­ably and pro­duc­tive­ly in the long term. That works.

Dr Hel­mut Eißn­er
Halle's endurance test con­tin­u­um is remark­able. The long-term mea­sure­ment data alone, such as har­vest yields and soil sam­ples from the respec­tive endurance fer­tilis­er tests, have great val­ue in terms of explain­ing eco­log­i­cal change process­es. If har­vest yields are then com­pared with cli­mate data, this endurance test pro­vides valu­able infor­ma­tion about the cor­re­la­tion between the soil, the crop and the atmos­phere. Even the cor­re­la­tion between plant com­pounds and the sup­ply of nutri­ents in the soil was under sci­en­tif­ic obser­va­tion at this site for a long time. Today, how­ev­er, this is not the case, as Dr Eißn­er, who has been respon­si­ble for the test­ing sta­tion since 2001, regret­ful­ly admits.
The agri­cul­tur­al teach­ing and test­ing insti­tute of the Uni­ver­si­ty Halle from above: The site was pre­vi­ous­ly locat­ed far out of the town, where­as the town has now grown and moved clos­er. (© LVS Halle, 2016)
At the fac­ul­ty, rye tri­al fields with dif­fer­ent fer­til­iza­tion meth­ods are inves­ti­gat­ed.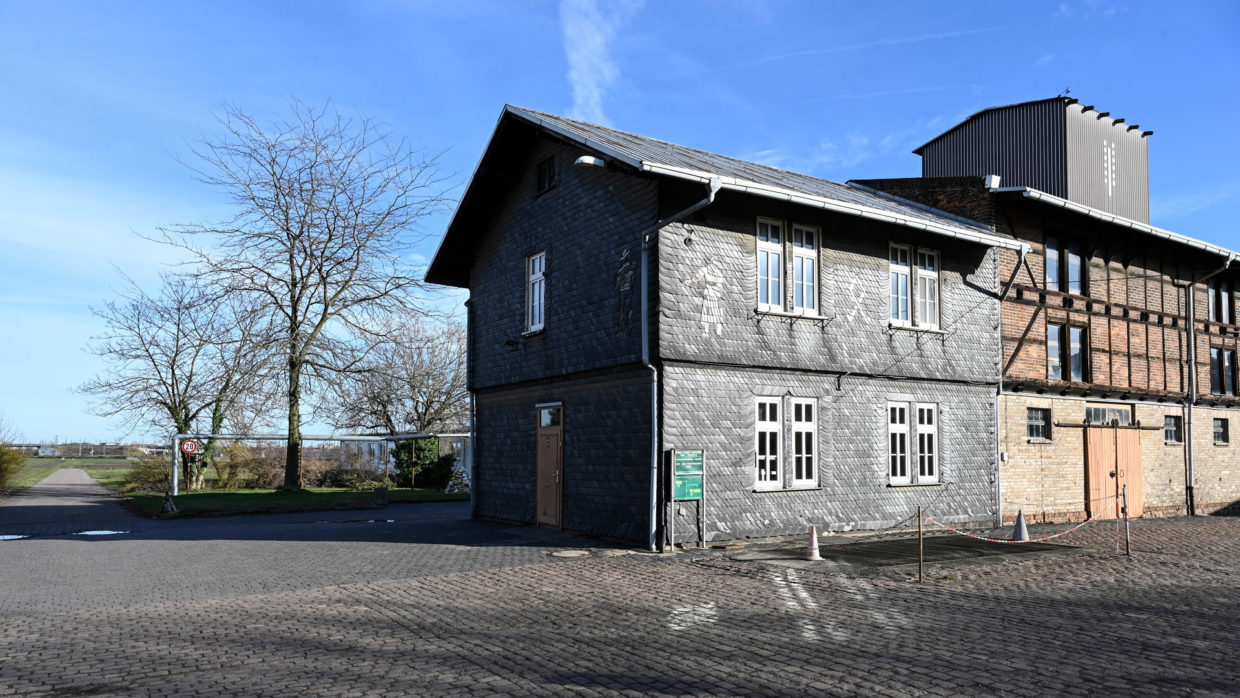 A build­ing of the teach­ing and exper­i­men­tal sta­tion.
Even non-sci­en­tists recog­nise rel­a­tive­ly quick­ly the impor­tance Halle's his­toric soil has for plant research. It rep­re­sents a unique archive of the cul­tur­al his­to­ry that has been afford­ed spe­cial pro­tec­tion by the state of Sax­ony-Anhalt since 2007 as a mon­u­ment for "Eter­nal Rye Crop­ping". How­ev­er, there is a lack of finan­cial resources to allow good research con­tin­ue. To gar­ner these resources, politi­cians and the research land­scape must be gal­vanised, a feat which has, how­ev­er, not always been achieved in the past, Dr Eißn­er con­cedes.
Nev­er­the­less, it keeps going, says Dr Eißn­er, who is at the end of his long career, which he began with a degree in agri­cul­ture at Halle and will end super­vis­ing the test field at the Uni­ver­si­ty. In the eight­ies, he was pro­mot­ed to soy­bean cultivation at the Leipzig Trop­i­cal Insti­tute. He worked on endurance field tests in San­ta Clara in Cuba and was in Nicaragua from 1990, where he also worked on exper­i­ments at the Nation­al Uni­ver­si­ty for Agri­cul­ture on the out­skirts of the cap­i­tal, Man­agua.
The soil nev­er for­gets
"As farm­ers, every­thing we do with the soil is also reflect­ed in the har­vests", says the doc­tor of agri­cul­tur­al sci­ence, about the com­par­a­tive fer­til­i­sa­tion exper­i­ment. The plot that has nev­er been fer­tilised still deliv­ers a return of an extrap­o­lat­ed 1.5 – 1.7t/ha after almost 150 years of monocrop­ping. "Whether or not we now fer­tilise organ­i­cal­ly or with min­er­als is rel­a­tive­ly insignif­i­cant to the soil." states Dr Eißn­er. "How­ev­er, these returns were high­er in dry years with manure fer­til­i­sa­tion because the water reten­tion abil­i­ty of the soil increas­es with more organ­ic fer­tilis­ers."
Espe­cial­ly impres­sive in the Eter­nal Rye Crop­ping is the com­par­i­son between the unfer­tilised plots and a plot that was treat­ed with manure from 1893 to 1953, but has not been fer­tilised since then. Although there has now been no organ­ic fer­til­i­sa­tion for almost 70 years, the effect of it is still pal­pa­ble. "The return has been con­stant, at 0.5t/ha, across the unfer­tilised area for years," reports Dr Eißn­er. "The soil has a very good mem­o­ry," he adds, look­ing crit­i­cal­ly into the future.
The plants are one thing, the soil anoth­er. In the Wohlt­mannschen shed, there are count­less soil sam­ples which have been tak­en for the rye endurance test in recent years.
From the test plots to the shelf: Grain sam­ples from the last cen­tu­ry are avail­able for research.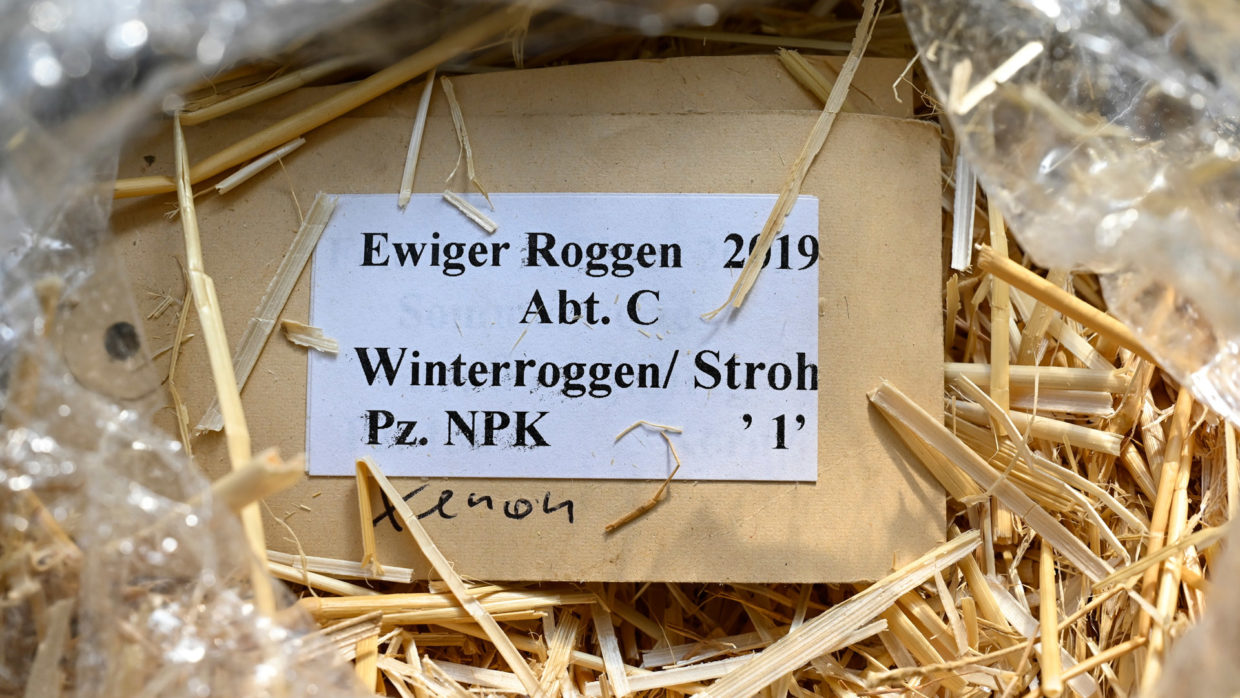 This also applies to straw sam­ples.
A mea­sur­ing sta­tion at the wheat fields of the exper­i­men­tal sta­tion.
The gen­er­a­tions after us will have to deal with the con­se­quences of the cur­rent soil usage. "Ulti­mate­ly, I learned what a respon­si­bil­i­ty it is to work with the soil here on the endurance tri­als fields," says the 65 year old. Can bad­ly treat­ed soils be repaired? Dr Eißn­er is some­what eva­sive. "We have no choice, no alter­na­tive. If we want to hold on to exten­sive agri­cul­ture in Ger­many, it must also be pos­si­ble for us to put things right. The soil is repairable but it doesn't even need to be dam­aged in the first place."
Ori­en­ta­tion for the future
All farm­ers cer­tain­ly share this view. And there­fore it would not only be prefer­able, but in fact absolute­ly nec­es­sary that "Eter­nal Rye Crop­ping" not only be con­tin­ued as an ori­en­ta­tion aid for agri­cul­ture, but poten­tial­ly even broad­ened. The his­tor­i­cal data on Eter­nal Rye Crop­ping pro­vide impor­tant sci­en­tif­ic input for dis­cus­sions on all future ques­tions about cli­mate change and its effects on agri­cul­tur­al pro­duc­tion.
---
"Achiev­ing sus­tain­able pro­duc­tiv­i­ty"
Inter­view with Dr Hel­mut Eißn­er, head of the teach­ing and test­ing sta­tion at the Uni­ver­si­ty of Halle.
If we take a look into the future, will the long-term "Eter­nal Rye Crop" (Ewiger Roggen­bau) tri­al still exist in 2050?
I am firm­ly con­vinced that the "Eter­nal Rye Crop" tri­al will always exist. Whether oth­er long-term fer­tilis­er tri­als will con­tin­ue until then is debat­able. If they indeed still exist, they are like­ly to instead be in the form of direct sow­ing tri­als, which dis­pense with tillage to avoid dis­rupt­ing the soil.
What con­clu­sions can agri­cul­tur­al researchers draw from the "Eter­nal Rye Crop" tri­al in rela­tion to the antic­i­pat­ed change in cli­mate?
Rye, as a C3 plant, is a good indi­ca­tor of increas­ing CO2 lev­els in the atmos­phere. By way of com­par­i­son, we also have corn in the tri­al, which, as a C4 plant, is a good indi­ca­tor of tem­per­a­ture and drought resis­tance. At our low-absorp­tion site (42 soil points), the inter­ac­tions between soil and plants are par­tic­u­lar­ly sig­nif­i­cant. Nev­er­the­less, we must remain mod­est, because we can­not sim­ply trans­fer the results from land parcels with an area of 2,000m2 to 2 mil­lion hectares of corn.
If the aver­age tem­per­a­ture at the tri­al loca­tion increased by 2°C and the rain­fall dis­tri­b­u­tion remained at a sim­i­lar lev­el as today, would this have a pos­i­tive effect on the rye?
If it turns out that glob­al warm­ing makes sum­mers only slight­ly warmer but win­ters sig­nif­i­cant­ly warmer, it would be ok. How­ev­er, all infor­ma­tion indi­cates that win­ters will be wet­ter and sum­mers will be dri­er. There­fore, grow­ers are also work­ing on vari­eties that are ripe by mid-June.
What research top­ics will be inter­est­ing for the future?
In Ger­many, we have been talk­ing about agri­cul­ture almost exclu­sive­ly in the con­text of exten­si­fi­ca­tion and envi­ron­men­tal pro­tec­tion for over 20 years. But the main ques­tion is still pro­duc­tiv­i­ty. This ques­tion is all the more per­ti­nent if you know that many trop­i­cal soils can­not be used as pro­duc­tive­ly and sus­tain­ably as those at our lat­i­tudes.
What insights does the "Eter­nal Rye Crop" tri­al offer you in this regard?
The find­ings of the "Eter­nal Rye Crop" tri­al do show, how­ev­er, that we can pro­duc­tive­ly and sus­tain­ably use our soils in the long term. It works. Both with min­er­al fer­tilis­ers as well as organ­ic fer­tilis­ers.
Do you believe that sus­tain­abil­i­ty and pro­duc­tiv­i­ty are com­pat­i­ble?
It's up to us whether or not they're com­pat­i­ble. To achieve this, there is no doubt that we need cir­cu­lar-flow think­ing and action that lasts for gen­er­a­tions.