A recent survey in Germany showed that a large majority of farmers want pre-season machine inspec­tions. "Fifty per cent of the people asked even want to be alerted as soon as part of a vehicle presents a risk," says Kevin Etienne, who runs John Deere Expert Check in Western Europe.
Until the auto­mated exchange of infor­ma­tion becomes wide­spread and provides alerts, how does John Deere ensure avail­ability of its equip­ment during the season?
For agri­cul­tural contrac­tors or co-oper­a­tives, pre-season machine inspec­tions outside of the contrac­tual warranty has found its place," concedes Sylvain Autret, product support manager at the Terréa deal­er­ship in the Grand-Est region of France.
Customers have a heavy work­load and readily admit their mechan­ical and elec­tronic short­com­ings: They need an expert eye. "It is for them that we are devel­oping the Expert Check service, some­thing that will also allow us to better plan the activity of our work­shops throughout the season. And we have our mechanics to thank for it."
Terréa at a glance
Born in 2013 after a deal­er­ship merger in the Grand-Est region, Terréa is now part of the Agriteam group. Terréa employs 165 people in 10 loca­tions*, including 80 people in the work­shop and 26 ware­house workers. In 2021, the deal­er­ship has put 170 new and 210 used trac­tors into service, as well as 20 new and 47 used combines, 30 balers and 10 sprayers from John Deere, plus 49 new Kramer tele­han­dlers. Expected sales are in the range of €85m (£71m).
*Verdun, Fron­cles, Sainte-Mene­hould, Montigny, Vouziers, Chaumesnil, Vitry, Corny and Stenay.
A complete package for a clear quote
Each John Deere deal­er­ship can offer Expert Check with a varying range of services, but all have a common core of about 80 oper­a­tions for a tractor. This includes updating AMS compo­nents and installed soft­ware, checking fault codes, the air condi­tioning system, linkage clear­ance, hydraulic pres­sure, front-wheel drive, belts and lights.
"During the winter, Terréa adds an engine dynamometer for the trac­tors and a tyre wear check. We also put the work in in terms of labour," Mr Autret explains. "We found that this push in labour is almost 15% greater than what would be offered by indi­vid­u­ally pricing oper­a­tions on the Expert Check list." At the end of the inspec­tion, the tractor owner is given a diag­nosis and a quote.
"We organise dedi­cated Expert Check Days at each loca­tion at the begin­ning of the year," explains Mr Autret. "Customers can be sure of leaving with a fully serviced tractor after 48 hours of down­time, usually very early in the season." And this approach gets results: Terréa has planned 180 Expert Checks, a large increase compared with 2020.
Expert Check for three trac­tors per year
Based in Sorcy-Bauthé­mont in the heart of the Ardennes, ETA (Agri­cul­tural Contracting Company) Justin is a long-term customer of the Terréa branches in Corny and Vouziers. Laurent Justin and his wife Nathalie, who took over the company in 1997, manage a team of eight drivers. "Mechan­ical knowl­edge is essen­tial for us," explains Mr Justin. "I never consid­ered hiring a work­shop assis­tant because my dealer has so much more exper­tise, as well as diag­nostic tools like Service Advisor."
ETA Justin: Machinery fleet
9 John Deere 6000 and 7000 series trac­tors* (1,000 hours/year)
4 John Deere combines
2 John Deere self-propelled forage harvesters
1 John Deere trailed crop sprayer R740i
3 Vervaet inte­grals
4 single-grain drills, including 2 John Deere Max Emerge
2 self-propelled Plai­sance forestry chop­pers.
*Models 6155M/6170M (2)/ 6195R/6820/6830/6920/7270R/7930.
The busi­ness controls an impres­sive area, a large part of which is culti­vated under contract. This includes: 2,500ha of preci­sion planting, 1,700ha of sugar beet, 1,500ha of combin­able crops and 1,000ha of grain maize. In addi­tion, there is 1,000ha of maize silage and chop­ping wood, not to mention the poten­tial for biogas produc­tion.
"From May to the end of October our drivers are avail­able every weekend," says Mr Justin. The off-season main­te­nance starts in December with a complete clean of the machines. After a month-long closure around the holi­days for a break, the major fixes are spread out over January and February. Every year, Mr Justin trusts the Terréa branch in Corny (Ardennes) to carry out a thor­ough Expert Check of three of his nine trac­tors.
Two hours wasted tinkering at a seeding site is two hours too many.

Sylvain Autret
"We appre­ciate the services they offer, and the engine dynamometer run, because it gives us a very good overview of our machine and its engine in partic­ular. John Deere's reli­a­bility is well known, but a tractor that has racked up over 7,000 hours defi­nitely needs preven­tive main­te­nance."
"We rely on this tractor as much as we would a newer one. Two hours wasted tinkering at a seeding site is two hours too many," says Mr Autret. A simple axle or shaft breakage, to be expected at 8,000 hours, can lead to repair costs up to eight times higher than a preven­tive replace­ment.
Also worth consid­ering is the Expert Check 7+ option which, as the name implies, is adapted to vehi­cles more than seven years old, but whose avail­ability remains as imper­a­tive as for newer equip­ment.
ETA JUSTIN is 100% connected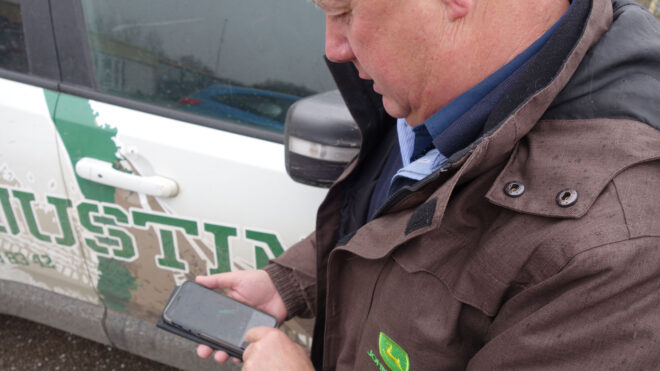 With 35 years of expe­ri­ence behind him, you might expect Laurent Justin to scoff at new inte­grated tech­nolo­gies, but he takes the oppo­site approach. He even sees it as an oppor­tu­nity to attract a quality work­force.
"All nine trac­tors, combines, forage harvesters, drills and even self-propelled chop­pers are connected with JD Link, a great tool," says Mr Justin. We have infor­ma­tion that spans nearly 10 years; we share geolo­ca­tion, fuel usage and engine hours with certain customers." Mr Justin is excited about the poten­tial of MyJohn­Deere, which will soon be providing him with preven­tive main­te­nance alerts. The drivers have already installed the appli­ca­tion on their phones.